---
NEED AN UPDATE ON AVALON WEATHER? You can check current weather conditions in Avalon in an instant, thanks to a new weather station installed 65 feet above ground on the radio tower adjacent to Avalon's public safety building. In addition to providing real-time wind speed, direction, temperature and humidity, historical data will be maintained as well. You can access the weather station via a link on Avalon's website, or by visiting WunderGround.com - Weather History for Avalon, NJ.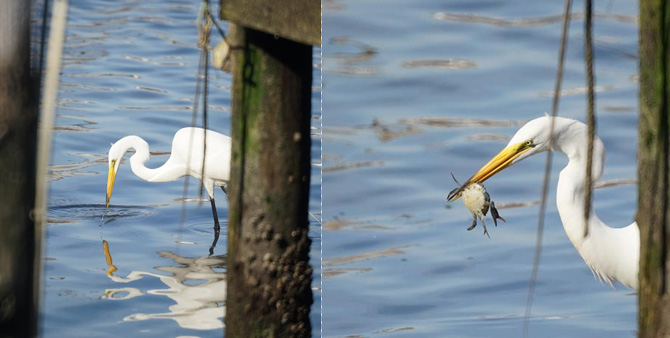 An egret quietly searches beneath a dock at low tide...and finds a crab to enjoy for dinner!

RECYCLE COACH APP: The Borough of Stone Harbor is participating in a new app designed to provide information on recycling and proper waste disposal. The mobile app allows users to set reminders for collections, or search a database for detailed disposal instructions specific to the area. The Recycle Coach app can be downloaded from the App Store or Google Play.

BEACH SWEEPS will be held in dozens of locations along the New Jersey coastline in October. Avalon will conduct a beach sweep on October 20th (volunteers should meet at Community Hall at 30th Street at 8am.) Stone Harbor will conduct a beach sweep the same day, scheduled for 9am at the 95th Street beach. Beach Sweeps are planned for Cape May, North Wildwood, and Sea Isle City as well. Visit Clean Ocean Action for more details or to register for a Beach Sweep.

PORTUGUESE MAN O'WAR SIGHTINGS: From time to time ocean currents and winds conspire to bring the Portuguese Man O'War to local beaches. They were spotted last week on Stone Harbor beaches after winds from Florence pushed offshore water in our direction. The Man O'War looks like a jellyfish but has a distinct sail-like flap on top, and long tentacles underneath. They should be avoided whether in the water or washed up on the beach, as contact can result in a painful sting.

PLAN AHEAD: AVALON'S SEAFOOD FESTIVAL takes place on Columbus Day Weekend. On both Saturday & Sunday, from 10am to 5pm, you'll find local seafood vendors along with beer & wine, kids' activities, music, face painting, and more. It all takes place at 30th Street & the beach in Avalon. Mark your calendar!
---
MARKET STATS: 45 new sale contracts were written during the month of August as the number of active listings declined slightly. The median sold price was $1,355,000 last month. For a detailed look at the latest market stats see the Newest Long & Foster Market Minute Report.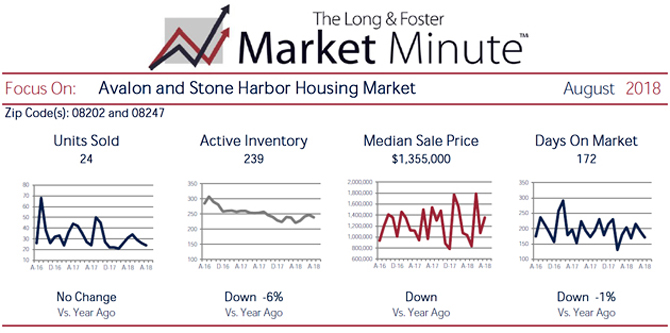 R.U.S.T. IN WILMINGTON, NC: Cape May County sent members of its Regional Urban Search Team (RUST) to Wilmington, North Carolina as part of a task force to assist local authorities. The team is trained in high-water rescues, and has assisted with evacuations in Wilmington. They are expected to remain in the area for a couple of weeks.

NO MORE COIN TOSSING on the Garden State Parkway! Coin collection machines at the Parkway mainline toll barriers will be removed, meaning those wanting to use coins or cash must travel through a toll lane staffed by an attendant. The aging coin machines are difficult to maintain with parts becoming scarce. Coin collection machines will remain at Parkway entrances and exits, and parts from the decommissioned mainline machines will be used to keep those operating.

IT'S 14.8 MILES AROUND! With the Townsend's Inlet Bridge now closed until next May, traveling from 7th Street in Avalon to 93rd Street in Sea Isle City is now a 14.8 mile trip. The bridge closed early Monday morning as heavy equipment moved in to begin the 8-month, $8.6 million project to replace seven of the bridge's 27 spans. No vehicles, bicycles, or pedestrians will be allowed on the bridge during the project. Crossing the bridge from Avalon to Sea Isle City would normally take just a few minutes. Google Maps now calculates "the long way around" at 27 minutes!

CAN'T MAKE IT to Stone Harbor for a Council meeting during the off season? Watch online, whether you're back at home or across the country!

Watch Mayor and Council Meetings Online | Borough of Stone Harbor
---
THANK YOU, GOODRICH FAMILY! Fifty nine years ago Bernard Goodrich and his young family visited a friend in Avalon, and stayed for a week at The Princeton Hotel. The family has returned to Avalon each year since, renting numerous vacation homes through Avalon Real Estate Agency, and later Long & Foster. The family has enjoyed many locations over the years including 42nd Street & the bay, 72nd Street, Avalon Avenue, and most recently, First Avenue. Bernard's wife Peggy passed away recently, but as he says, "I continue to look forward to our relaxing Avalon August [vacation] and hope it comes around quickly again for 2019. Look for the us on the 11th Street beach." We will, Mr. Goodrich, and thank you for allowing Long & Foster to help with your vacation plans for so many years!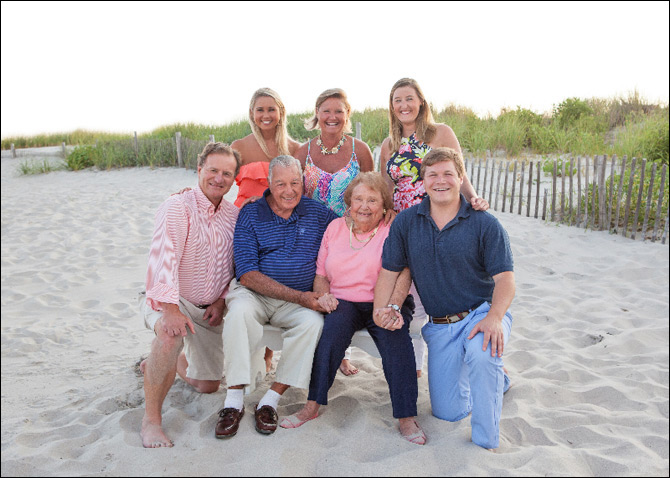 Bernard Goodrich on the beach in Avalon, surrounded by his late wife, Peggy, daughter, son-in-law, and three grandchildren.

THE LOWEST PROPERTY TAX RATES: NJ.com recently ranked the 30 New Jersey towns with the lowest property tax rates, and Cape May County's beach towns made an impressive showing. At #15 on the list was Ocean City, just behind #14 Cape May. Sea Isle City holds the #5 spot, with Cape May Point taking #3. Stone Harbor took the #2 spot, while Avalon topped the list with the lowest property tax rate in the state. The ranking was made by comparing the equalized property tax rates for 2017.

30 N.J. Towns With The Lowest Property Tax Rates

BE PREPARED and informed in the event of a coastal storm, flooding, or other weather emergency on Seven Mile Beach. As the Carolinas brace for the landfall of Florence, it's always wise to be prepared and informed in advance of severe weather conditions. When Avalon & Stone Harbor experience severe weather, check www.AvalonEmergency.org and www.StoneHarborEmergency.com for periodic updates. For phone notification, there is a sign up form on each of those sites where you can request notifications for your telephone or mobile phone.

Long & Foster Newsroom: 8 Tips to Prepare for an Emergency

SAVE THE DATES for two of the area's most popular activities: on Saturday, September 22nd, the 7th Annual Savor September Food, Wine, and Beer Festival takes place from noon to 9pm on 96th Street. Enjoy tasting tents, live music, vendors, and more! Columbus Day Weekend marks the return of Avalon's Seafood Festival at Community Hall on Saturday & Sunday, October 6-7, 10am to 5pm. In addition to local seafood, enjoy music, kids activities, football, shopping, and more!

THE MARKET IS STILL MOVING! Ready to buy or sell this fall? Please call or email me today--let's get started and accomplish your real estate goals!
---
ALL WEEKEND LONG giant warbirds from a bygone era flew up and down the beaches of Cape May County as part of the annual Airfest at Naval Air Station Wildwood. The Collings Foundation organized flights aboard World War II-era aircraft, including B-17, B-24, and B-25 bombers, and a TF-51D. The giant bombers' engines could be heard rumbling their way around the county as they made numerous flights, at a cost of $400 per passenger and up. Those not flying aboard the vintage aircraft could have a look at them on the tarmac, and visit other NASW museum displays, while listening to live music and enjoying a beer garden & food.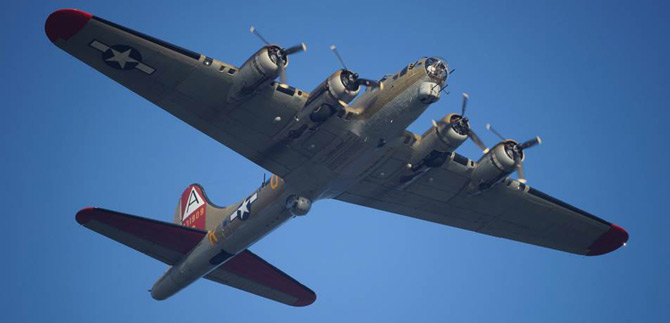 A World War II bomber flies over Seven Mile Beach Sunday. Several vintage warplanes flew around Cape May County as part of Naval Air Station Wildwood's annual Airfest held over Labor Day Weekend.

OPRAH WINFREY made a special visit to nearby Whitesboro this past Saturday. Winfrey flew aboard her private plane to attend the 30th Annual Whitesboro Reunion. Oprah's long-time partner Stedman Graham grew up in Whitesboro, and also attended the reunion.

BARRACUDA & WAHOO have been caught in the past couple of weeks. Large wahoo up to 80 pounds have been landed at the 28-Mile Wreck and Wilmington Canyon, while a 35-pound barracuda was caught just off Townsend's Inlet last week. Perhaps the most surprising local catch wasn't a catch at all: in Longport a large tuna was chasing baitfish and jumped out of the water--and landed on a jetty, where it became stuck. Two local fishermen were on the jetty--fishing for other species--and one carried the tuna home. No official weight was reported, but based on its size it appeared to be about 75 pounds. Tuna often jump when feeding, but finding them close to shore in this area is exceedingly rare, as they prefer much deeper "bluewater" far offshore.

OUR "SECOND SUMMER" BEGINS NOW! The peak summer months of July & August are now behind us, but we've got two wonderful months ahead! Trade in the heat & humidity for cooler, drier weather, but still-warm ocean water, and smaller crowds. Locals and seashore regulars know that September & October are a great time to enjoy the best of the shore!

FALL WEEKENDS bring an array of weekend activities to the area, and there's a little something for everyone. Whether you enjoy food, music, fishing, fire trucks, or wildlife, you'll find a weekend event to match your interest!