---
REAL ESTATE INSTEAD OF STOCKS...Worried about the volatility of your stock portfolio? A recent USA Today article indicates real estate may be a better investment. While real estate declined during the financial crisis and bear market a decade ago, it typically holds up better than stocks do, according to the article:

USA Today: Worried About The Next Bear Market? Real Estate May Be Your Best Investment. Really.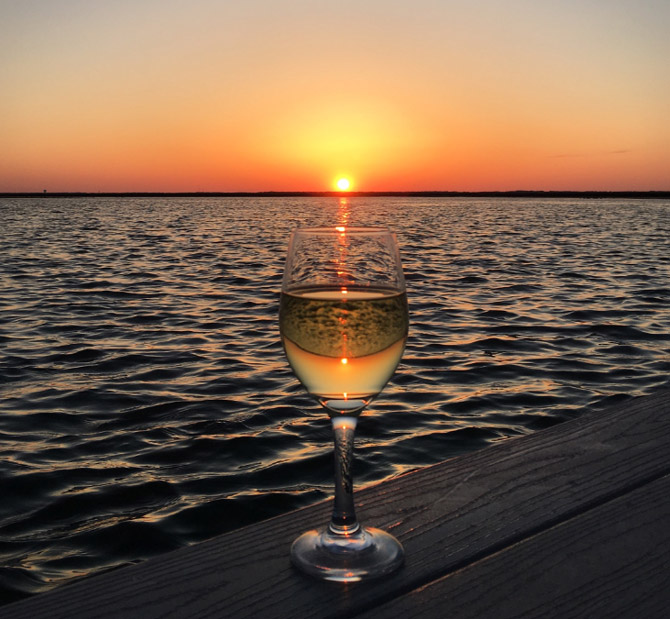 What a way to end a day! Want to enjoy a view like this? Call me and I'll find you the perfect place to call your own! Long & Foster's Steve Humanick captured the photo.

THE TOWNSENDS INLET BRIDGE has reopened to vehicular traffic after being closed for three weeks of maintenance work. Traffic is still limited to one alternating lane--but it's quicker than going "the long way around" if you're travelling from Avalon to Sea Isle City, or vice versa. Work will continue for the next several weeks until normal traffic flow resumes in June; the remaining maintenance work will be completed in the fall. Meanwhile maintenance work continues on the Great Channel Bridge linking Stone Harbor with North Wildwood. An alternating traffic pattern is in effect there, too.

STILL DEEP! Follow up surveying conducted after Stone Harbor's 2016-2017 bay dredging project shows that the lagoons are still as deep as they were immediately after the project concluded. According to a recent Stone Harbor Property Owners Association report, "localized changes in some lagoons appear to be the result of different methodology [used to measure depths] rather than any accumulation or erosion of sediment." That means boaters can expect to enjoy deep waters again this summer while cruising behind Stone Harbor.

"TWELVE ANCIENT HOUSES OF CAPE MAY COUNTY" That's the title of local author Joan Berkey's presentation, scheduled for this Saturday, May 5th, at the Avalon History Center, from 1pm to 2pm. The presentation will cover 12 houses in the county that were built before 1730 and still stand today!

LIGHTHOUSE CLIMBERS...How about a full moon climb this Sunday? It's the first full moon climb of the season at the Cape May Lighthouse, 8pm to 10pm Sunday evening. Viewing a full moon glimmering off the ocean from the 157-foot tall lighthouse is a memorable experience! Tickets are $12 for adults and $8 for children ages 3-12. Visit Mid-Atlantic Center for the Arts & Humanities (MAC) - Lighthouse Full Moon Climb for more.

---
MARKET STATS: The number of units sold (26) and the number of contracts written (33) both increased this month, but remain below last year's levels due to tighter inventory. See the newest Long & Foster Market Minute for a detailed look at the latest stats: The Long & Foster Market Minute.



See the latest Long & Foster Market Minute for a comprehensive look at the latest market stats.

BEACH SWEEPS will take place in Avalon and Stone Harbor on Saturday, April 21st. Volunteers are needed! In Stone Harbor, meet at the Beach Patrol building at 95th Street & the beach at 9am. Volunteers are encouraged to bring gloves and dress appropriately for the weather. In Avalon, the event will be held in conjunction with the annual dune grass planting. Volunteers are encouraged to sign up in advance by contacting Sue Keen at (609) 967-5924 or skeen@avalonboro.org. The group will then meet at Community Hall at 30th Street & the beach at 8:30am.

AVALON'S EXPANDED BIKE PATH: Work began last week on Avalon's expanded bike path. Designed to route bike traffic around congested areas of Dune Drive, new bike lanes will be added to First Avenue and Avalon Avenue.

BOATERS...don't forget you need a boat license to operate a vessel in New Jersey waters. The US Coast Guard Auxiliary offers dozens of boat safety courses nearby, including Avalon, Wildwood, Cape May, Ocean City, and other locations. Find one nearby: US Coast Guard Auxiliary Public Education Classes.

PRESIDENT GEORGE W. BUSH made a brief visit to Atlantic City last week, according the The Press of Atlantic City. Bush "43," arrived on a private plane at 9:30am last Thursday in order to deliver a speech at the Borgata Hotel Casino & Spa, and then left town around 12:30pm.

RENTAL INCOME is a great way to offset the cost of purchasing a vacation home. You can rent out your vacation home two weeks tax free, or rent as many weeks as you like to cover more of your carrying costs. How about a $269,000 condo with $15,000 in rental income? Or perhaps a $1.8 million home with $90,000 in income? In either scenario, your tenants cover A LOT of the cost of your ownership. Whatever your budget, let me show you what kind of rental income we can generate for you!

KYW NEWS RADIO 1060's David Madden ran a report on the summer rental market quoting yours truly.

Listen To The Radio Clip Or Read The Story At KYW News Radio 1060

---
IN CASE YOU MISSED Avalon Tax Assessor Jeffrey Hesley's recent presentation to the Avalon Home & Land Owner's Association regarding Avalon's recent reassessment, you can view his slide presentation here: Avalon Property Reassessment March 2018 (PDF). The presentation describes the difference between a reassessment and a revaluation, among other things. Avalon's ratable base grew from $7.49 billion to $8.9 billion as a result of the reassessment. 362 property owners (6.39%) asked for an informal review of their assessment after new values were established.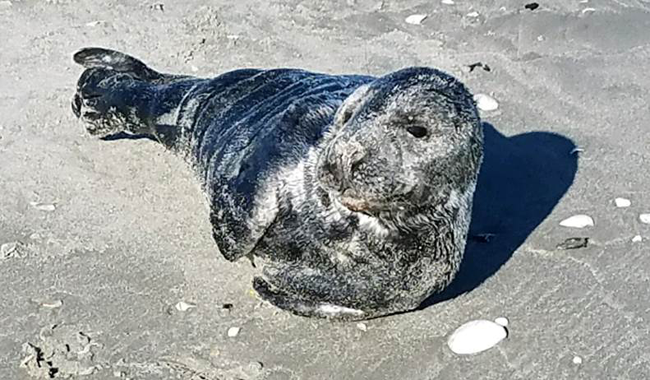 You never know what you'll see on a beach walk! This fellow was spotted on Avalon's 57th Street beach last week, and other seal sightings have been reported. Experts caution that seals or other animals should not be harassed or approached too closely. (Photo submitted.)

MORE BRIDGE WORK is underway on the two bridges that link Avalon & Stone Harbor with their island neighbors to the north and south. The Great Channel Bridge, linking Stone Harbor to North Wildwood via Ocean Drive, is undergoing maintenance and repair work that began this week and is scheduled to continue through April and May. One alternating lane of traffic will flow on the bridge while the work is underway. Meanwhile, the Townsend's Inlet Bridge, which links Avalon to Sea Isle City via Ocean Drive, was closed to traffic last week so that the ongoing removal and replacement of railings can continue. It is expected to reopen to traffic at the end of the month.

SUMMER FLOUNDER regulations have been set for the 2018 season, which will run from May 25th to September 22nd. Anglers may keep three fish per day at a minimum size of 18 inches, unless fishing in Delaware Bay, where the minimum size is 17 inches, or Island Beach State Park, where the minimum size is 16 inches.

FREE TREE SEEDLINGS are available to Avalon property owners Saturday morning, April 14th, from 9:30am to noon at Community Hall. Statewide 90,000 seedlings are available at 100 distribution locations via the New Jersey Tree Recovery Campaign. The program is coordinated by the NJ Forest Service.

LESS THAN SEVEN WEEKS TO MEMORIAL DAY! The unofficial start of summer is just around the corner! It's time to make your plans--whether you want to visit the Island for a week, or make it permanent, please call me! I'll listen to your needs and help you find the perfect place!