---
SEVEN MILE RESTAURANT WEEK begins Monday, June 4th and runs through Sunday, June 10th. Over 50 restaurants are participating this year, and you'll find everything from breakfast & lunch specials to $30.18 three-course dinners on their menus. It's a great way to try out a new place, or revisit an old favorite!

View The List Of Restaurant Week Participants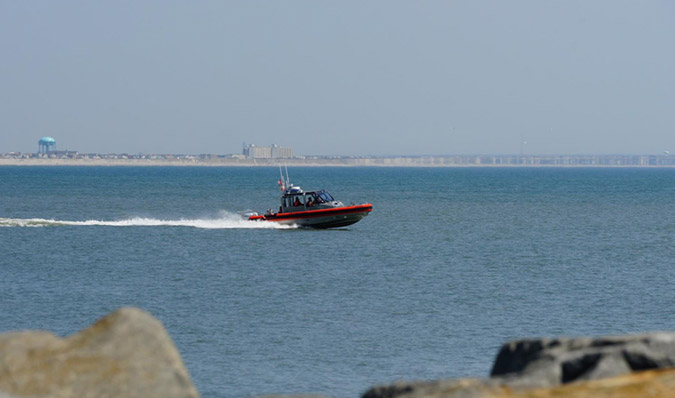 The US Coast Guard cruises through Townsend's Inlet on a routine patrol prior to Memorial Day Weekend. Just a few days later boats, waverunners, and all sorts of pleasure craft filled local waters.

TURTLE TIME! It's time for diamondback terrapins to begin seeking higher ground upon which to lay their eggs. That often means turtles crossing local roadways which, unfortunately, leads to road kills. Many local roadways are lined with turtle barriers to prevent turtles from crossing, but turtles can still appear on road surfaces. Keep an eye open for turtles, and "give 'em a brake!" If you are inclined to stop and help a turtle across the road, please ensure your own safety by checking for traffic, and then help the turtle cross in the same direction it was headed.

WHAT A SOUVENIR! Looking for the ultimate beach keepsake from Stone Harbor? How about your very own lifeguard stand? The Stone Harbor Beach Patrol has recently purchased aluminum lifeguard stands to replace older, heavier wooden models. If you'd like one of those wooden lifeguard stands as the ultimate souvenir, check Government Surplus Auctions. The wooden stands are being auctioned off on the government surplus auction site (the auctions currently run through June 1st). Whether that lifeguard stand costs you $50 or $500, it's sure to spark some memories--and some interesting conversations with your neighbors!

A WHALE OF A FLOUNDER! A 7.3 pound, 23-inch flounder was weighed in at Grassy Sound Marina in North Wildwood this past weekend, according to the Atlantic City Press. That's a great early-season catch--flounder season opened last Friday, and by most accounts is off to a very strong start. Most fishermen are reporting catching keepers that easily exceed this year's 18-inch minimum size.

BEACH ACCESS, RAMP LOCATIONS, SURF CHAIRS, AND MORE: If you're visiting Cape May County and need a ramp or surf chair to access the beach, this guide to Cape May County beach accessibility will be helpful: Cape May County Beach Accessibility Guide (PDF). Parking options, restroom facilities, and contact phone numbers are also listed for each town.

---
THE UNOFFICIAL BEGINNING OF SUMMER is finally upon us! After a long winter who isn't ready to kick off the summer season? The Island is ready for an influx of visitors: shops and restaurants are open, the beaches are open, and a weekend of fun awaits! On Monday, May 28th both Avalon and Stone Harbor will hold parades and Memorial Day observances. Whether you're walking the beach or barbequing with friends, take a moment to remember the veterans that have made it all possible.

MARKET STATS: Sales ticked up in the month of April, although they're down from a year ago, due to a shrinking inventory of listings. The number of active listings is down 17% from a year ago. For a detailed update on the market see the latest Long & Foster Market Minute (PDF).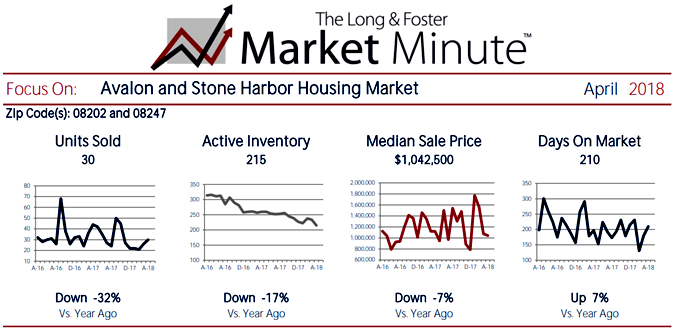 Click above for the latest Long & Foster Market Minute!

ABOUT 30,000 CUBIC YARDS of sand will have been placed on Avalon's north-end beaches by the time a sand backpassing project concludes this week. Sand from a sandbar just south of 32nd Street will be transported to north-end beaches to replenish them after erosion occurred during late winter nor'easters. (No dry beach sand had to be used for this project.) This is the Borough's sixth sand backpassing project, which have proven to be an effective way to rebuild beaches in between more expensive hydraulic dredging projects.

THEY'RE FIFTY POUNDS LIGHTER! Stone Harbor Beach Patrol is trying out a new aluminum version of its traditional lifeguard stands. The lighter weight will make it easier on lifeguards, who adjust the position of their stands several times on a typical shift due to tide changes. In addition to the weight savings, the new stands are believed to be more durable than wooden versions.

IN CASE YOU MISSED IT, check out Avalon's expanded bike path. Newly striped lanes on borough streets mark the path--check it out when you're in town, or have a look at this map:

Avalon's Expanded Bicycle Path - AvalonBoro.net

FLOUNDER SEASON also kicks off this Friday, May 25th. For bait, tackle, and fishing advice visit Smuggler's Cove in Stone Harbor, or check with Avalon Hodge Podge or Moran's Dockside in Avalon. If you'd like to rent your own boat and take the kids fishing, Smuggler's Cove has boats available for daily rental.
---
A FEVERISH PACE has taken over many aspects of the Island as contractors work to finish projects in time for Memorial Day Weekend. Work continues on many of the Island's roadways, bridges, and other infrastructure, though large-scale projects will be halted at times of peak traffic. Contractors, landscapers, and other service providers are working diligently to finish construction work, repairs, and other jobs before the start of the busy summer season. If you aren't already on your contractor's schedule you're probably out of luck for Memorial Day--but call now and get projects scheduled rather than waiting any longer. Need a recommendation for repairs or other services? Call me!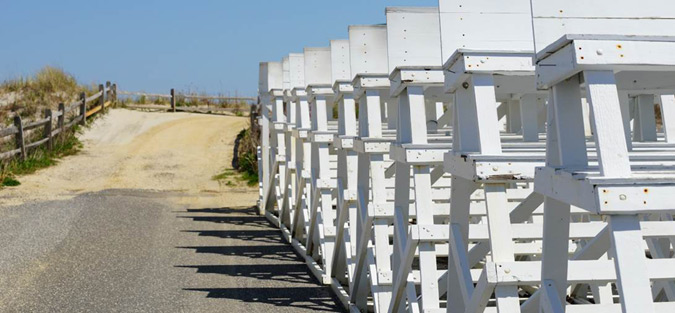 Ready for the season: row upon row of lifeguard stands are ready to be placed on beaches for the summer season!

FOR A DETAILED UPDATE on Stone Harbor's beaches after spring nor'easters, take a look at this comprehensive report: Borough Of Stone Harbor - Special Spring 2018 Storm Report (PDF). Even if you don't read the entire report, you'll enjoy seeing the cover photograph, an aerial photo which shows Stone Harbor from a unique perspective.

AREA CODE OVERLAY: A new "640" area code will be overlaid in the "609" area code later this summer. Those with "609" area codes will not have to change their numbers, but they will have to dial "1" plus the area code, plus the seven-digit phone number in order to make a call, even locally.

OUR GUEST SERVICES DEPARTMENT is gearing up for another busy summer. Kevin, Paul, and Ed will once again be assisting our clients seven days per week during the season. They can often handle small problems on the spot, or if they can't, they'll dispatch a property owner's preferred vendor in order to solve problems quickly while minimizing inconvenience to our guests and property owners. Our Guest Services department is one more way we provide top notch service to our clients!

JUST ONE MORE WEEK! The Memorial Day Weekend is almost upon us! Will you be here for the unofficial start of the summer season? Walk the beach, shop in town, enjoy a fine meal, and catch the Memorial Day parades & services in Avalon & Stone Harbor. See below for a list of other events to add to your to-do list!
---
WHERE DO ALL THOSE BEACH TAGS COME FROM? Sure, they wind up pinned to your swim suit or beach bag--but did you ever wonder where shore towns get all those tags? A recent NJ.com article says they come from Jersey Cape Training and Opportunity Center, in Cape May Court House. The facility produces 15,000 to 20,000 tags per day--and more than three million per year--while providing employment opportunities in a vocational rehabilitation center.

NJ.com - Is Your Town's Beach Badge Boring? This Guy Doesn't Want It To Be.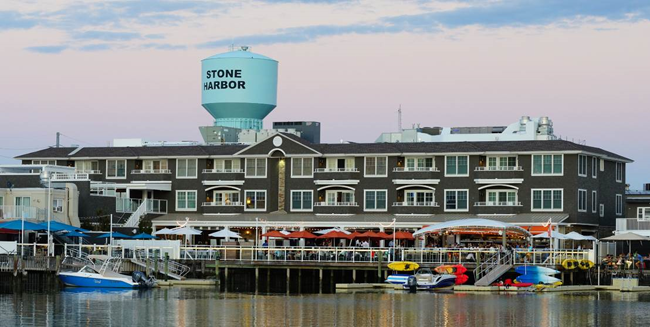 Patrons enjoy cocktails and a view of the bay at The Reeds at Shelter Haven on a summer evening.

"A WHALE OF A FERRY RIDE!" That's how the Cape May-Lewes Ferry described a recent trip...watch this three second video clip on Facebook and you'll see why! From whales to dolphins to large ships to beautiful sunsets, a ride on the Ferry is an experience you won't forget!

Cape May - Lewes Ferry Video: One Whale Of A Ferry Ride

BULK TRASH collection is here in both Avalon and Stone Harbor. In Avalon, bulk items may be placed curbside through Sunday, May 13th for collection on Monday, May 14th. In Stone Harbor, bulk items may be placed curbside up to 72 hours prior to collection on Monday, May 14th. Construction debris is not collected and should not be placed at the curb.

GREAT RENTALS remain available, especially if you are flexible with your dates and price range. If you'd like to make it permanent and buy your own vacation home, or even collect rental income to help pay for it, call me and we'll get started!

Browse My 2018 Rental Guide

SAVE THE DATE! Seven Mile Restaurant Week takes place June 4th through 10th. Keep an eye out for details on dining specials that will be available that week.

THIS WEEKEND brings more activities to enjoy, including wine tasting, hoagie and plant sales, a borough-wide yard sale, a big band dance, and a jazz concert. See below for details, then c'mon down to enjoy a beautiful spring weekend at the beach!


---
BEST BEACHES IN NEW JERSEY: Four of the seven Best Beaches in New Jersey are located in Cape May County according to US News! The ranking puts Avalon at number two on the list, just behind Cape May. Ocean City follows at number three, with Wildwood at number six. The ranking was based on factors such as accessibility, amenities, and cleanliness.

Check Out The List: 7 Best Beaches in New Jersey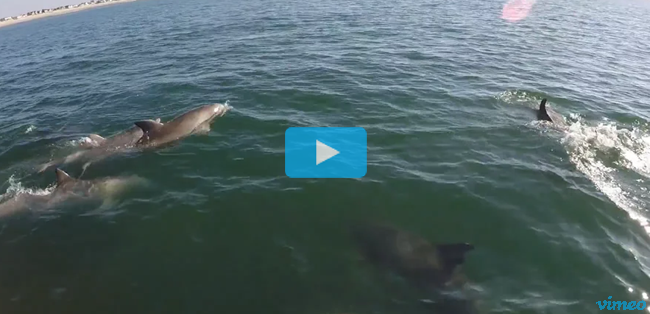 Take a ride with the dolphins, courtesy of Nik Pattantyus! While on his paddleboard just off the beach last week, Nik captured great footage of several dolphins swimming along next to him!

IT FEELS LIKE SPRING! With daytime highs near 80 degrees this week, it finally feels like spring! We've traded cool rainy days for warm sunshine, blossoming trees and blooming flowers!

SPRING EVENTS are getting underway. If you've been looking forward to enjoying some great weekend activities along with the spring weather, now is the time! Check out some of the great activities coming up:
Stone Harbor: the Spring Tide Festival & Boat Show takes place Saturday, May 5th in Stone Harbor, along with a Sidewalk Sale. Enjoy food, music, artwork, photography and a cold beer.

Cape May: the Coast Guard Community Festival takes place in Cape May on Saturday & Sunday, May 5th & 6th, and includes tours, demonstrations, family activities, food and more.

Avalon: Spring Kickoff Weekend (May 11 & 12) includes the Wine & Spirits Festival on Friday, May 11, and the annual Borough-Wide Yard Sale on Saturday, May 12th. Also Saturday will be Avalon's free paper shredding event and the Avalon Police Department's annual bicycle auction, as well as the Avalon Volunteer Fire Department hoagie sale and plant sale. Saturday at 7pm enjoy a Big Band Dance at Community Hall.

Wildwood: the Spring Boardwalk Classic Car Show takes place Friday, May 11th through Sunday, May 13th. Hundreds of classic cars and trucks are expected, and they'll parade down the boardwalk at 3pm each day.
E-ZPASS
will be coming soon to local toll bridges on Ocean Drive. The Grassy Sound Bridge, which carries Ocean Drive from Stone Harbor to North Wildwood, will begin E-ZPass toll collection on May 14. The Townsend's Inlet Bridge, linking Avalon with Sea Isle City, will go live on June 25th. Cash and bridge tickets will still be accepted by bridge tenders, who will remain on duty to open the drawbridge spans on each bridge for marine traffic.
NO TURN ON RED!
Stone Harbor reminds drivers that it's "No turn on red," effective May 1st. Parking meters are now in effect, too.
RENTAL INCOME
is a great way to help pay for your vacation home purchase! Did you know that you can rent your vacation home for two weeks, tax free? Or, rent it as much as you want and use rental income to offset your mortgage and other expenses. How about a one-bedroom condo in Avalon for $269,000, producing over $16,000 in rental income? Or a five bedroom home with a pool for $1,879,000, capable of producing about $80,000 in rental income? Whatever your purchase budget, let rental income cover part of your purchase cost! Always consult with your tax adviser for complete tax implications; consult with me to find the best property for your needs!