---
EASTER WEEKEND brings an Easter Egg Hunt to Avalon on Saturday, March 31st at 10am on the 8th Street recreation field. If Easter Brunch is more your style, check out Bobby Dee's Rock'n Chair, The Reeds at Shelter Haven, The Yacht Club of Stone Harbor, or The Avalon Links, all of which are offering brunch options.

THE AVALON LIBRARY offers a variety of benefits--including the Philadelphia Inquirer. With a library card members can access current and back issues of the The Philadelphia Inquirer. To access The Inquirer visit Avalon Free Public Library. To obtain a library card residents and property owners must provide proof of residency or property ownership. Summer visitors may obtain a library card by providing identification and a local address. To obtain a library card visit Avalon Free Public Library - Obtaining A Library Card.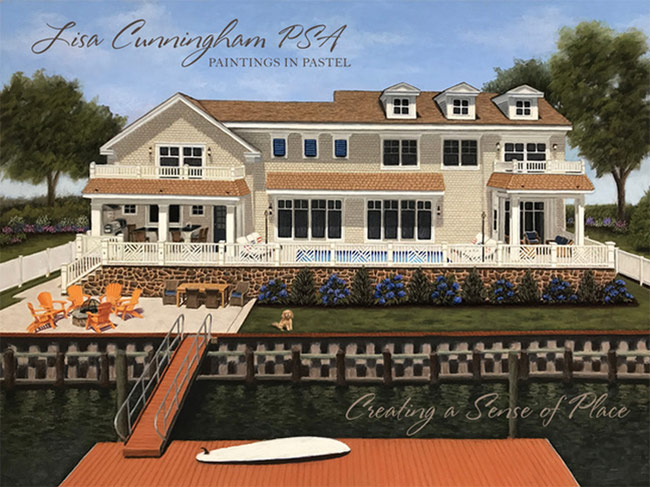 HOUSE PORTRAITS by Lisa Cunningham are a great way to capture the essence of your shore home! Not only do Lisa's portraits make a great keepsake, they're wonderful conversation starters when entertaining guests or clients. They also make a fantastic gift! Visit Lisa's Website for more samples of her work.

BULKHEAD HEIGHTS were discussed at a recent Stone Harbor Council meeting. Rising sea levels and the potential for flooding are behind the discussion. According to data presented by Lenore Tedesco of The Wetlands Institute, only about thirty percent of the borough's bulkheads meet the current required height of 6.2 feet. Changing the height requirement to 8 feet was discussed, an increase of almost 2 feet. But bulkheads have a long lifespan and are replaced infrequently, meaning it could take decades before all bulkheads reach that level.

SIGNS OF SPRING: More shops and restaurants are reopening for the season, including Marie Nicole's Grill, Stone Harbor Bar & Grill, and Spiaggetta. Chilly temperatures and recent snow have made the month of March feel more like a lion than a lamb, but each weekend more property owners are returning to the Island, as the weather gradually warms up.

THE AVALON/STONE HARBOR UPDATE will return the week of April 9th.

HAPPY EASTER!

---
MARKET STATS: The number of active listings is down about 10% from last year, leading to a reduction in contracts written and properties sold.

See The Latest Long & Foster Market Minute Report For Details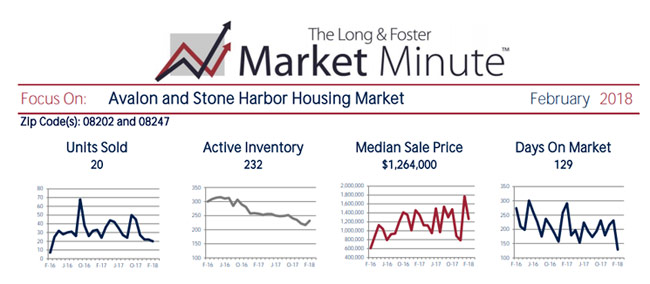 View the Long & Foster Market Minute for the latest market stats!

A 1,624 SQUARE-FOOT BILLBOARD ad featuring Cape May County will appear in Times Square in New York City. Cape May County tourism ads will run three times an hour from 6am to 2am, and will be visible to hundreds of thousands of people transiting Times Square daily. Purchased at a deep discount due to the struggles of retailer Toys-R-Us, Cape May County will pay $10,950 of the $16,900 total cost; Atlantic County will pay for the remainder of the purchase. The normal cost would be $88,500.

GHOST TRACKS: Century-old railroad tracks appeared at Higbee Beach on Delaware Bay. The old rail line was uncovered by recent storm activity, which shifted beach sand exposing the so-called "ghost tracks." The rail line was owned by the Atlantic City Railroad and was used to serve a sand mining plant adjacent to the beach. After the plant closed decades ago the rails were eventually covered by beach sand. Storms uncovered a portion of the tracks a few years ago, drawing crowds to the area to view them. This past week curious visitors walked north from Sunset Beach to catch a glimpse of the newly exposed section of track.

NOR'EASTER NUMBER 4: As of this writing, the fourth nor'easter of the season is making its way up the coast. While heavy rain and minor to moderate coastal flooding may occur, it's the chance of accumulating snow that's the hot topic. March usually brings with it signs of spring, but chilly temperatures, northeasterly winds, rain, and snow feel like anything but spring!

THINK SUMMER! Imagine warm sunshine and gentle seabreezes, as ocean waves lap at your feet! Plan ahead and put a little summer into your life! Check out my Vacation Guide to get started!

WANT TO MAKE IT PERMANENT? If you'd like to make Avalon or Stone Harbor a permanent part of your life, let's talk! Between affordable mortgage financing and rental income, you may be surprised at how affordable your very own shore home can be!

---
AVALON 2018 SEASON BEACH TAGS are available at the pre-season price of $23. You can stop by the Avalon Tax Collector's office during business hours, or mail your order (along with a check payable to the Borough of Avalon and a self-addressed stamped envelope) to Avalon Borough Hall, 3100 Dune Drive, Avalon, NJ 08202. Mail orders will be accepted until May 11th. Prefer to do it via your smartphone? There's an app for that! Visit this link to download the Viply app on your iPhone or Android device and make your purchase that way: VIPLY - Avalon Beach Tags.

STONE HARBOR 2018 SEASON BEACH TAGS can be reserved at the pre-season price of $23 at Borough Hall during business hours, or reserved by mailing a check to Stone Harbor Borough Hall, 9508 Second Avenue, Stone Harbor, NJ 08247. Note that Stone Harbor's actual tags are not in yet, but by paying for your tag now you can reserve it at the pre-season price, then pick it up when the tags become available.

Avalon's 2018 beach tags are now available for purchase at pre-season rates.

See above for details.
APRIL 21ST BEACH SWEEPS and DUNE GRASS PLANTING.
Avalon's spring dune grass planting will take place April 21st, along with a beach sweep to help keep our beaches clean. Stone Harbor will also conduct a beach sweep that same day. Volunteers are needed for these efforts. Mark the date on your calendar and plan to help out! More details to follow as we get closer!
KEEPING TURTLES SAFE
is the goal of an Avalon initiative. In conjunction with The Wetlands Institute, concrete barriers designed by Taylor Design Group will be employed near the marina and kayak storage locations. The new design will be monitored to determine its effectiveness, along with a sandy turtle nesting area nearby. The new barrier is designed to keep turtles off the road as they seek locations to lay eggs; the nesting area is designed to provide a safe location to do so.
MORE ON THE TI BRIDGE:
The Townsend's Inlet Bridge will close for a period of two to three weeks after Easter in order to allow crews time to complete repair work that is currently underway. The plan is to have all work completed by the beginning of summer.
NO PERMIT REQUIRED:
Some common household repair jobs have been reclassified in the State of New Jersey and will no longer require a construction permit. Examples include siding and roof replacement, replacement of indoor plumbing fixtures, and alarm system installation. Reduced costs and time waiting for inspections are the upside, while the downside is less protection for consumers.
---
AVALON'S TAX RATE will decrease based on the municipal budget introduced at last week's council meeting. Avalon's municipal rate will decrease from $.226 to $.199 per $100 of assessed value--a rate that is lower than any other municipal rate in Cape May County in 2017. Avalon Mayor Martin Pagliughi stated, "Our financial management practices, debt management, and a recent reassessment contribute to the a reduction in the municipal tax rate while funding necessary programs and capital projects that will enhance the quality of life in Avalon". Even with the lower tax rate, projected revenue is expected to increase due to the reassessment. A full presentation on the budget will be provided during the March 28th council meeting.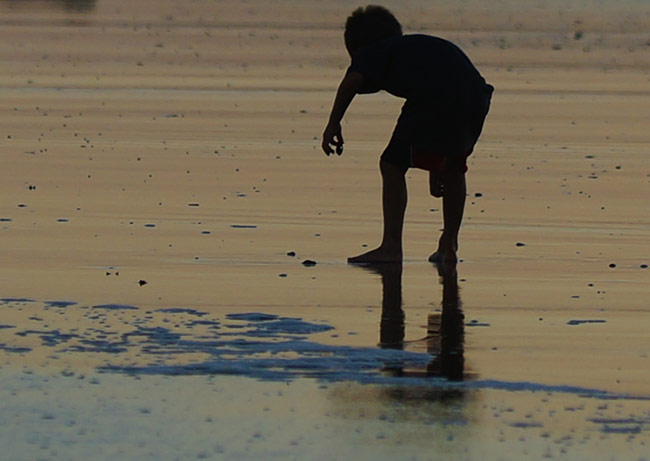 Does this bring back memories? A child explores the beach and picks up shells as the sun goes down.

THE WEEKEND NOR'EASTER that set up offshore this past weekend caused higher than normal tide levels, but no major flooding. Locally strong offshore winds helped counter the effects of the full moon and the weather, keeping water levels down.

LAST CHANCE TO PLUNGE! Wildwood plunged... Sea Isle City plunged... Your last chance to take a chilly dip in the ocean is the Stone Harbor Shiver Polar Bear Plunge on Saturday, March 17th! If you're undecided, consider this: the surf temperature is currently 39 degrees!

SIGNS OF SPRING: despite a cold ocean there are signs of Spring showing on the Island! Restaurants are reopening--The Concord is now open seven days per week, with more reopenings occurring weekly. Owners are back to check on and use their properties on weekends. And, like every year, contractors are busy prepping properties and working on spring projects. If you need pre-season work done, don't wait--now is the time to call your contractor! Need a recommendation? Call me!

SHOP TILL YOU DROP THIS WEEKEND! Shop-A-Holics returns, beginning Thursday at 4pm at The Princeton and The Whitebrier. For details and a list of vendors, visit Avalon Chamber of Commerce & 7 Mile Business Community Association.

SPRING FORWARD on Sunday, March 11th at 2:00AM, for Daylight Savings Time. That gets us one step closer to summer time!

---
SHOP-A-HOLICS WEEKEND offering deals and steals for savvy shoppers takes place in Avalon from 4pm Thursday through Saturday at 6pm. The Whitebrier and The Princeton will host more than 30 stores and boutiques; donations will be accepted, and will benefit Friend in Need, a local non-profit organization. Check Avalon Chamber of Commerce & 7 Mile Business Community Association for details on which location will host your favorite vendor!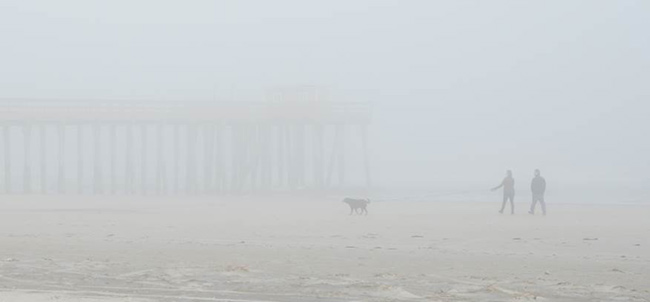 The Avalon Fishing Pier was obscured by fog as this couple walked along the beach. Warm air over cold ocean water caused fog along the shore last week.

STONE HARBOR BEACH REPORT: Stone Harbor has posted an annual report on the condition of its beaches. The latest report details changes in the size, profile, and volume of various beaches before and after replenishment projects. The report also identifies trends, as well as areas of concern, and provides recommendations for further study. Read or download the report here: 2017 Annual Report On Condition Of Municipal Beaches (PDF).

WELCOME HEREFORD! A snowy owl named Hereford has replaced Higbee, who was fatally struck by a motor vehicle during a January snowstorm. Hereford was tagged recently at Stone Harbor Point; his tag will help track his location as he travels the area. For more on Hereford and updates on his activities, visit Project Snowstorm - Hereford.

THE 8TH ANNUAL STONE HARBOR SHIVER will take place Saturday, March 17th. In addition to a dip in the chilly ocean water Saturday, the weekend kicks off Friday evening at the Yacht Club with a Pre-Shiver party, followed by Kegs & Eggs Saturday morning at Fred's Tavern. A parade, including the Fralinger String Band, will lead participants toward the beach at 11am, where they will be judged on their costumes, floats, and performances. For more info, visit Stone Harbor Chamber of Commerce.

FROM JAZZ TO HISTORY TO TECH: There's a little bit of everything going on here! Take a look below for fascinating lectures, enjoyable music, and more.