---
MARKET STATS: The number of active listings fell to 215, down 17% from this time last year. Meanwhile the average sold price to list price ratio has increased to 95%, up 2.5% from this time last year.

Read The Full Market Report: The Long & Foster Market Minute (PDF)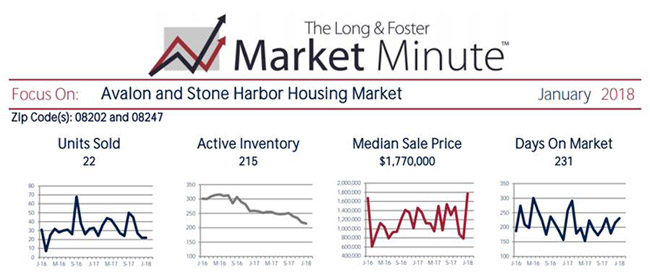 Click above for the latest Market Minute report from Long & Foster Real Estate!

IS THE STOCK MARKET TOO VOLATILE for you? Consider real estate! Known for its stability compared to other, more volatile asset classes, real estate may be just what your portfolio needs! Whether you're seeking an investment property with rental income, or a place to park some cash while you park yourself on the deck and take in the view, please call me--I'll help you find the property that best fits your needs!

STONE HARBOR JOB FAIR: Those seeking summer jobs in both Stone Harbor and Avalon should plan to attend the Stone Harbor Job Fair on Saturday, April 14th, from 10am to 2pm. The job fair will be at Coffee Talk, at 299 97th Street; employers from Seven Mile Beach will be present to meet with applicants. Job opportunities are also available with the Cape May-Lewes Ferry, including marketing, vessel operations, and food services.

More Info On Ferry Jobs: Cape May-Lewes Ferry Employment

ONE ALTERNATING LANE will be available to motorists on the Townsend's Inlet Bridge, as an ongoing maintenance project continues through mid-June. Deteriorated railings on the bridge are being removed and replaced in four phases, as the alternating traffic is controlled by a temporary signal system. Marine traffic is unaffected by the current project. The recent repairs and associated shut-downs of the bridge have officials examining all options for the future of the 80-year-old span, including a major overhaul (the least expensive option) or a full replacement (the most expensive).

DREDGING OF THE INTRACOASTAL WATERWAY is slated to take place this month behind Stone Harbor. The US Army Corp of Engineers is overseeing the small project, which will take place between ICW buoy markers 419 and 421. Dredged sand will be placed on the Ring Island nesting bird habitat over a period of about a week. The Wetlands Institute will monitor conditions at that site.

---
NOW UNDER CONTRACT! I've added this feature to my weekly newsletter as it's a great way to keep tabs on the very latest market activity. Have a question or thinking of selling? Please call me!

TAKE A PLUNGE this weekend at Sea Isle City's 24th Annual Polar Bear Plunge! The Plunge will take place Saturday at 2pm on the beach between 38th and 40th Streets in Sea Isle. See below for a link to other events taking place in Sea Isle this weekend, as well as other area events.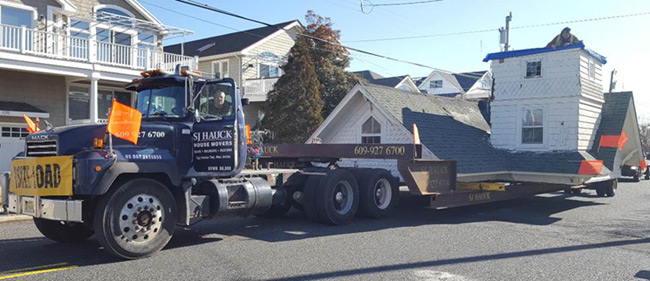 You never know what you'll see coming down the street in Avalon! Instead of demolishing this home, it was dismantled in sections so it could be saved and rebuilt in a new location. See below for details.

WRECKING BALL AVOIDED: Instead of demolition, an early Avalon home at 254 Sixth Street was dismantled in large sections and moved to a storage facility so that it could be preserved and reconstructed at a later date. The granddaughter of the former owners led the effort to save the home. See this Philly.com article for more:

Spared From Demolition, One Of Avalon's Oldest Homes Is On The Move

STONE HARBOR: WORTH $4.8 BILLION: The Cape May County Herald reported that the new assessed value of Stone Harbor properties increased by $363 million to $4.838 billion. About two-thirds of all properties increased in value as a result of the recent reassessment project, according to the article.

BUDGET PRESENTATIONS will be made in both Avalon and Stone Harbor. This weekend Stone Harbor's 2018 budget will be discussed at 10am on Saturday, February 17th at Borough Hall. Avalon Council members and CFO Jim Craft will discuss Avalon's finances on Saturday, March 10th at 10am, at the Avalon Senior Center.

THE TOWNSEND'S INLET BRIDGE will be closed overnight from 7pm Thursday evening until 5am Friday morning to allow for the relocation of concrete barriers and temporary traffic signals. One lane of alternating traffic will resume Friday morning as the ongoing railing replacement project continues.

---
WE'RE SEEING GREEN! CONGRATULATIONS EAGLES! Thank you for winning the first Eagles' Super Bowl Championship, uniting our entire region as we all rooted for the Birds! What a game, and what a way to finish a great season!

AVALON HISTORY CENTER: SEEKING ARTIFACTS! The Avalon History Center is working on a three-part presentation on the history of Avalon. The series will include the "railroad age" from 1888-1939, wartime years through the 1962 storm, and the modern era. The History Center is appreciative of all artifacts, but staff are specifically seeking recordings of music from the Marine Ballroom, photos and stories from the Bongo Room and Catacombs bar, video clips of Ed McMahon speaking about Avalon on the Tonight Show, and photographs of Avalon hotels in the 1960s and 1970s. To donate contact the museum at 609-967-0090, or stop by the History Center at 215 39th Street.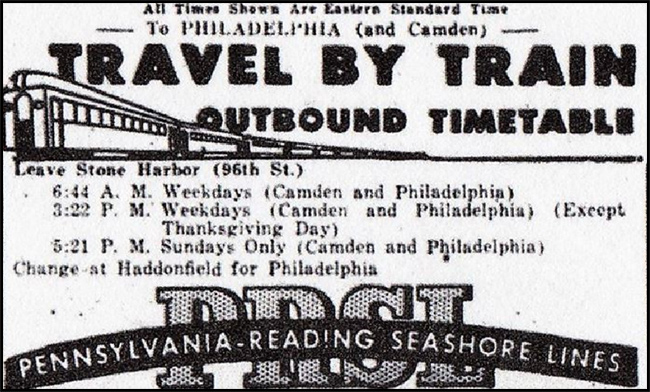 It was the only way to go--and the best way to get here--at least for a while! Passenger railroads reached the South Jersey Shore In the late 1800s and early 1900s and opened up the Shore to residents of Philadelphia and the surrounding areas. As better automobiles and highways became more common, train service to and from Shore locations eventually diminished, as evidenced by the limited number of departures from 96th Street shown in the ad above. (Image courtesy of Pennsylvania-Reading Seashore Lines Historical Society.)

VALENTINES DAY OPTIONS: If you're looking for an overnight stay and a fine meal, both Icona Avalon and The Reeds at Shelter Haven have Valentines Day getaway packages you'll want to check out!

Icona Avalon Valentines Day Packages & Getaways

A Week Of Romance at The Reeds at Shelter Haven

If you'd like to look at vacation rental options while you're here, or you want to consider purchasing your very own permanent getaway, please call me!

LONG & FOSTER CELEBRATES 50 YEARS! A Big Mac was 49 cents, a gallon of gas was 34 cents, and the median home price was $25,600 when Long & Foster first opened its doors in 1968. Fifty years later Long & Foster uses the latest technology & marketing techniques--but still provides old fashioned top notch service! Thank you for being a valued Long & Foster client!

---
SIDE SCAN SONAR will be used to investigate damage to the Eighth Street jetty in Avalon, according to a recent Cape May County Herald article. The technology is often used by fishermen to locate underwater schools of fish; in this case it will allow engineers to study underwater portions of the jetty damaged last year by Winter Storm Jonas.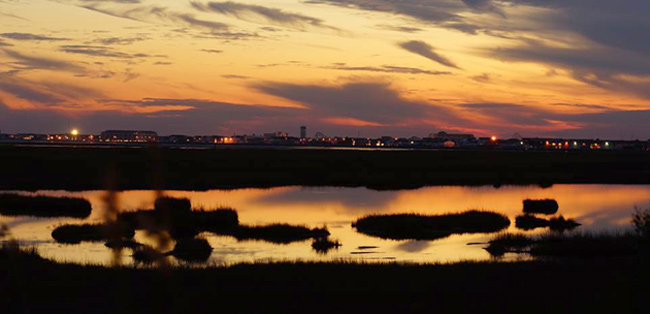 Winter sunsets result in all sorts of colors! This view is from Ocean Drive south of Stone Harbor, looking toward North Wildwood. The light from the Hereford Inlet Lighthouse can be seen on the far left.

STONE HARBOR FIRE DEPARTMENT responded to a fire in Stone Harbor Manor shortly after 11am Tuesday, and found the rear of a home fully involved upon arrival. Stone Harbor and Cape May Court House firefighters extinguished the blaze with help from tankers from Goshen and Green Creek. Black smoke was visible for miles around the area.

THE AVALON POLICE DEPARTMENT appointed Jeff Christopher to Chief of Police during a ceremony last week. Chief Christopher has been with the department since 2000, and replaced outgoing 31-year veteran William McCormick. John Roscoe, who joined the department in 1992, was named Captain. Also promoted were Matthew Sykes and William Robinson III, who were both promoted to Sergeant, while James Savini and Christopher Nazha both joined the department as full time officers.

95 YEARS IN BUSINESS! Congratulations to Sturdy Savings Bank on 95 years of service to Cape May County! Sturdy has branches in Avalon and Stone Harbor, as well as 11 other locations around Cape May County. Even those who don't bank there may be familiar with Sturdy's "Banking with a Personal Touch" slogan, often heard on local television commercials.

FLY, EAGLES FLY! As the Birds make their third appearance in the Super Bowl, the entire region is rooting for them! Will this rematch with the Patriots result in a different outcome? GO EAGLES!