---
MARKET STATS: Strong sales have led to low levels of inventory in most property categories. 33 units sold last month and an additional 35 units were placed under contract; only 52 new listings were added to the market. See the latest Long & Foster Market Minute for more market statistics.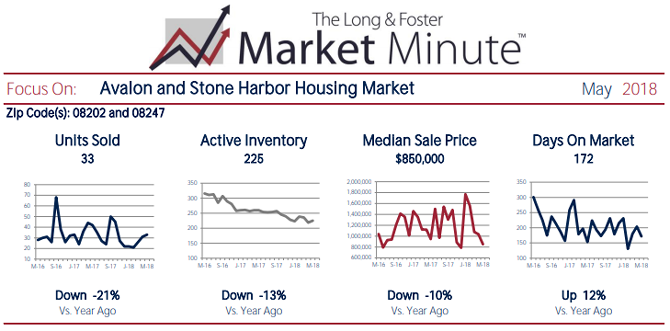 Click above for the latest Long & Foster Market Minute.

DOLPHIN WHISPERER Nik Pattantyus has done it again! See Nik's latest dolphin video showing several dolphins and a calf swimming just offshore. Nik videos dolphins while he paddleboards off the beach.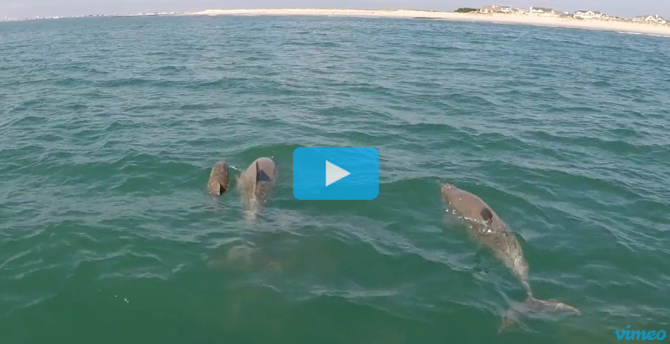 Take a paddleboard ride with Nik Pattantyus as he captures footage of a dolphin calf swimming with several adult dolphins.

FIREWORKS are the main event over the Independence Day holiday! Seven Mile Island visitors have two chances to catch fireworks displays. On Monday, July 2nd Stone Harbor will launch fireworks off the 96th Street beach at dusk. On Wednesday, July 4th Avalon's display will take place off the 30th Street beach at about 8:45pm. Sea Isle City and Cape May will also feature fireworks displays on the 4th. Not enough options? You can also catch a weekly fireworks display on the Wildwood beach any Friday evening at 10pm during the summer season.

RYAN HOWARD VISITS CAPE MAY COUNTY ZOO: Now that he's not busy playing first base for the Philadelphia Phillies, Ryan Howard found some time to visit the Cape May County Zoo last week. Howard even took a few moments to pose for pictures with Middle Township Police officers; the photos later appeared on the department's Facebook page.

SUSTAINABLE JERSEY awards will go to seven municipalities in our area. Avalon will receive a $20,000 grant to fund diamondback terrapin preservation. Turtle nesting areas and barriers will be created to prevent turtle fatalities on roadways. Stone Harbor will receive a $2,000 grant.

AIRPLANE LOVERS SHOULD PLAN AHEAD for two great air shows returning to our area later this summer. The Atlantic City Air Show returns on August 22nd, and will feature the hugely popular US Air Force Thunderbirds, among numerous other performers. The show is free, and viewers can watch from the beach or boardwalk, a hotel balcony, or aboard a boat. Beginning August 31st Airfest returns to the Naval Air Station Wildwood Museum at the Cape May County Airport featuring several WWII era planes. A $16 ticket includes aircraft tours, music and access to Hangar #1. 30-minute flights on vintage aircraft begin at $400 and require advance reservations. View Details: AirFest 2018 - USNASW
---
THE M/V TWIN CAPES, once the most luxurious ferry in the Cape May-Lewes Ferry fleet, was sunk last Friday to become part of an artificial reef. The 320-foot ferry featured a restaurant, food court, and two bars, but proved expensive to operate and sat mothballed for a number of years, before being stripped of all hazardous material in preparation for the sinking. The ship was sunk in 130 feet of water about 26 miles from shore, near the USS Radford (a destroyer) and the Tamaroa, a US Coast Guard Cutter. The three ships are part of the Del-Jersey-Land reef, designed to provide a new habitat for marine life and a destination for offshore fishermen.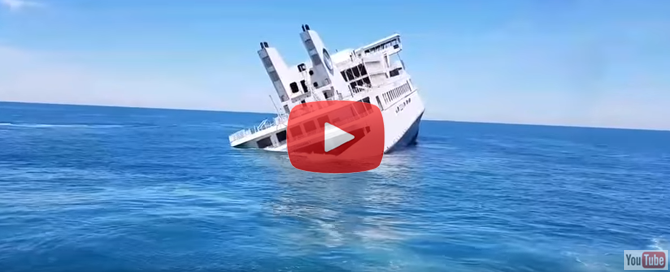 Watch as the M/V Twin Capes sinks last week at the Del-Jersey-Land reef site, about 26 miles from shore.

SHPOA PHOTO CONTEST: All Stone Harbor homeowners, guests, and visitors are invited to participate the 3rd Annual Stone Harbor Property Owners Association Photo Contest. One photograph taken in Stone Harbor between June 14th and August 12th can be submitted to contact@stoneharborpoa.org.

3rd Annual Amateur SHPOA Photo Contest Rules

CENTRALIZED DISPATCH of emergency services is now a reality in Cape May County, as the dispatch center at the county airport in Lower Township opened. Avalon & Stone Harbor fire & EMS joined, along with Lower Township police, fire, and EMS. As more towns join, the cost born by each will be reduced. Avalon Mayor Martin Pagliughi, who is also the Director of the Office of Emergency Management, said centralized dispatch could help prevent confusion in the event of a major emergency.

THURSDAYS ON DUNE returns next Thursday, June 28th, at Veterans Plaza on Dune Drive at 21st Street. Each week there will be kids' activities from 5:30pm to 7pm and live music from 7pm to 8:30pm.

Thursdays On Dune Schedule of Events & Music - VisitAvalonNJ.com

SUMMER'S UPON US! With warmer temperatures and afternoon seabreezes on most days, it feels like summer! Everything's open, and weekend crowds are starting to build! With most schools ending this week, summer will be in full swing in the next couple days!

JULY 4TH EVENTS are listed on our Events Page. Fireworks shows are planned on Seven Mile Island. Catch Stone Harbor's fireworks display on Monday, July 2nd and Avalon's on Wednesday, July 4th.

WANT TO MAKE IT PERMANENT? Would you like to have a permanent vacation home here at the shore? Let's talk about how you can make it a reality. From mortgage financing to rental income, we can discuss ways to make your dreams come true!
---
MORTGAGE RATES have crept up slightly the past few weeks, and the Mortgage Banker's Association predicts they could reach an average of 5.4% in 2019. Thinking about buying? Now may be the right time, as a future rate increase could cost you more money each month. Need a good mortgage lender? Call me and I'll be glad to put you in touch with a reliable pro!

AVALON'S 2018 INFORMATION & RECREATION GUIDE is available online at AvalonNJGuide.com. In it you'll find helpful phone numbers, beach information, a list of summer camps, plus event listings.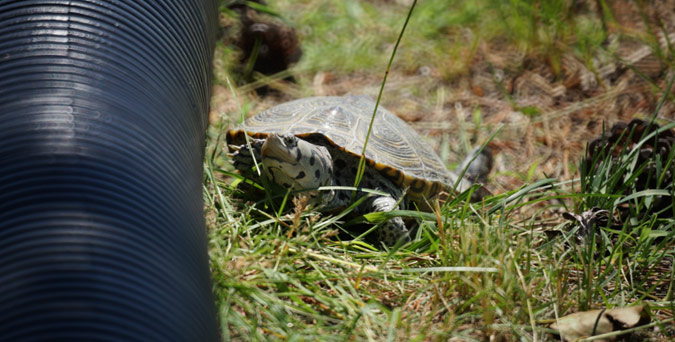 Turtle fences really work...this turtle was kept safely in the brush adjacent to Avalon's Municipal Marina, and prevented from crossing Ocean Drive. Keep an eye open for turtles in areas unprotected by turtle fences, as they seek higher ground upon which to lay eggs.

TUNA IN THE CANYONS, and flounder inshore. That's the synopsis on June fishing in local waters. Reports of good catches continue to come in as tuna move northward, and numerous flounder are caught in the bay. A 269 pound mako shark was weighed in at the South jersey Marina Shark Tournament this past weekend, in which 68 boats were entered.

STONE HARBOR'S "HOBIE CAT BEACH" will be open for sailcraft storage, after being closed initially due to lack of sand. The 122nd Street beach is steeper and narrower than usual meaning beachgoers may compete with catamarans stored in their traditional location. As a compromise, catamaran storage will remain open but sailors must move their vessels on and off the beach without vehicles, using beach wheels and manpower instead. The beach patrol could impose additional restrictions on that area of beach if necessary.

A.J. MEERWALD, New Jersey's official tall ship, travelled to Atlantic Highlands, NJ this week as part of its summer cruise schedule. The Meerwald will also visit Jersey City, Philadelphia and Cape Charles, Virginia this year among other ports of call, but will spend nearly a month berthed in Cape May beginning August 5th. While in Cape May the Meerwald will offer a series of public sailing trips one to two hours in length.

COMING SOON! Fourth of July events will appear in my event list beginning next week--keep an eye out.
---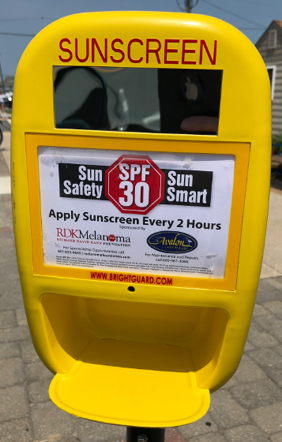 MAKE YOUR SUMMER BUCKET LIST NOW! Do you remember all those "summer things" you didn't manage to squeeze in by Labor Day last year? Make a list and get them on your summer calendar! Watch a sunrise over the ocean, rent a waverunner, catch a flag ceremony at Sunset Beach in Cape May, or take a kid fishing! Whatever makes you happy--do it this summer!

THE ZOO TURNS FORTY! The Cape May County Zoo celebrates its 40th Anniversary Saturday, June 9th from 10am to 2pm. A full lineup of activities is planned, including a primate training demo, an inflatable bounce house for kids, face painting, and a magic show. The zoo is one of Cape May County's treasures. Admission to the zoo is free, but donations are always appreciated.

SUNSCREEN DISPENSERS will be installed at Avalon's Beach Tag Booth at 30th Street & the beach as well as the 39th Street Playground. Free SPF30 sunscreen will be provided as the result of a partnership between the Borough and the Richard David Kann Melanoma Foundation. Avalon resident Elyse Focht suggested the idea after hearing Phillies Hall of Fame third baseman, Mike Schmidt, discuss his battle with skin cancer.

Sunscreen dispensers like the one shown above will be installed at Avalon's Beach Tag Booth at 30th Street and the 39th Street Playground. Photo provided.

FISHING IS GOOD! Reports of good catches of flounder are heard regularly, and numerous stripers over 50 pounds have been weighed in. The first tuna have been caught in the canyons and other offshore hotspots. It's shaping up to be a great fishing season!

TAKE ADVANTAGE OF 7 MILE RESTAURANT WEEK through Sunday, June 10th!

7 Mile Restaurant Week - List of Participants

SEA ISLE CITY'S RESTAURANT WEEK also runs through Sunday, June 10th!

Sea Isle City Restaurant Week - List of Participants

TREAT YOUR FAMILY...to the gift that lasts a lifetime! Do you love visiting the Island for a week? Why not make it permanent? Your family will thank you! Call me so we can discuss your needs, and begin the process of finding the perfect shore property for you & your family!