---
SURFSIDE PARK CONSTRUCTION got underway in Avalon this past week. The new park will be located at 30th Street & the boardwalk and will feature a stage and event area, a play area, restrooms, and a picnic pavilion. Construction is expected to be finished prior to Memorial Day 2019. SNJ Today news interviewed Business Administrator Scott Wahl about the park; watch the interview here:

SNJ Today: Avalon Begins Construction on New Surfside Park

HALLOWEEN FUN this weekend! A variety of Halloween related activities are available on and around the Island this Saturday. Stone Harbor's Kids' Harvest Festival (11am-4pm) will feature trick-or-treating in local stores, as well as hayrides. "Boo at the Zoo" runs from 10am to 2pm at the Cape May County Zoo and features a costume contest, kids' activities, and of course, animals on display. Saturday evening Avalon's Trunk-or-Treat runs from 5pm to 7pm in the 28th Street parking lot. In addition to treats, there will be pumpkin decorating, funnel cake, and caramel apples!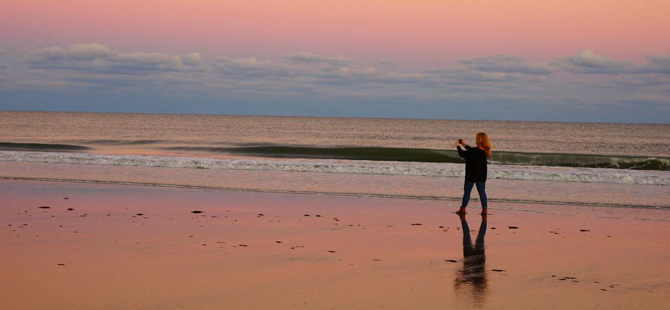 Capturing the subtle colors of an October sunset...as the sun sank over the bay, the soft pink hue over the ocean reflected on the wet beach sand.

DOZENS OF VOLUNTEERS helped last weekend with Beach Sweeps in Avalon & Stone Harbor, and dune grass planting in Avalon. Thanks to all who helped clean and improve our beaches & dunes! Avalon's dunes are scheduled to receive an aerial fertilization this week.

FALL FISHING remains hot! Summertime catches of flounder, tuna, and mahi-mahi have given way to sea bass, tautog, and stripers. Day boats are reporting strong catches of sea bass, with anglers hitting their daily limits. Stripers are beginning to show up in local waters as they move southward. Water temperatures are still in the sixties, and striper catches will likely improve further as cooler weather and water move in.

SAVE THE DATE: THANKSGIVING WEEKEND! The always-popular Thanksgiving Weekend is just four weeks away, and will once again feature a variety of family-oriented holiday activities. Avalon will offer it's Festive Friday & Snowfest Saturday, while Stone Harbor will host its Island Holiday celebration. The weekend concludes with a huge Christmas parade in Stone Harbor Saturday night. Put the weekend on your calendar--more details to follow!

YOUR REFERRALS ARE APPRECIATED! If you know a friend, coworker, or neighbor looking to buy, sell, or rent in Avalon or Stone Harbor, I'd appreciate you putting me in touch with them! My business is built on referrals, and I strive to take excellent care of my clients. Of course, if you are in need of real estate assistance, please call me!

---
MARKET STATS: September's median sale price was $1,450,000, up 11% versus a year ago. 55 properties are currently under contract in Avalon & Stone Harbor, up from 36 a year ago. See the latest Long & Foster Market Minute for a detailed update on the market:

View The Latest Long & Foster Market Minute Report | Download/Print PDF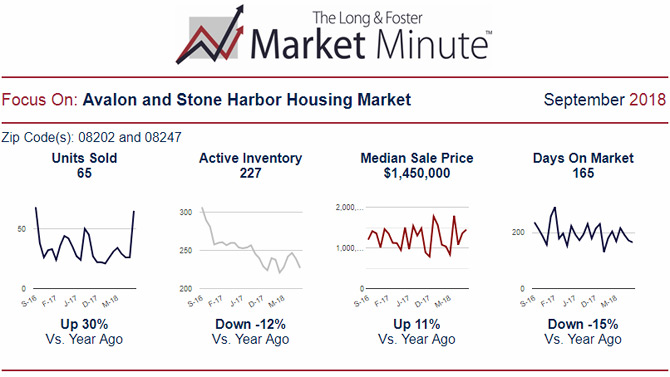 BONFIRE ON THE BEACH: Crisp weather made it feel like fall as dozens gathered on the 95th Street beach last Saturday for a bonfire. A crowd started forming around 5pm as beach chairs were set up, kids tossed balls in the sand, and friends socialized; as daylight gave way to darkness the orange glow of flames took over.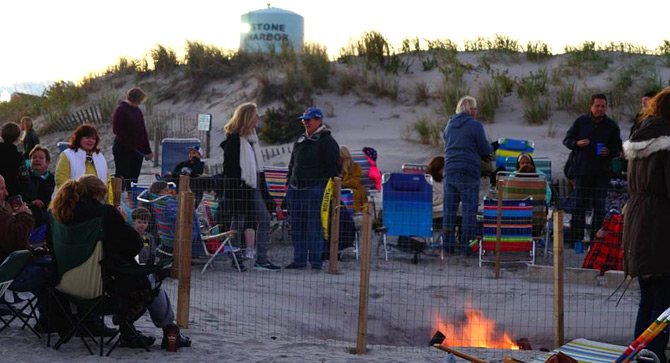 Stone Harbor's bonfire on the beach was a great way to celebrate the arrival of the fall season!

ONE PERCENT=TEN PERCENT: Did you know that a one-point increase in mortgage rates can reduce your purchasing power by roughly ten percent? Consider this example provided by Mike Mento of Prosperity Mortgage, in which the thirty-year fixed interest rate is increased from today's 4.75% level to a hypothetical 5.75% level:





At the higher interest rate means the same monthly payment supports a mortgage amount that's $55,000 less, reducing buying power. With mortgage rates widely expected to increase, if you're thinking about making a purchase it may be wise to do so now in order to lock in your borrowing costs--and purchasing power--before rates rise. Do you have mortgage financing questions? Call Mike Mento at (609) 839-1203.

A LARGE STINGRAY was spotted at the edge of Avalon's beach last week, stuck in very shallow water, and unable to make it back to deeper water on its own. Thanks to the quick thinking of bystanders, and help from the Avalon Police Department, the stingray was helped back into deeper water so it could swim away on its own.

ARIEL IN AVALON! Krysten Green & Chris Rowe recently got married at ICONA Avalon--but it was a surprise for all in the room when Jodi Benson, the voice of "Ariel" in The Little Mermaid, made a special in-person appearance to sing at Chris & Krysten's wedding. Carlisle Videography captured it all right here:

Carlisle Videography - Ariel Was Their Surprise Wedding Singer

---
DEEPWATER WIND may be acquired by the Danish firm ěrsted, in a $510 million transaction, according to the Atlantic City Press. If federal regulators approve the deal, the new company would have ten offshore windfarms in various stages of development, including three off the coast of New Jersey.

Read More: Offshore Wind Giant ěrsted To Acquire Deepwater Wind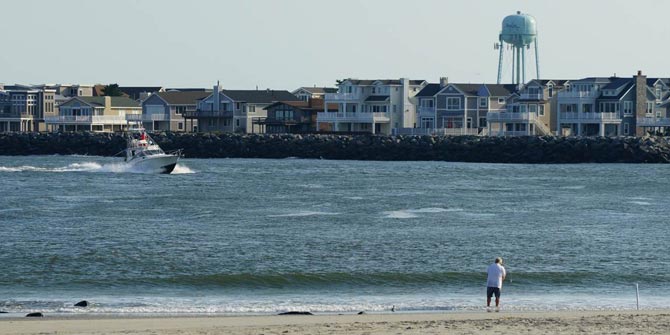 Fishermen enjoy fall weather...one fishes from Sea Isle's southernmost beach while a boat returns from offshore via Townsend's Inlet. Avalon's inlet-front homes are in the background.

YOUR HELP IS NEEDED for dune grass planting in Avalon and beach sweeps in Avalon and Stone Harbor. See below for details on each:

FALL DUNE GRASS PLANTING will take place in Avalon on Saturday, October 20th, beginning at 8:30am. Volunteers should report to Avalon Community Hall at 8:30am for a brief demonstration and instructions. Lunch will be served around 11am, in Community Hall. Volunteers please call the Recreation Department at 609-967-3066 to sign up for dune grass planting.

CLEAN OCEAN ACTION BEACH SWEEPS will take place in Avalon & Stone Harbor on Saturday, October 20th. In Avalon, please call the Recreation Department at 609-967-3066 to sign up for the beach sweep. In Stone Harbor, beach sweep volunteers should report to the Beach Patrol parking lot on 95th Street. Clean up will take place from 9am to 12:30pm and volunteers of all ages are welcome.

BUZZING THE DUNES: Aerial fertilization of Avalon's dune system will occur the week of October 22nd-26th. Beginning at approximately 7am on one of those days (depending upon weather) an airplane will make five flyovers at intervals of 20 to 30 minutes. The aerial fertilization is recommended by the US Department of Agriculture and has been approved by the Federal Aviation Administration.

MONARCH MIGRATION: Be on the lookout for monarch butterflies migrating southward during the next few weeks. Cape May is a well-known stopover destination for monarchs, as New Jersey's coastline funnels them there for a rest before crossing Delaware Bay to continue southward. Last year's monarch count was the highest count in four years; monarchs begin heading south in September, but three to four weeks remain in this year's migration.
---
FALL WEATHER IS HERE! After lots of rain and humidity in September, cool, dry air has made it feel like fall on the Island. Daytime temperatures are expected to be in the mid to high 70s, with evening lows in the 60s for the next week. Warm ocean water means that the beach is still a perfect place to catch a walk or swim!

NOW THAT IT'S OCTOBER, it's time to enjoy less traffic, blinking lights instead of red lights, free & easy parking, and taking your dog for a walk on the beach!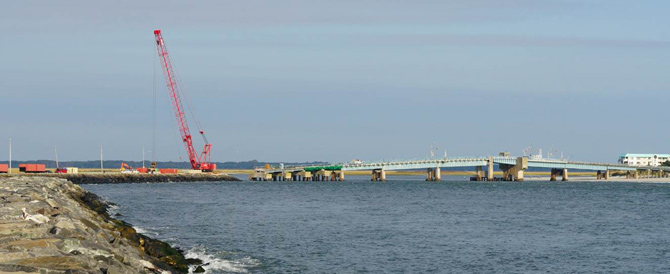 The Townsend's Inlet Bridge stretches toward Avalon...but doesn't quite make it! A section of the bridge has been removed on the Avalon side, as part of a major repair project that will replace seven spans during the off season.

BRIDGE TESTING TO TAKE PLACE: While the Townsend's Inlet Bridge is closed for repairs, two bridges at the other end of Seven Mile Island will be tested for safety in the coming days. On Tuesday, October 9th the Great Channel Bridge (often referred to as the "Free Bridge") will be tested, followed by the 96th Street Bridge on Wednesday, October 10th. Complete closure of the bridges to all vehicles and marine traffic for 15 minute intervals over a four-hour period from 9am to 1pm is expected. Inspectors will return to these same bridges on October 11th & 12th to perform additional testing which may require brief bridge openings.

REMEMBER THE "TWIN CAPES?" The former Cape May-Lewes Ferry "Twin Capes" was sunk in June to make an artificial reef off the coast. Prior to its sinking an episode of "Salvage Dawgs" was filmed as a variety of items from the vessel were salvaged. The show aired earlier this week, but you can shop the inventory of available items, ranging from light fixtures and brass fittings for less than $100, to the ship's grand curved staircase for $18,000.

Check Out The Items: Black Dog Salvage Online Marketplace

DON'T FORGET THE AVALON SEAFOOD FESTIVAL! It takes place Saturday & Sunday from 10am to 5pm at 30th Street & the beach. In addition to fresh seafood from local vendors you'll find beer & wine, kids' activities, arts & crafts, live music, and live streaming of college and NFL football games. Don't miss it!

94 PROPERTIES ARE UNDER CONTRACT in the local market--meaning 94 families are looking forward to enjoying their very own shore property! How about you? From small getaway condominiums to the largest of waterfront homes, Seven Mile Island offers something for every budget and desire. Call or email me today--I'll listen to your needs and find you the perfect place to call your own!