This Weeks News 5/30/2019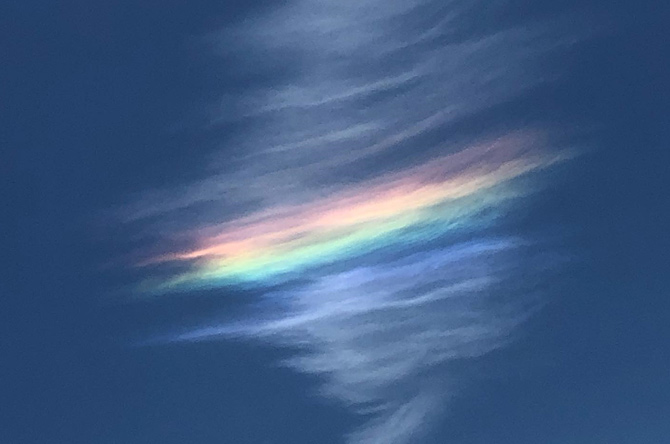 This beautiful "fire rainbow" appeared in the sky over Avalon & Stone Harbor on Sunday afternoon. Thanks to Christa O'Donnell for capturing this gorgeous view!

THE PERFECT WEEKEND! Three sunny days in a row made for a perfect Memorial Day Weekend in Avalon & Stone Harbor. From beachgoers to fishermen to parades, wonderful weather had visitors and residents busy all weekend long enjoying outdoor activities. In the evenings, stores, restaurants, and ice cream shops were busy. Perhaps the only downside to a "perfect weekend" is the traffic--Monday's northbound traffic was jammed for much of the afternoon as visitors returned home!

"FIRE RAINBOW" OVER THE BEACH! Just when shore visitors thought the weekend couldn't get any better, it did! A "fire rainbow" appeared in the sky Sunday afternoon, visible from Seven Mile Island and other shore towns. The brightly colored rainbow is not a rainbow at all, but occurs when sunlight shines through ice crystals in cirrus clouds at the right angle. Numerous pictures of the rainbow appeared on social media, and CBS3 News in Philadelphia ran a story on it here:

Fire Rainbow Spotted In Avalon, New Jersey Over Memorial Day Weekend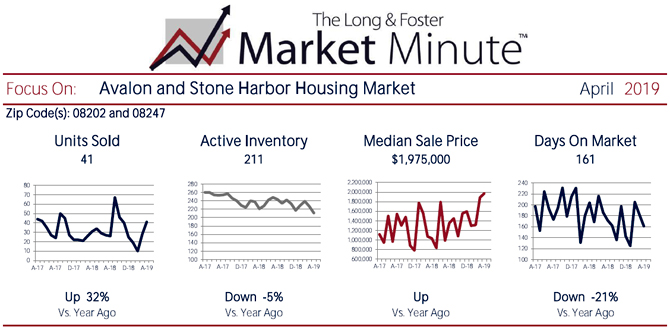 View The Latest Long & Foster Market Minute Report | Download/Print PDF

MARKET STATS: The number of units sold and the median sale price increased during the month of April 2019, while the number of active listings declined slightly, as strong demand continues to drive the market. For a detailed look at the market see the latest Long & Foster Market Minute report above.

A NEW HOTEL is proposed in Cape May Court House, adjacent to the Garden State Parkway at Exit 10. Zoning approval is required for the proposed 100-room Hampton Inn, which would be built upon ground formerly occupied by Design Collaborative. Currently zoned "rural conservation," the developers of the hotel are seeking a change to "town center" zoning. In addition to vacation stays, the hotel's developers cited the proximity to Cape Regional Medical Center and the county's Crest Haven Complex as sources of year-round demand for hotel rooms.

SEVEN MILE RESTAURANT WEEK is June 2nd through June 9th, and more than 50 local restaurants will be participating this year. Try a new restaurant, or visit an old favorite! Breakfast, lunch, and dinner specials will be featured all week.

Seven Mile Restaurant Week: More Info, Menus, And A List Of Participating Restaurants

SEA ISLE RESTARUANT WEEK is June 3rd through June 9th, with prix fixe specials running all week except Saturday, June 8th.

Sea Isle Restaurant Week: More Info And A List Of Participating Restaurants
This Weeks News 5/23/2019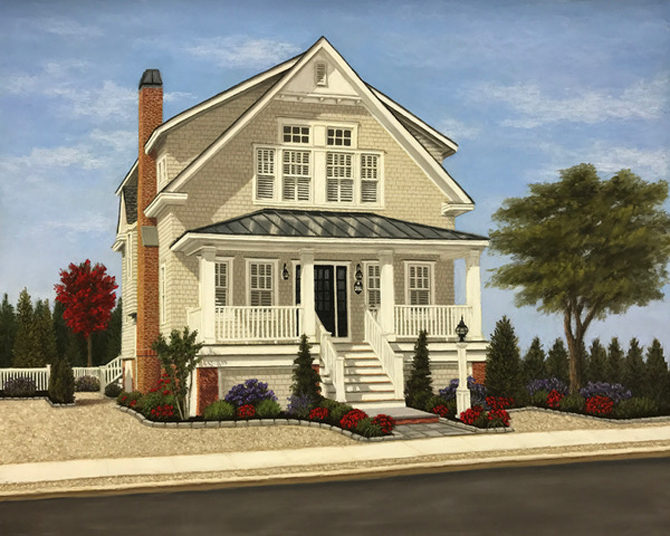 Let Lisa Cunningham capture your shore house with one of her unique paintings!

HOUSE PORTRAITS by Lisa Cunningham capture the essence of your shore home, while allowing you to display it at your home or office! They serve as conversation starters, or as a great gift for that special someone in your life. Check out Lisa's work and contact her for your own "House Portrait!"

Lisa Cunningham Fine Art

MOST SCENIC FERRY RIDES: The Cape May-Lewes Ferry has been named one of the nation's most scenic ferry rides by Smithsonian Magazine. Top reasons include views of lighthouses, harbors, and often, dolphins and whales. Time your voyage right and catch a sunset over the Delaware Bay, too! Check out the article, and the other great ferry rides here:

Seven of the Most Scenic Ferry Rides in the United States

15 MILES OF JERSEY SHORE TO LOVE: A recent Philly.com article highlights Stone Harbor, Avalon, Sea Isle, and Strathmere as "15 Miles of Jersey Shore to Love." Included is a rundown of favorite restaurants, amenities, and events that'll keep you busy all summer!

15 Miles of Jersey Shore to Love: Stone Harbor, Avalon, Sea Isle City, and Strathmere

A NEW WAY TO OWN A BOAT: Jet Drive Exchange, based in Ocean City, is reinventing traditional boat ownership to reduce expenses, and the hassle-factor. In exchange for a one-time activation fee plus an annual package fee, members can enjoy unlimited use of a jet ski or boat during the summer season, without any slip fees, cleaning, or maintenance. Reserve your choice of times, use the boat, and return it to the dock! Jet Drive Exchange is located at 228 Bay Avenue in Ocean City, and offers a variety of packages depending upon your boating desires.

Jet Drive Exchange - Boat and Jet Ski Club

THE ISLAND IS ALIVE with activity! Restaurants and stores are open and ready for business, while homeowners make last minute preparations. You can feel the excitement! If the forecast holds we should be enjoying temperatures in the 70s with partly sunny skies over the weekend!

REMEMBERING THOSE WHO HAVE MADE THE ULTIMATE SACRIFICE: Both Avalon and Stone Harbor will hold Memorial Day Ceremonies and Parades. Avalon's Parade along Dune Drive will begin at 9am with a ceremony to follow at Veteran's Plaza at 21st & Dune Drive at 9:45am. In Stone Harbor a Memorial Service for Fallen Heroes will be held at 11am at the Fire Department Monument. Stone Harbor's parade begins at noon and proceeds from the 96th Street bridge to the Women's Civic Club, where a memorial service will be held at 1pm. An afternoon open house will be held at American Legion Post #331 at 11627 Second Avenue beginning at 1pm.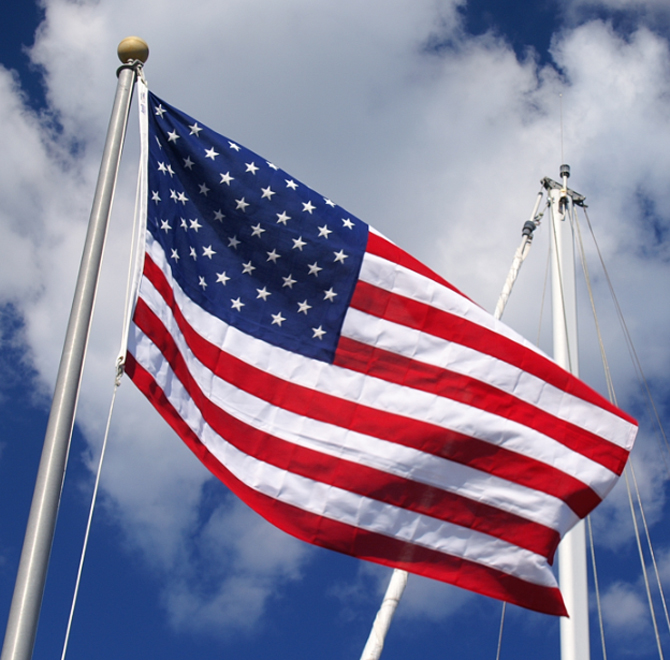 Enjoy the long weekend while remembering those who have sacrificed so much!
This Weeks News 5/16/2019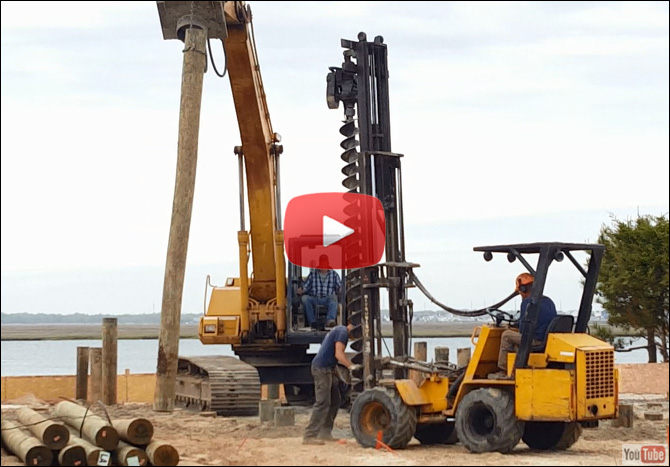 Did you ever wonder how pilings are installed before a new home is built? Watch this brief video to find out!

"PILING ON!" Did you ever wonder how pilings are installed in the ground prior to the construction of a new home? Check out the two-minute video above, which shows the process. A large auger drills a hole in the soil in a precise location marked by a surveyor. Once the hole is ready, a piling is lifted into place and driven into the soil to a specified depth. Later the tops of the pilings are cut to a specified height so the new home's footing and foundation can be installed.

THE TEN BEST BEACH TOWNS on the Jersey Shore include Avalon and Stone Harbor! CoastalLiving.com listed its top choices among beach towns, and cited a variety of restaurants, events, and other activities as influencing their selections. Also on the list are Cape May, Ocean City, and Margate.

CoastalLiving.com: 10 Best Beach Towns on the Jersey Shore

"CAPE MAY COUNTY UMBRELLA": Local residents have often noted that Cape May County weather often varies from the weather in other South Jersey Counties. An Atlantic City Press article addresses that very concept, and cites being surrounded on three sides as a factor. Ocean and bay water remain warmer than land in the winter, and snow often changes to rain as it strikes Cape May County. In the summer, cool ocean water minimizes the impact of thunderstorms as compared to other South Jersey Counties.

Press of AC: Does the 'Cape May County umbrella' really exist?

BRING YOUR OWN BAG when shopping in Stone Harbor beginning June 1st, when a ban on single use bags being provided at checkout goes into effect. According to the borough, reusable bags help with efforts to protect the environment so that Stone Harbor always remains "The Seashore at its Best!"

SEA ISLE CITY RESTAURANT WEEK is coming up June 3rd to 9th (excluding Saturday June 8th). More than a dozen restaurants will offer four course meals for $34. It's a great way to try a new restaurant!

View The List Of Participating Restaurants

LAST CALL FOR PRESEASON BEACH TAGS! Season beach tags can be purchased at a preseason price of $23 per tag. Visit the Beach Tag Booth at 30th & Avalon Avenue on weekends to make your purchase prior to May 31st. (It's too late for mail orders in Avalon). Pre-season tags are $23 in Stone Harbor as well, and mail orders are still being accepted until May 31st.

Stone Harbor Beach Tag Order Form (PDF)

IT'S JUST OVER A WEEK until Memorial Day Weekend and the unofficial start of the summer season! If you're ready to book a last minute vacation--or if it's time to buy or sell your own place--please give me a call today!
This Weeks News 5/9/2019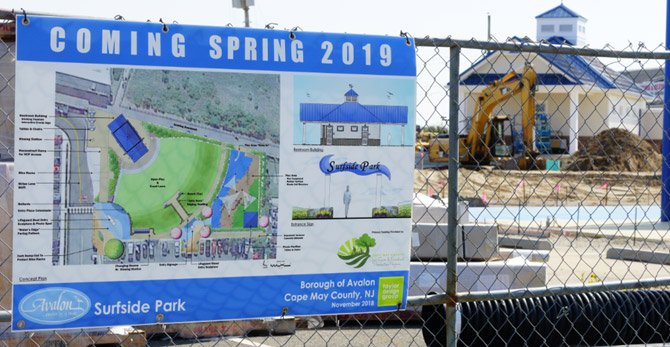 AVALON'S NEW SURFSIDE PARK will host numerous events this summer, including "Surfside Live" on Monday evenings and "Surfside Jam" on Friday evenings. The new complex will feature playground equipment, green space, and new bathrooms with a changing station. The site has really taken shape and work continues as it moves toward completion.

"EXCHANGE ZONE" IN SEA ISLE: If you've purchased or sold an item via an online auction or classified ad, meeting in a public place to conclude the transaction is often recommended. Sea Isle City has created an area for the specific purpose: a public "exchange zone" has been created in front of City Hall where residents and visitors can meet to conduct legal transactions in a public, monitored location. Green stripes and signage mark two parking spaces dedicated to the exchange zone, which is also under constant surveillance.

RECYCLING is alive and well in Cape May County, with recycled materials making up about 31 percent of all waste according to a recent Upper Township Sentinel article. There are numerous examples of local initiatives to reduce waste and increase recycling, including bans on single use plastics and plastic bags, and Avalon recently expanded the number of monofilament (fishing line) recycling stations to keep it away from marine life and out of waterways. Cape May County's Municipal Utilities Authority offers the Waste Wizard app, available at CMCMUA Waste Wizard: How Do I Dispose Of...?, which allows users to type the name of an item they wish to dispose of or recycle, and receive instructions on how to properly do so.

A GRUMMAN F6F HELLCAT was recently added to the Naval Air Station Wildwood Aviation Museum. The World War II fighter plane was ditched at sea in January, 1945, off San Diego, California, and recovered in 1971. The restored plane has many of its original parts, and wears the nickname "Hawk," for its pilot Arthur Ray Hawkins, the US Navy pilot who flew the plane from the deck of the USS Cabot. Located at the Cape May County Airport, the NASW Museum is open daily and houses numerous other exhibits, including a TBM-Avenger, F-14 Tomcat, and F-16 Fighting Falcon.

WETLANDS INSTITUTE TURNS 50! 2019 marks the 50th Anniversary of The Wetlands Institute, known for its role in studying, protecting, and preserving wetlands and coastal ecosystems. In addition to an anniversary celebration weekend on June 22nd and 23rd, the Institute will offer free admission on the first Wednesday of June, July, August, and September. Visit the Institute in person, or online at The Wetlands Institute.
This Weeks News 5/2/2019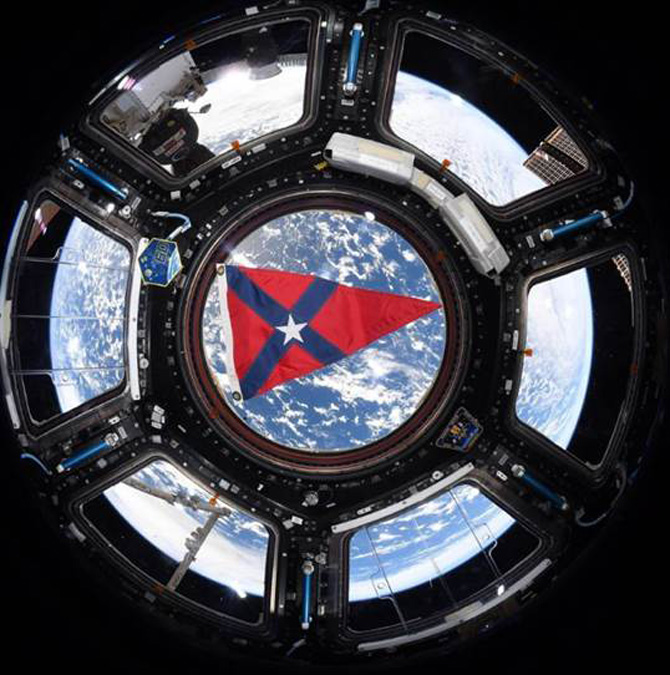 A little piece of Stone Harbor, aboard the International Space Station! Photo from Yacht Club of Stone Harbor's Facebook page.

STONE HARBOR YACHT CLUB IN SPACE! Nick Hague, a NASA astronaut by trade, likes to spend time in Stone Harbor. On his recent trip to the International Space Station, Nick took a piece of Stone Harbor with him! The Yacht Club of Stone Harbor Burgee was displayed aboard the ISS, with Earth visible in the background. Nick launched on March 14th and performed a spacewalk just over a week later.

AVALON'S SAND BACKPASSING PROJECT is wrapping up this week, with approximately 55,000 cubic yards of sand added to beaches between 9th and 15th Streets. Sand was removed from an area south of the Avalon Fishing Pier, and transported by Avalon's Department of Public Works using rented equipment. According to Avalon Mayor Martin Pagliughi utilizing sand backpassing between hydraulic beach fill projects "allows the Borough to restore our beaches on our schedule, with our manpower, to produce the highest level of efficiency possible."

LARGE BEAMS arrived earlier this week for installation on the Townsend's Inlet Bridge. The massive beams came in on large flatbed trucks, and were lifted off by the massive cranes on site. The reopening of the bridge has been delayed by construction difficulties. Originally scheduled to reopen for Memorial Day, the bridge is now expected to remain closed until late summer.

IT'S TURTLE TIME AGAIN! As the weather gets warmer turtles become more active, and some have already been spotted on area roadways. Slow down and give 'em a "brake!" If you wish to help a turtle cross a roadway, make sure to look out for your own safety while assisting the turtle by moving it in the direction in which it was headed.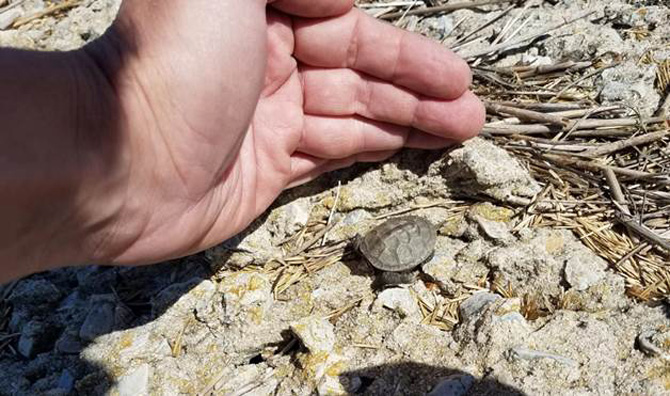 This tiny turtle was on the move in the 55th Street area of Avalon. Keep an eye out for turtle crossings which will peak in the next several weeks. Photo by Jeremy Jones.

HAVE YOU MADE YOUR SUMMER VACATION PLANS YET? Memorial Day Weekend is just four weeks away! It's time to book your summer vacation if you haven't already! To browse our digital rental guide, click here: Renting at the Shore - Avalon and Stone Harbor. If you'd like to have a shore property to call your very own, I can help you make that happen in time to enjoy the summer season in your very own place! Contact me to get started today!