This Weeks News 6/27/2019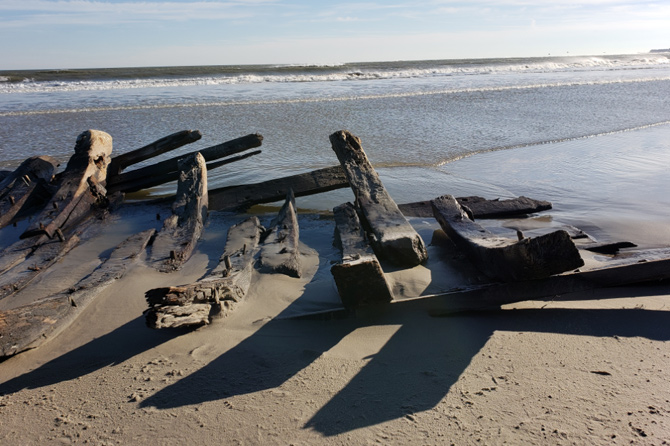 The D.H. Ingraham wreck at Stone Harbor Point has been uncovered again over the past few weeks. The photo above, courtesy of Noelle Guest, is from December, 2018, when the wreck first reappeared after many decades beneath the sand.

THE SHIPWRECK at Stone Harbor Point is visible once again, as tides and winds have moved the sand that covered it. The wreck is suspected to be that of the D.H. Ingraham, a wooden cargo ship that was bound for Virginia when it ran aground in Hereford Inlet the night of December 4, 1886, during a nor'easter. All five members of the D.H. Ingraham crew were saved by the crew of the Anglesea Lifesaving Station, who rowed a lifeboat a mile into the wind, waves, and snow to the wreck site. The D.H. Ingraham crew was transported by the lifeboat crew back to Anglesea, where they spent several days. Sand has covered the wreck for years, but it was recently rediscovered this past December, before disappearing beneath the sand again in January.

OFFSHORE WIND POWER is one step closer to becoming reality after the NJ Board of Public Utilities selected the Danish firm ěrsted to construct an 1,100 megawatt wind farm 15 miles off Atlantic City. Construction of the $1.6 billion project could begin in 2020, and will be subsidized by an increase of $1.46 per month on residential electric bills, with commercial and industrial customers paying more. ěrsted may connect to the power grid at the recently-closed BL England plant in Upper Township.

More Details: The Press of Atlantic City - NJ Picks Developer For Wind Farm Off Atlantic City

SUMMER FISHING is off to a strong start with good catches of summer flounder reported. Weakfish and kingfish are also being caught locally, while offshore tuna fishing has been red hot in the canyons for a few weeks. Need advice on where (or how) to catch 'em? In Avalon check out Moran's Dockside (14th & the bay) or Avalon Hodge Podge (24th & Ocean Drive). In Stone Harbor visit Smuggler's Cove (83rd & the bay). All three locations offer bait & tackle, and they'll share their expert local knowledge.

CATCH SOME GREAT MUSIC! Three free concerts are scheduled for the next several days, and are sure to include patriotic favorites leading up to Independence Day! The US Air Force Band will perform at Cape May Convention Hall on Monday, July 1st at 7pm; the 63rd Army Band performs at Surfside Park in Avalon on Tuesday, July 2nd at 7pm; the Bay Atlantic Symphony will perform at Avalon Community Hall on Thursday, July 4th at 7pm.

56 PROPERTIES ARE UNDER CONTRACT...and 56 families are looking forward to owning a new shore property! Imagine the anticipation and excitement of knowing that you'll be enjoying your very own place at the shore...and making memories to last a lifetime! Have questions on how to make it a reality? From rental income to mortgage financing to the best buys available...let's discuss YOUR situation and make YOUR dream come true!
This Weeks News 6/20/2019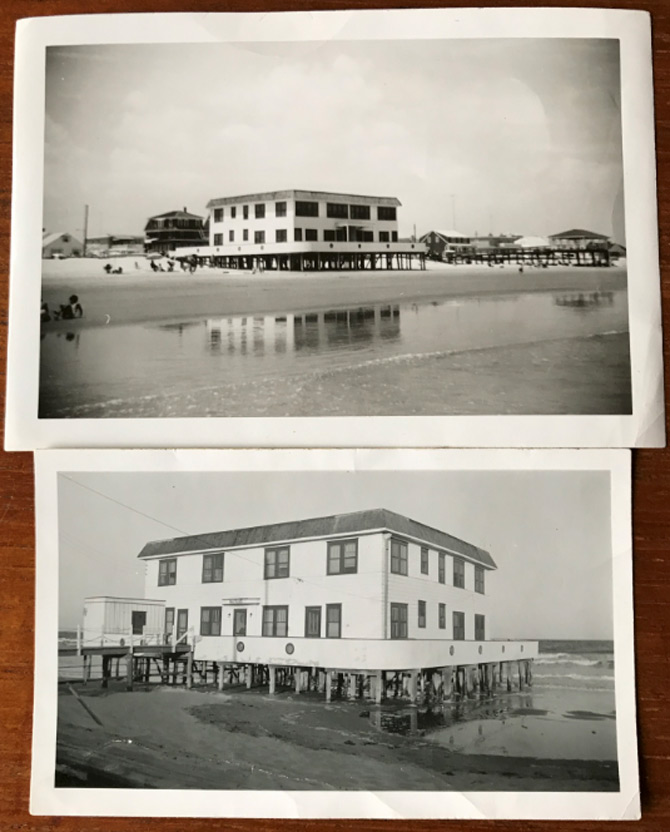 These pictures of the Nautilus Apartments were sent to us by Long & Foster friend Phil Bolbach. Phil says the 8-unit Nautilus stood on the beach at 89th Street in Stone Harbor, and he has fond memories of staying there. Phil said ,"I loved when we rented there as it was so neat as a young boy to fall asleep listening to the high tide underneath splashing against the pilings." Alas, the "Storm of '62" nor'easter claimed the Nautilus, but not Phil's memories of his family's time there! Thanks, Phil!

MARKET STATS: The number of sales and the median sale price were both higher during the month of May compared to a year ago, while the number of active listings and the average "days on market" both declined. Strong demand and low interest rates continue to be major factors influencing the market. For a detailed look at the market see the latest Long & Foster Market Minute report below.

View The Latest Long & Foster Market Minute Report | Download/Print PDF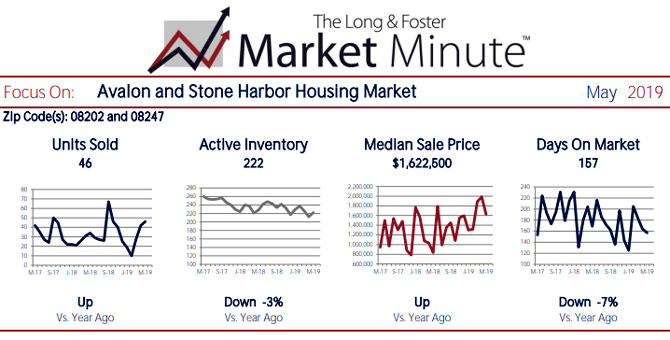 THE GRAND OPENING OF SURFSIDE PARK takes place this weekend in Avalon, as "Jimmy and the Parrots" perform a free concert at 6pm Saturday. A great line up of events is scheduled for Surfside Park all summer long.

CAPE MAY COUNTY TOURISM totaled $6.6 billion in 2018, a $244 million increase over 2017. According to the 2018 Cape May County visitor profile, 8% of visitors were day trippers, 36% stayed 2-4 nights, and 38% stayed a week or more. The largest feeder markets are Pennsylvania (28%), New Jersey (27%), and New York (19%). Cape May County visitors have an 85% return rate!

REMEMBER THE OLD VICTORIAN HOME in Avalon that was carefully disassembled and moved to a storage location off the island? This week it was reassembled at its new location on Texas Avenue in Cape May. Adrienne Scharnikow used to vacation with her family at the home many years ago in Avalon, and later purchased the structure for $1 to prevent it from being demolished. The house was stored offshore for months while Scharnikow searched for a lot on which to rebuild; earlier this year the house was moved to the lot in Cape May, and a new foundation was built to accommodate the structure.

PLAN AHEAD FOR JULY 4TH WEEKEND! An entire weekend's worth of events is planned, including fireworks displays on the 4th in both Avalon and Stone Harbor! More details to follow!

MAKE YOUR SUMMER BUCKET LIST! Summer officially begins this week, and it's time to make your "gotta do it" list! Whether it's taking a sunrise walk on the beach or teaching your grandchild to fish, make your Summer Bucket List, then set aside the time to make it happen!
This Weeks News 6/13/2019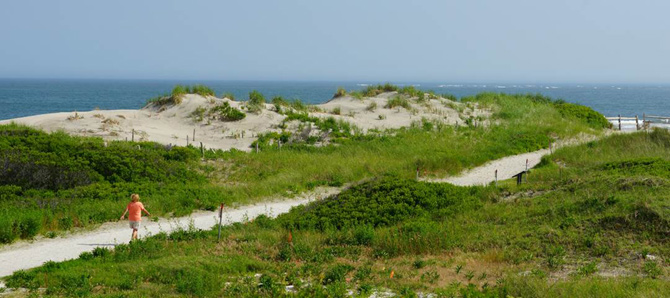 The observation deck at Stone Harbor Point offers an elevated view in all directions. Looking in a southerly direction the dunes and access trail are visible, with the ocean in the background to the left, and the whitecaps in Hereford Inlet to the right. From birds to boats to waves to weather, there is always something to watch!

TURTLE TIME AGAIN! It's peak time for diamondback terrapin egg laying--which means you may see turtles crossing local roads. Keep an eye open and give 'em a brake! If you're inclined to help a turtle cross the road, move it in the same direction it was travelling--but please take care to ensure your own safety while doing so.

MORTGAGE RATES increased a bit from their extreme lows of a few years ago, but have recently fallen slightly, making them very attractive compared to historical rates. According to the chart below from Mike Mento of Prosperity Mortgage, the average 30-year fixed rate was 3.99% at the end of May--and a great opportunity to lock in a low mortgage rate for the duration of your property ownership. Mortgage question? Call Mike at 609-839-1203! Ready to buy? Call me!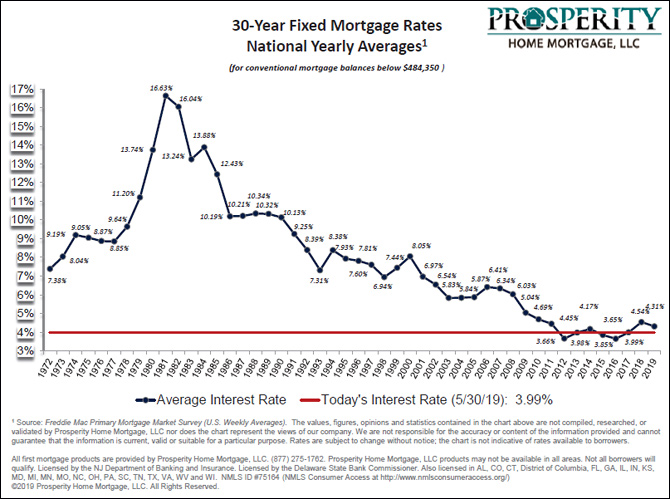 The red line above represents today's average 30-year fixed mortgage rate, at 3.99%--very attractive compared to historical rates!

THE WETLANDS INSTITUTE turns 50 this year, and will celebrate its anniversary Saturday and Sunday, June 22nd & 23rd. Doors will be open all weekend, with free admission. Explore the wetlands with guided walks, visit the touch tanks and watch live demonstrations, and enjoy waterside music and food trucks. For an additional fee boat, kayak, and paddleboard tours will be available. Visit The Wetlands Institute for more information.

ANOTHER BOAT OWNERSHIP OPTION that includes unlimited usage is the Carefree Boat Club, with a location right in Avalon. For a one time activation fee and an ongoing monthly fee, members can reserve time aboard one of six boats offered by the club, and go boating as frequently as they like, paying only for fuel used. The Club maintains and stores the vessels, and carries insurance. The staff will even instruct members on operation, and assist loading and unloading the vessel at the dock. Check them out at Carefree Boat Club of Avalon.

THIS WEEKEND brings a variety of great activities to the area, and it's a perfect time to try something fun without a crowd! Check out a few of these unique activities below:
Transportation Heritage Festival in Tuckahoe, Saturday, June 15th, 10am-4pm. Cape May Seashore Lines will operate short excursion rides aboard a vintage trains, and motor car rides, from Tuckahoe Station, for $10 per person and $5 for children. (First class train seating can be purchased for an additional charge.) Visit CMSL - Tuckahoe Transportation Heritage Festival for info.

Wings and Things Art and Family Festival at Cape May Airport, Saturday and Sunday, June 15th & 16th. Enjoy music, artist demonstrations, crafts for kids, touch-a-truck, and classic cars. Adults $14, kids $10. Visit Naval Air Station Wildwood (NASW) Aviation Museum for info.

Skimmer Festival in Sea Isle City, Saturday and Sunday, June 15th & 16th. Seaside Vendors Market, Skimmer Food Court, music, face painting, photo booth, classic cars, a parade along the Promenade, and more. Visit Sea Isle City Skimmer Festival for details.
This Weeks News 6/6/2019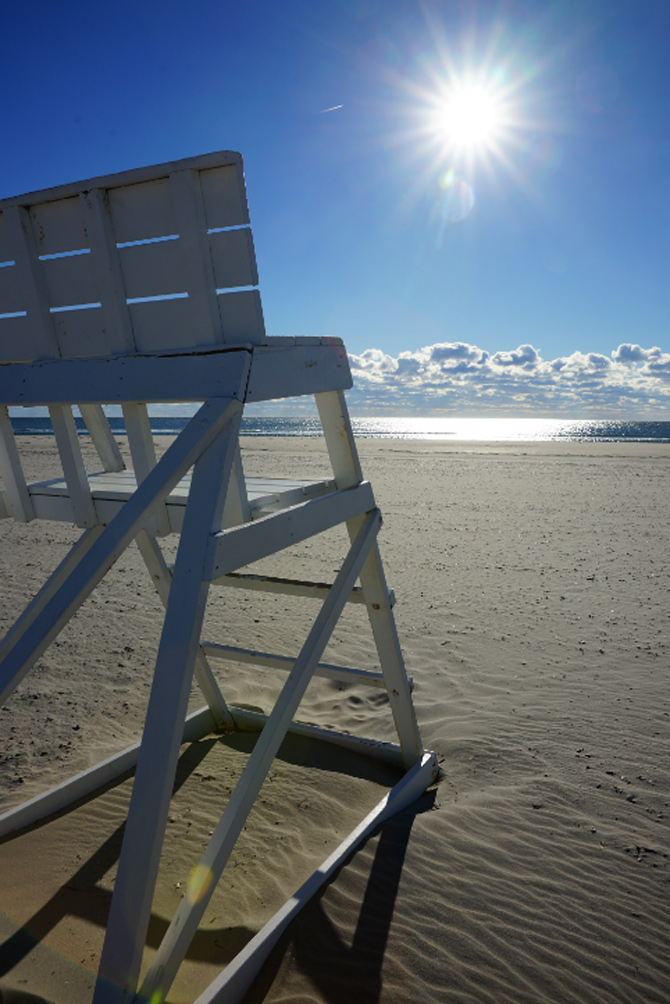 Summer's here...and the beach is waiting for you!

THE TOWNSEND'S INLET BRIDGE may open on or before July 30th according to an update from Cape May County Engineer Robert Church. Church cautioned, however, that a lot of additional construction elements need to be completed in order for that to happen. The bridge has been undergoing repairs since closing last September, and was originally slated to be open to traffic by Memorial Day. Residents, visitors, and business owners on both sides of the bridge are anxious to see it reopen.

THE REEDS AT SHELTER HAVEN was cited as the best hotel in New Jersey by Conde Nast Traveler. Among the amenities listed by Conde Nast are upscale dining, a rooftop plunge pool, and the new Salt Spa across the street.

PLASTIC BAG BANS went into effect in Avalon and Stone Harbor this past weekend, as part of an effort to reduce waste and plastic pollution in the ocean. Single use plastic bags, plastic straws, and Styrofoam containers are prohibited in both towns. Stone Harbor also prohibits plastic cutlery and containers.

SAILBOAT RESCUE: A two minute squall capsized a sailboat 65 miles off the coast of Atlantic City. After three hours in the water, the boat's owners were rescued by the Coast Guard and flown to Atlantic City for evaluation. According to an Atlantic City Press article the boat's 54-year old owner built the vessel and had spent years sailing it. The couple was en route from the Bahamas to New York City when the capsize occurred.

Press of Atlantic City: Couple Rescued From Boat Capsized Off A.C.

SEVEN MILE RESTAURANT WEEK runs through this weekend. Check out participating restaurants and their menus here: Seven Mile Restaurant Week. Sea Isle Restaurant Week also runs through Sunday; check out the participants here: Sea Isle Restaurant Week.

TRAINS AND FIRETRUCKS will be on display in nearby Tuckahoe on Saturday, June 15th from 10am to 4pm for the Tuckahoe Transportation Heritage Festival. Cape May Seashore Lines will offer rides on vintage railroad equipment, some of which used to carry passengers to and from Cape May County on a daily basis. Admission to the event will be $10 for adults and $5 for children; first class train fare will be available at an additional charge.

ONLY 27% OF AVALON PROPERTIES and 29% of Stone Harbor properties are owned by New Jersey residents according to a recent NJ.com article. In-state ownership varies widely from shore town to shore town, with Cape May County towns having some of the lowest figures in the state.

NJ.com: People From Other States Own More Than A Third Of The Jersey Shore

WHY NOT BECOME A SHORE PROPERTY OWNER YOURSELF? Whether you need a small condo or a mansion by the sea, let me help you find the perfect place! Call me today to get started!