This Weeks News 2/28/2019
SOAR HIGH ABOVE AVALON, Sea Isle City, and Townsend's Inlet! This new drone video from Remington & Vernick Engineers shows construction crews rebuilding part of the Townsend's Inlet Bridge. Crews can be seen inspecting components as an outgoing tide rushes past the bridge structure. You'll also enjoy sweeping views of the surrounding area, including the inlet and Avalon's north end, too!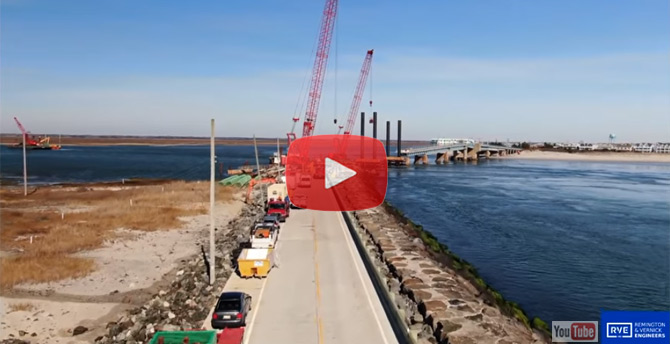 This new drone video shows the work being done on the Townsend's Inlet Bridge--and stunning views of the inlet and Avalon!

AVALON FIREFIGHTERS WENT SWIMMING this week, but not for fun! Members of the Avalon Volunteer Fire Department Water Rescue Team received special training from instructor George Ward of the Pennington School, who volunteered his expertise to help members of the fire department improve their efficiency when swimming. The session took place at the Cape May County Special Services School District in Cape May Court House. The fire department operates a 25' Sea Ark boat, two Jet Skis, and a pair of inflatable boats for responding to various water-based emergencies.

FENCING AT STONE HARBOR POINT: Volunteers are needed for a fencing project at Stone Harbor Point; the Endangered and Nongame Species Program will install posts, string, flags, and signage to protect the beach nesting bird habitat at Stone Harbor Point. The project will last from two to four hours; volunteers should be able to walk long distances in the sand, dress for the weather, and bring their own water and snacks. Membership in the Wildlife Conservation Corps (run by the Division of Fish and Wildlife) is required. An application can be found here: Application For The Wildlife Conservation Corps (PDF); contact Christina Davis at Christina.Davis@dep.nj.gov to register.

TURTLE FENCING has been installed along Sea Isle Boulevard in order to prevent nesting turtles from crossing the road and being run over. Black coated chain link fencing is being installed between guardrails and the ground, providing a safety barrier for nesting turtles seeking high ground on which to lay eggs. Sea Isle Boulevard recently underwent a multi-year project to elevate the roadway; the new turtle fencing is the latest phase of the project.

BOATING, ANYONE? If you're in the market for a new boat, the Atlantic City Boat Show runs through Sunday, March 3rd, at the Atlantic City Convention Center. Featuring hundreds of new boats, plus over 400 booths showcasing the latest in marine engines, accessories, and technology, the mid-winter show allows snow-bound boaters the chance to jump start their boating season! The National Marine Manufacturers Association says New Jersey ranks 19th in the US, spending $394 million on boats in 2017. The five day show runs from 11am to 8pm Wednesday through Friday, 10am to 8pm on Saturday, and 10am to 6pm on Sunday. Tickets are $16 for adults; children 12 & under are free.

STORM OF '62 SLIDESHOW: The Avalon History Center will host a slideshow titled "Storm of '62" on Saturday at 1pm, at the Avalon History Center. Learn about the famous storm and its impact on the Island!

PLAN YOUR VACATION NOW! Don't wait too long! Browse our rental brochure, identify your vacation dates and your price range, and then call or email me!

View The Brochure - Avalon & Stone Harbor Vacation Rentals
This Weeks News 2/21/2019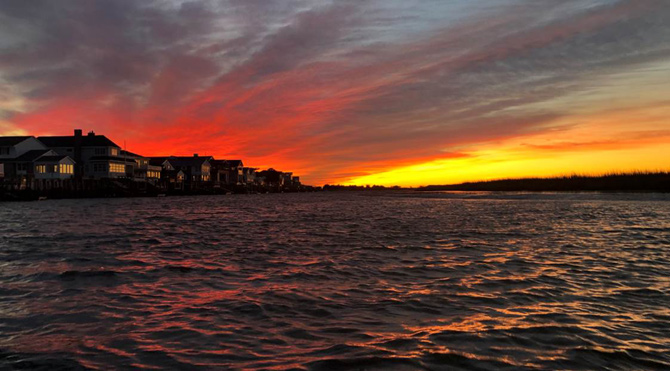 Fire in the Sky! This gorgeous photo of a vibrant sunset was captured by Rebekkah Davies of Stone Harbor. The windows of the Bayfront homes are lit by the sunset!

MARKET STATS: The number of units sold in January decreased slightly versus last year, while the number of active listings remained about the same. For detailed look at the market, see the latest Long & Foster Market Minute here:

View The Latest Long & Foster Market Minute Report | Download/Print PDF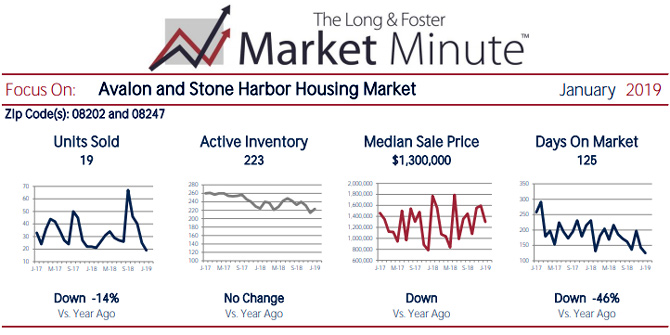 THE TOWNSEND INLET BRIDGE is still expected to reopen in time to accommodate summer traffic, despite bad weather that has affected the ongoing reconstruction of the bridge. The span has been closed since September to allow for the complete replacement of seven of its 27 spans. Weather conditions have hampered construction work in recent weeks, but the contractor making repairs has shifts working around the clock in order to speed the project along. When the bridge is closed, a trip from the northern end of Avalon to the southern tip of Sea Isle City takes about 27 minutes via the mainland, instead of just a few minutes.

BRIDGES ARE A PART OF LIFE IN CAPE MAY COUNTY, with numerous inlets and waterways spanned by a variety of roadways. The ongoing construction of the new Garden State Parkway Bridge spanning Great Egg Harbor Bay is expected to be completed in May, followed at some point by the opening of the pedestrian walkway built into the bridge. Also under discussion is the Middle Thorofare Bridge, which links Ocean Drive between The Wildwoods and Cape May. Replacement of the existing drawbridge with a fixed span bridge was discussed by county freeholders. The fixed span under consideration would have vertical and horizontal clearances of 80 feet in order to accommodate the numerous commercial fishing vessels that regularly travel under the current drawbridge. The elevated fixed span would make drawbridge openings a thing of the past, easing summer traffic congestion, but would come with an estimated price tag of $242 million.

MISSED LAST WEEK'S POLAR BEAR PLUNGE in Sea Isle City? There's still plenty of time to sign up for the Stone Harbor Shiver, which takes place on March 16th. Proceeds from the event will benefit Family Promise of Cape May County, and the Stone Harbor Chamber of Commerce. Registration fees include a long sleeve tee shirt or hooded sweatshirt. In addition to the plunge, enjoy a Pre-Plunge party at the Reeds Friday evening, Kegs & Eggs at Fred's Tavern Saturday morning, and a post-party, also at Fred's.

Details & Registration Info: Stone Harbor Shiver Polar Plunge 2019

NEW FIRE TRUCK FOR AVALON: A new Pierce Enforcer PUC pumper is nearing completion and is expected to be delivered to Avalon in early March, and will feature a 750 gallon water tank, a 1500-gallon-per-minute pump, and a compressed air foam system. After delivery, fire department engineers will be trained by the manufacturer on the operation of the new truck. A 1996 truck will be traded in for credit.
This Weeks News 2/14/2019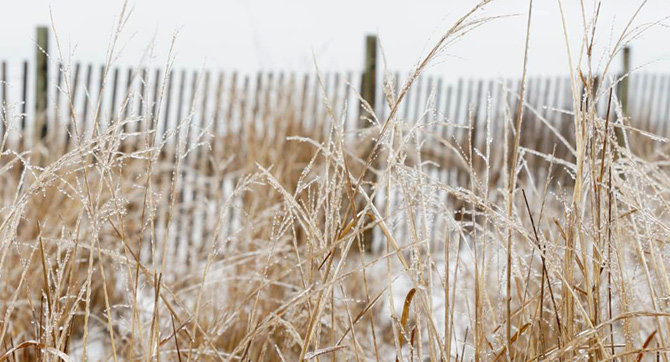 Monday's snowfall turned to freezing rain on the Island. Here, blades of dune grass laden with ice stand above a light coating of snow blanketing the dunes.

A RECORD 932 OSPREYS were counted in New Jersey in 2018, according to an Atlantic City Press article. Of the state's 589 active nests, 423 were located in Atlantic, Cape May, and Cumberland Counties. During the summer months ospreys can easily be viewed in and around the wetlands behind Avalon & Stone Harbor.

THE WETLANDS INSTITUTE celebrates its 50th Anniversary of its founding on February 17th. The non-profit organization has a mission to preserve, protect and steward wetlands and coastal ecosystems and fulfills its mission through programs in research, conservation and education. Executive Director Dr. Lenore Tedesco said "The Wetlands Institute was founded with an understanding that wetlands and coastal ecosystems are immensely important and needed to be studied and protected. We have stayed true to that mission." The Wetlands Institute is planning celebrations throughout the year including a weekend-long open house and celebration in June and free admissions days on the first Wednesday of June, July, August and September.

Visit The Wetlands Institute Online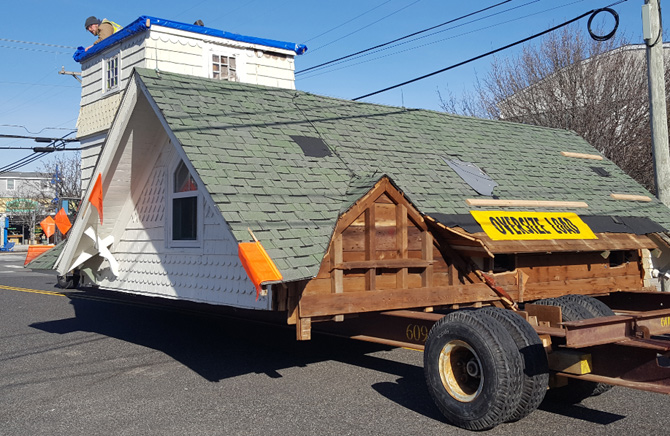 This Victorian home left Avalon a year ago and awaits another move. See below for info.

ABOUT A YEAR AGO the Victorian home (above) was disassembled and removed from its lot in Avalon in order to save it from demolition. Today it sits in storage on the mainland, awaiting a move to its new location in Cape May. See this Atlantic City Press article for more on the house and its future:

Press of Atlantic City: Why One Of Avalon's Oldest Homes Is Sitting In An EHT Storage Yard

THE AVALON MUSEUM has more than a dozen oral histories recorded detailing a variety of things from Avalon's past. The Museum is also seeking additional oral histories to add to its collection.

Avalon History Center: Listen Online Or Contact The Museum About Adding To The Collection

THIS WEEKEND: Catch Polar Bear Weekend in Sea Isle City, including the Plunge on Saturday at 2pm. If 39 degree ocean water is a bit too chilly for you, consider the Polar Bear Run/Walk for Autism on Sunday, on the Promenade.

Sea Isle City Polar Bear Weekend: Information & Events

HAPPY VALENTINE'S DAY to you & yours!
This Weeks News 2/7/2019


Avalon's Fishing Pier extends over the ocean on a rough, windy day. North Wildwood and amusements on the Wildwood Boardwalk are visible in the background.

FROM ICE TO NICE! Several days of ice and bitter winds have given way to warm sunshine, with mid-week highs pushing 60 degrees this week. Ice was still present in the back bays on Monday afternoon, but by Tuesday all traces of it were gone after Monday's sunshine melted it away.

LAST WEEK'S EXTREME COLD has disappeared, but not before the Wildwood Police Department made a great impression on residents and others in the area. The Police Department announced that students walking to school in the frigid temperatures could flag down an officer for a ride to school instead. The department received numerous favorable comments on its Facebook page as a result of the offer.

A NEW FISHING PIER in Avalon Manor was discussed at the January 23rd Middle Township Committee meeting. The old fishing pier, which used to be part of the Avalon Boulevard Bridge, was closed in 2016 due to its poor condition. A new fishing pier could cost $800,000, including $75,000 for demolition of the old pier. Open Space funding could cover much of the cost of the project.

204 BALD EAGLE NESTS exist in New Jersey, including 185 with eggs, according to a recent USA Today article. That's up from just one documented nest in 1973. The population has rebounded dramatically since the 1972 banning of the pesticide DDT, which had caused eagle egg shells to be too thin to survive incubation. Many of today's active nests are located in Cape May County, with many more along the Delaware Bay shoreline; one pair of bald eagles was sighted behind Stone Harbor in an osprey nest this past fall.

AVALON VOLUNTEER FIRE DEPARTMENT sponsored a training class titled "Ladder Company Officer" last week, hosting instructors from the Camden City Fire Department and Newark City Fire Department. Avalon FD also extended an invitation to all neighboring fire departments to attend the class free of charge. 134 fire fighters from New Jersey and as far away as Pennsylvania attended the class hosted in Avalon.

THE 11TH ANNUAL POLAR BEAR RUN/WALK FOR AUTISM takes place in Sea Isle City on Sunday, February 17th. The family friendly event raises funds for special services schools, autism support groups, and families of special-needs children in Cape May and Atlantic Counties. The 5K run and 1-mile walk will begin at noon from JFK Boulevard and the Promenade; the run will proceed south and the walk will proceed north.

Online Registration - Polar Bear Run Walk For Autism

PUNXSUTAWNEY PHIL has predicted an early spring; when asked for comment, Phil let it be known that, truth be told, he actually prefers summer instead. If you agree with Phil, check out our 2019 Vacation Guide and contact me to arrange your summer vacation!

View The Guide - Avalon & Stone Harbor Vacation Rentals