This Weeks News 1/31/2019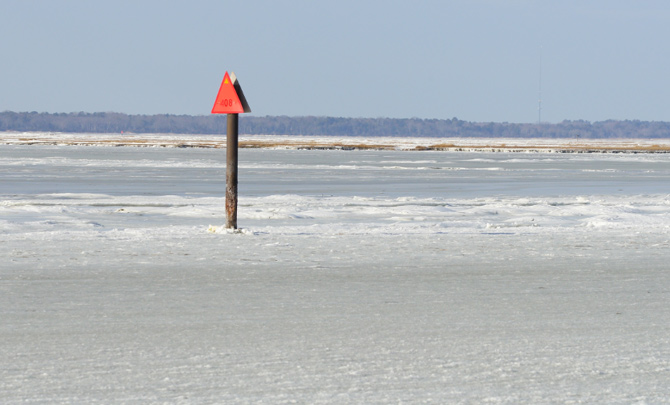 Last January a long stretch of frigid weather caused the bay to freeze over behind Avalon & Stone Harbor. After lows in the teens midweek, temperatures will slowly increase again this weekend, and will hit the forties again early next week.

$42,000 FLOOD INSURANCE SAVINGS: The Borough of Avalon will save more than $42,000 in flood insurance premiums after conducting a self-initiated internal audit of flood coverage for its facilities. After evaluating borough facilities, including property values, contents, and the need for flood coverage, the borough was able to reduce its flood premiums by $42,772. Avalon Mayor Martin Pagliughi said, "I appreciate the months-long effort by our professionals to verify and update all information regarding our critical infrastructure in order to make necessary adjustments in our flood insurance policies that result in insured facilities at the best price possible."

SEA ISLE BOULEVARD IS OPEN to traffic after a lengthy construction project raised the causeway several feet, making the roadway more resistant to flooding. Resurfacing and striping of the road occurred earlier this month, and a final layer of asphalt will be laid before summer. The $12.7 million project raised the roadway four to five feet, placing it above the 100-year floodplain.

ROMANCE ON THE RAILS: Cape May Seashore Lines will run Valentine's Express trains on Friday, February 8th (6pm & 8pm) and Saturday, February 9th (4pm & 6pm). The 60-plus minute round trip ride will depart from the CMSL station in Richland, and include hot and cold hors d'oeuvres in the Café, Lounge, and Observation cars. Seating in those cars is for adults age 21 and over, as it's a BYOB event. Regular Coach seating is available too, without the Valentine's Express amenities.

More Information & Tickets: Cape May Seashore Lines

AVOID FROZEN PIPES! With periodic blasts of cold air now rolling through the area during the heart of winter, make sure your house is prepared! Outside water lines should be shut off and winterized, and crawl space vents should be closed to prevent icy winds from freezing pipes inside. If your interior water system is not shut off and drained, maintain an interior temperature of 55 degrees to keep pipes warm. Opening cabinet doors beneath sinks helps heated air reach pipes. In extreme conditions, allowing the faucet to drip, or trickle slowly, helps prevent pipes from freezing, especially if they're located in outside walls. Contact your plumber for additional advice or unusual situations. Need a plumber? Call or email me for a recommendation!

SUPER BASH XVI! "Friend in Need" was founded in 2003 by a group of Avalon residents to support a member of the community in need of help; this year Friend in Need hosts its sixteenth annual Super Bash at The Princeton in Avalon during the Super Bowl. Enjoy food, drinks, and the big game while raising money for charity!

Info & Tickets: Super Bash XVI Charity Fundraiser at The Princeton

WARM UP WITH SOME GOOD READING! Dreaming of warm sunshine and gentle ocean breezes? Summer will be here before you know it! Check out our 2019 Rental Guide and make your vacation plans now!

Avalon & Stone Harbor 2019 Rental Guide
This Weeks News 1/24/2019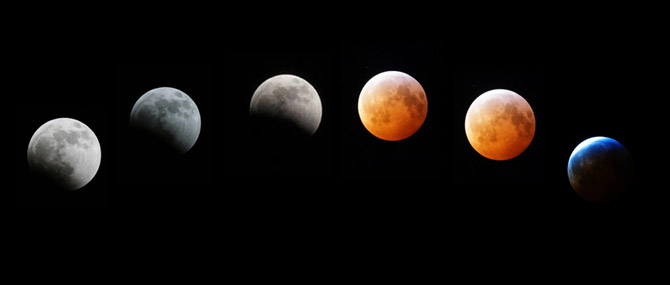 Cape May County had a beautiful view of the total lunar eclipse that occurred overnight January 20th & 21st!

LUNAR ECLIPSE! The total lunar eclipse that occurred Sunday night into early Monday morning was easily visible from Cape May County, and provided enjoyable sky watching despite frigid temperatures. Skies were clear Sunday evening, and for those willing to bundle up against overnight lows in the teens--and gusty winds that dropped wind chills to zero--the moon put on a show that lasted several hours from start to finish. The "Super Blood Wolf Moon" is so-named due to several factors: it's a "supermoon," because the moon is at its closest point to earth, and thus appears larger and brighter than usual; it's a "blood" moon due to the red glow it takes on during the actual eclipse, thanks to refracted sunlight, similar to the red light we see during a sunrise or sunset; and a full moon in January is a "wolf" moon, said to be named by Native Americans, since wolves howl in hunger during the full moon in January. Other total or partial eclipses will be visible from various parts of the world over the next couple of years, but North America will not see another total eclipse until May 2021, followed by another in May 2022.

MARKET STATS: 25 units were sold during the month of December, while the median sale price increased to $1,595,000, as the number of active listings fell to 214. For a detailed look at December's market stats, see the latest Long & Foster Market Minute:

View The Latest Long & Foster Market Minute Report | Download/Print PDF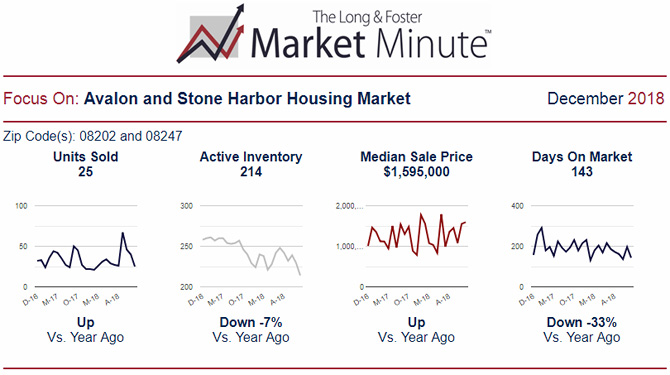 FACTORS STILL DRIVING THE MARKET include strong demand for properties and low interest rates. Buyer demand continues, with 2018 seeing 412 sales in the local market, virtually matching 2017's figure of 424. Interest rates, which despite recent fluctuations are still low by historical standards, make mortgages affordable. Strong rentals in recent years means rental income helps to pay your mortgage, too!

ICE FORMED on portions of the back bays after several days of cold temperatures were followed by a blast of frigid air, along with lows in the teens and highs in the twenties. The ice that formed was only a thin layer in shallow areas, and not enough to threaten pilings or docks. A warm up in the latter part of this week is expected to melt any remaining ice.

NO SMOKING ON BEACHES: A new law went into effect last week banning smoking on New Jersey beaches. The legislation was signed by Governor Phil Murphy last summer and applies to all public beaches in the state, although there is a provision in the law allowing municipalities to carve out designated smoking areas if they choose.

TAKE A PLUNGE: Up for a pre-season plunge into the chilly ocean water? Mark your calendar for three chances to do it! The first is Sea Isle City's Polar Bear Plunge on February 16th. Next up are the Stone Harbor Shiver and the Cape May St. Paddy's Day Plunge, with both taking place on Saturday, March 16th. Don't worry, the ocean water temperature is currently a refreshing 42 degrees!

TAKE A PLUNGE OF A DIFFERENT SORT! Why not make 2019 your year and finally purchase your very own vacation home at the shore? With attractive interest rates, and rental income to help pay the mortgage, you may be surprised at how affordable it is! Let's take a look at the numbers together and see if it works for you!

SLACK TIDE BREWING COMPANY is collecting donations to benefit members of the Coast Guard community at the Cape May Training Center. Initially they were collecting food donations, but the response has been so overwhelming that the food bank at the base is over flowing and the surplus is being sent to other Coast Guard installations in New Jersey and Delaware. However, the need for cash (or check) donations remains. The cash (or check) is converted to gift cards which are distributed to Coast Guard families for the purchase of gasoline and other essential non-food items. The need is considerable. If you can donate, checks (made payable to the Cape May Chief Petty Officers' Association or Cape May CPOA) can be dropped off at the brewery at 1072 Route 83 in Clermont, Dennis Township, Wednesday through Sunday. For Slack Tide's hours of operation please visit Slack Tide Brewing Company.
This Weeks News 1/17/2019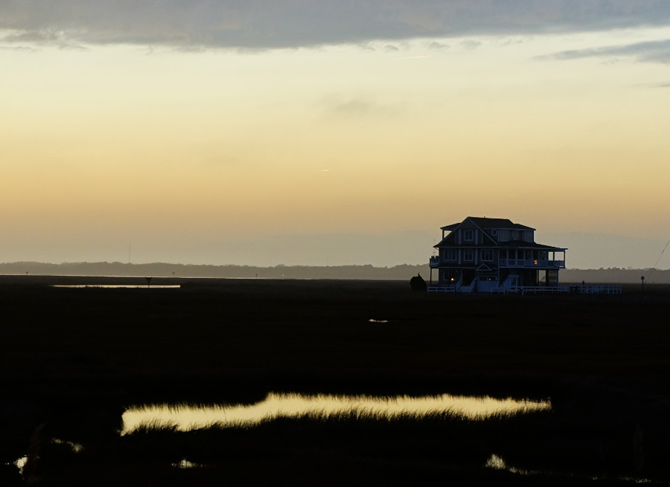 Even a chilly, gray sky can be beautiful! Here, an almost colorless sunset takes place along Avalon Boulevard last week. The blues, oranges, and reds of summer sunsets will be back soon!

A FEW INCHES OF SNOW blanketed most of Cape May County this past Sunday morning, after falling most of the overnight hours. Cold temperatures for several days prior meant the snow stuck to most surfaces, but by the afternoon, streets on the Island were clear. Most of the remaining snow should be gone by the weekend.

A FIRE DAMAGED A HOME on 102nd Street in Stone Harbor Sunday afternoon. Stone Harbor fire crews extinguished the fire and contained it to the rear of the home, which was heavily damaged. No one was injured in the fire. Crews from Avalon, Cape May Court House, and Green Creek assisted Stone Harbor.

SEA ISLE BOULEVARD PAVING was to resume this week, but frigid temperatures delayed the start of the work until next week. If completed it would leave paved travel lanes plus shoulders in each direction, with no concrete barrier in between. A final topcoat will be added to the roadway in the spring. The Sea Isle Boulevard project was undertaken to raise the roadway several feet to alleviate flooding concerns.

THE HISTORY OF AVALON, NOW ONLINE: Bill Mengel of the Avalon History Center has given some fascinating talks detailing the early years of Avalon, complete with slides illustrating all aspects of the town's development. If you haven't been able to catch one of Bill's talks live, you can enjoy the next best thing: a three-part video series narrated by Bill, detailing Avalon's history. From early developers to railroads, hotels, homes, maps and more, Bill provides a fascinating description of how Avalon used to be. You can watch part one right here on YouTube: History of Avalon - Part One.
This Weeks News 1/10/2019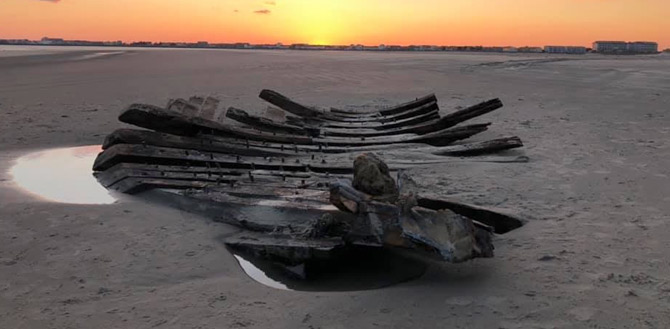 The remains of a shipwreck at Hereford Inlet, as they appeared on December 23rd, 2018. Photo courtesy of Ron Soldano.

SHIPWRECK AT HEREFORD INLET! Tides and currents at Stone Harbor Point revealed the wooden frame of a ship, long buried in the sand. Located roughly a mile south of 122nd Street, the ship's timbers were exposed at low tide and awash at high tide. Word of the visible wreck spread locally and eventually was covered by mainstream media, including several newspapers, television news stations and Time Magazine. Dozens of visitors at a time made the trek on the sand to visit the wreck and get a glimpse of the large timbers, wooden pegs, and copper sheeting used in its construction.

Based on its location many believe the wreck could be the D.H. Ingraham, which was carrying lime bound for Virginia when it ran aground in Hereford Inlet on the night of December 4, 1886, in a nor'easter. The D.H. Ingraham crew lit a torch to signal for help, and all five members of the crew were saved by the crew of the Anglesea Lifesaving Station, who rowed a lifeboat a mile into the wind, waves, and snow in order to reach the helpless vessel. The lifeboat crew rowed the D.H. Ingraham crew back to the lifesaving station, where they spent several days.

In the time since the ship was exposed, the tides and winds have worked to cover it again; each day a bit more of the wreck disappears into the sand. See more photos below. For more on the D.H. Ingraham and the rescue of its crew, visit Sun by the Sea - The Wreck of the D.H. Ingraham.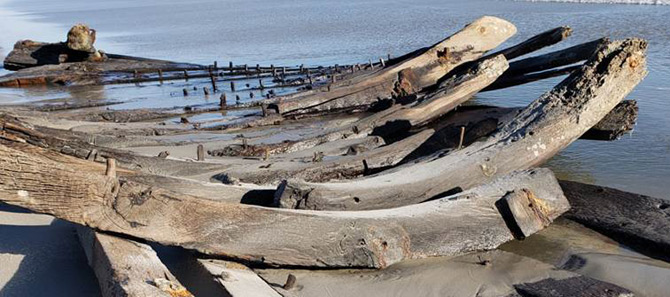 Most of the wreck remained exposed after Christmas Day. Wooden pegs used during the ship's construction are visible in this photo by Noelle Guest.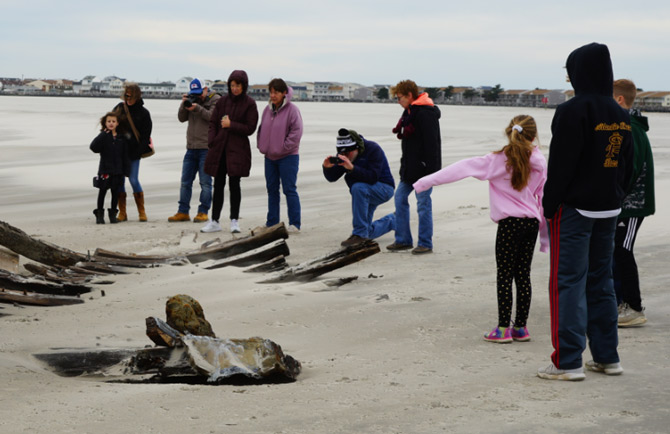 Dozens of visitors observed and photographed the wreck on New Year's Day, as sand was beginning to cover it.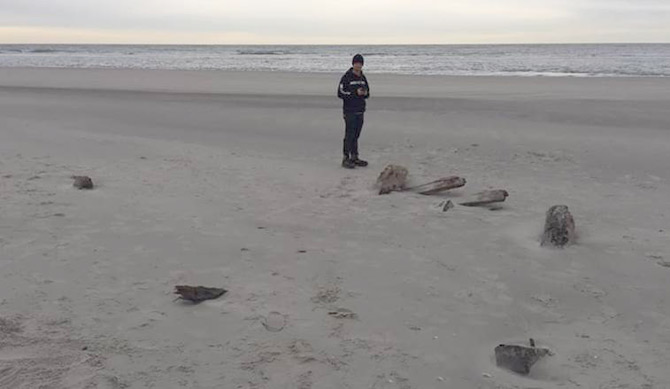 By January 7th much of the wreck had been reclaimed by the sand. Here, Austin Lavis observes the visible portions of the timbers. Photo courtesy of Kym Lex.

FLOOD INSURANCE POLICIES are still being written and renewed during the government shutdown, says Mike Mento of Prosperity Home Mortgage. However, Mike reports that federal tax return transcripts are not being processed during the shutdown. Prosperity is NOT requiring tax transcripts prior to closing, so as not to delay transactions. Have a mortgage question or need Mike's help? Give him a call at (609) 839-1203, or email him at Michael.Mento@PHMLoans.com.

NEW SMOKE ALARM REQUIREMENTS: The State of New Jersey has adopted new requirements for stand-alone (battery powered) smoke detectors. Effective January 1st, all stand-alone detectors in buildings consisting of three or more units must be of the 10-year sealed-battery type, rather than the replaceable-battery type used in the past. Note, if your smoke detectors are of the interconnected 110-volt type (i.e. "hardwired," with a battery backup, as installed in all recent new construction) they are exempt from the change. But older homes with only battery powered detectors must switch over to the new sealed, 10-year battery type for both rental and transfer inspections. Avalon is enforcing the regulation as the State has promulgated it. Stone Harbor is requiring the new detectors in all properties including single-family homes. Call me if you are unsure about how your property is effected by this new regulation!

INTEREST RATES, after creeping upward, have come back down from their recent highs. The average 30-year rate was 4.51% on January 3rd according to the Freddie Mac weekly survey. If you are considering a purchase, it's an excellent time to lock in low borrowing costs!

START THE NEW YEAR OFF RIGHT! Plan your 2019 vacation! Want to browse our 2019 Rental Guide? Check out dozens of oceanfront, bayfront, beachblock, and inside homes here: Avalon & Stone Harbor Rental Brochure.

BETTER YET, make it permanent! Let's talk about your very own shore home! Whether you're after relaxation and a water view, or rental income to help pay for your purchase, I'll help you find the perfect shore property! Call me today to get started!