This Weeks News 4/25/2019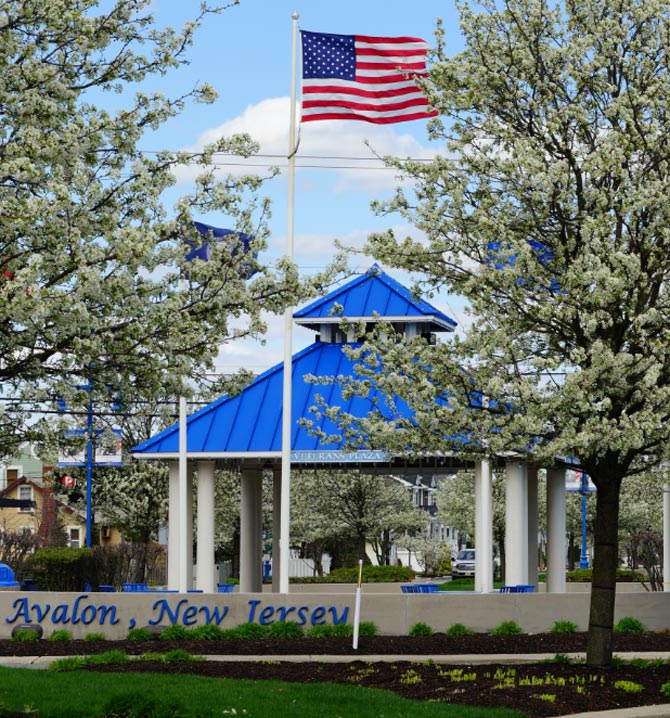 Spring is here! Flowering trees and blue skies at Veteran's Plaza are proof that warm weather is just around the corner!

2019 SEASON BEACH TAGS are available for purchase at preseason prices in both Avalon and Stone Harbor.

Avalon's discounted season tags can be purchased by stopping at the Avalon tax collector's office at Borough Hall, or by placing an order through the mail. Send your order (including a self-addressed stamped envelope, and a check for $23 per tag payable to the Borough of Avalon) prior to May 10th, 2019. You will receive a receipt for your purchase that can be exchanged for tags at the Beach Tag Booth at 30th Street & the beach upon your arrival in Avalon.

Stone Harbor's discounted season tags can be purchased for $23 at the Borough Hall Reception Desk Saturdays and Sundays from 10am to 3pm for the rest of this month. If you're not in town tags can be ordered; simply click this link and follow the instructions: Borough of Stone Harbor Beach Tag Order Form (PDF).

Season tags will rise to $28 in both towns after May 31st.

BEACH TAGS FROM YESTERYEAR have proven to be quite popular as collectibles. Often found in antique shops and online auctions, vintage tags are popular as mementos of vacations gone by as well as with those building collections. A search of eBay, for example, yields a variety of beach tags both for sale and recently sold--often at surprising prices. Do you have a vintage beach tag buried in a drawer? It's worth checking!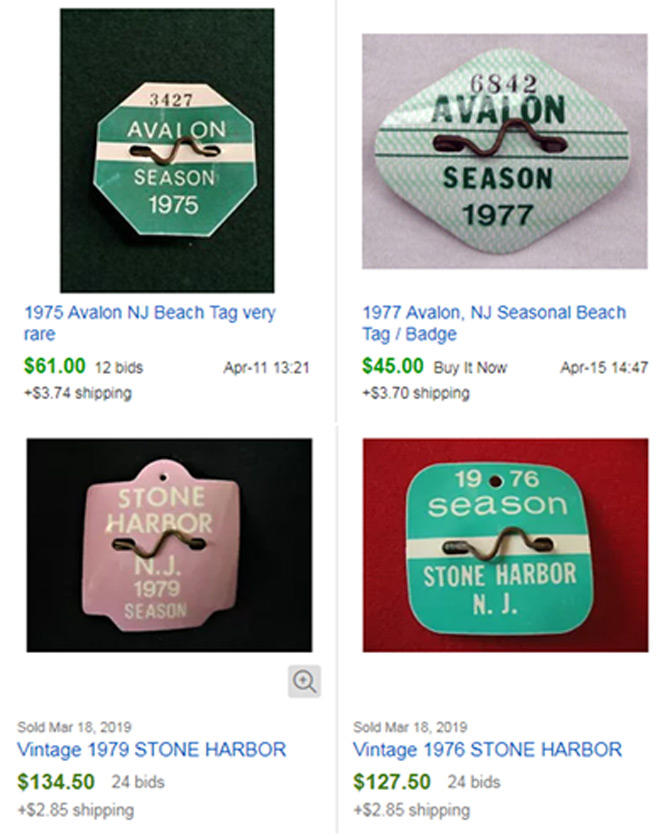 Searching eBay usually results in a variety of vintage Avalon & Stone Harbor beach tags for sale as well as recently sold!

A MAJOR FIRE erupted in Sea Isle City on Easter Sunday, destroying four residential units. The Sea Isle City Fire Department was assisted by firefighters from Strathmere, Ocean View, Seaville, and Avalon. One Sea Isle firefighter suffered minor injuries at the blaze. See video and a report from 6ABC Action News in Philadelphia here: 6ABC Action News - Firefighter Injured Fighting Blaze That Destroyed 4 Condos In Sea Isle City.

A ROOSTER has taken up residence near the Stone Harbor Bird Sanctuary, as reported by Ted Greenberg of NBC10 News in Philadelphia. According to the report the rooster showed up unexpectedly--and he's not the first. Check out the video here: NBC10 News Philadelphia - Red Rooster Turns Heads in New Jersey Town.

SMOKING ON BEACHES was banned statewide earlier this year. A provision in the law gave municipalities the option to designate up to 15% of their beaches as smoking areas, but Avalon, Stone Harbor, and Sea Isle City have chosen not to do so.

SUPPORT BRENDAN'S FUND at two great events coming up soon! Celebrate Cinco De Mayo! Sunday May 5th, 2019 from 12 noon to 3pm at the Taco Shop at the Cape May County Airport at 1288 Hornet Rd. On May 10th the 14th Annual Golf Tournament Supporting Brendan's Fund takes place at Stone Harbor Golf Club. (Registration begins at 10:30am; Tee Time is 12 noon, Awards Dinner at 5 PM.) All net proceeds will benefit the Brendan Borek Endowed Fund at CHOP. For more Information on these and other events go to Brendan Borek High Tides Memorial Fund or call 609-967-0100.

THE WETLANDS INSTITUTE AND ØRSTED US OFFSHORE WIND have announced a partnership in the "ReTURN the Favor NJ" project to support the recovery of the horseshoe crab population. According to a press release horseshoe crabs are often turned upside down by waves, or trapped by man made hazards. The ReTURN the Favor project trains volunteers to free stranded horseshoe crabs, allowing breeding age crabs to return to the population. Since horseshoe crabs don't reach sexual maturity until 10 years of age, conservation efforts help to boost the population. Horseshoe crab eggs serve as a food source for migratory birds, and a substance in horseshoe crab blood is vital to the pharmaceutical industry.
This Weeks News 4/18/2019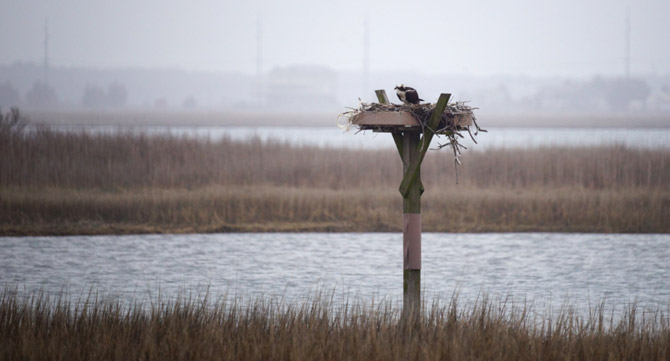 Ospreys are back in the area! Most osprey nests are far enough to make it a challenge to view them up close, such as the one above, located behind Stone Harbor.



For an up close view check out the osprey nest adjacent to Avalon Boulevard where it enters Avalon! The Avalon water tower is visible in the background.

FROM EAGLES TO OSPREYS! During the winter months eagles were frequently observed around the Island, and often perched atop utility poles on Stone Harbor Boulevard. In the past couple of weeks ospreys have returned to the Island and have taken to their familiar nests atop man-made structures located in back bay areas. Many are quite a distance from land, but the nest adjacent to Avalon Boulevard offers a close-up view of the ospreys residing in it every time you enter or leave Avalon!

ALSO RETURNING to the Island at this time of year are seagulls! The common "Laughing Gull" is a frequent sight in our area, but there are numerous other types of gulls, plus, they often have different plumage depending upon their maturity and whether they are of breeding age. Check out this guide to gulls, which contains information on how to identify different gulls, plus their behavior and life patterns:

All About Birds - Laughing Gull Identification

MARKET STATS: 27 properties sold during the month of March, 2019, an increase over last March. The median sale price during March was $1,920,000. For a detailed look at the market check out the latest Long & Foster Market Minute report:

View The Latest Long & Foster Market Minute Report | Download/Print PDF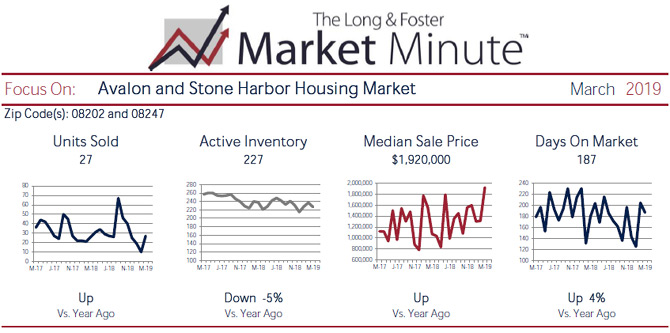 FLOODED STREETS? NO WAKE! Stone Harbor is the latest shore town to consider "no wake" rules for automobiles traversing flooded streets, designed to limit damage caused by automobile wakes pushing flood waters further toward homes and businesses than they would otherwise travel. North Wildwood and Ship Bottom (on Long Beach Island) have already adopted similar ordinances. For more see this article:

WHYY - Shore Town Considers Jailing Motorists Generating Large Waves During Flooding

BULK TRASH will be picked up in both Avalon & Stone Harbor on the following dates: Avalon--place items curbside from May 3 to May 12th; pickup begins at 7am, Monday, May 13th (no construction or remodeling debris will be collected.) Stone Harbor--pick up occurs on Monday, May 13th; place items curbside up to 72 hours prior.

HAPPY EASTER to you and your family!
This Weeks News 4/11/2019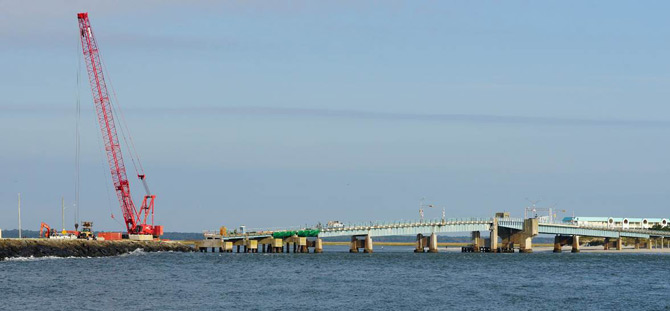 Last week it was announced that the Townsend's Inlet Bridge wouldn't reopen by Memorial Day; this week the reopening was pushed back to "late summer."

TAKE THE LONG WAY AROUND: TOWNSEND'S INLET BRIDGE CLOSED UNTIL "LATE SUMMER." A project to replace seven spans of the twenty-seven span Townsend's Inlet Bridge has been underway since September--sometimes around the clock--but now the bridge is not expected to reopen until "late summer." Originally slated for a May 22nd reopening in order to accommodate summer traffic, recent "geotechnical" issues have caused the delayed reopening, to the disappointment of local and county officials. Without use of the bridge one must take "the long way around", which turns an easy crossing from Avalon's northern tip to Sea Isle's southern tip into a 15-mile, 27-minute trip, one-way.

WHALES IN DELAWARE BAY! The Atlantic City Press reports that humpback whales have been spotted in Delaware Bay between Cape May Point and Town Bank. Warmer water temperatures and an abundance of bunker--a bait fish and common food for whales--are likely responsible for the whales' presence so close to shore. Normally whales are found in deeper offshore waters. Read the full article:

Whales In The Bay? It's Rare, But Happening Thanks To A Surge In These Fish Off Cape May

OVER 60 FAMILIES have purchased a new shore property this year in Avalon & Stone Harbor! Imagine the excitement they're experiencing as the summer season approaches! Want to join that group? Call me today and I'll help find you the perfect shore property! There's still time to be in for the summer!

THE MID-ATLANTIC FISHERIES COUNCIL is meeting in Avalon Monday through Thursday of this week. The Council monitors various fisheries and periodically adjusts regulations to protect each species. This week's meeting will be held at Icona Avalon, and the public is invited.

More Information & Meeting Agenda: MAFMC April 2019 Council Meeting – Avalon, NJ

THE COAST GUARD urges boaters transiting the Intracoastal Waterway between Cape May and Barnegat to use caution due to 26 navigational pylons that were damaged by ice during the winter. The pylons are submerged, but their locations are marked by wreck buoys. Six damaged pylons have already been removed, and the Coast Guard plans to remove the remaining 20.

BEACH SWEEPS take place in Avalon and Stone Harbor on Saturday, April 13th. Volunteers are needed to help clean local beaches! In Avalon, volunteers should meet at 801 Avalon Avenue (please call 609-967-7697 or email scamp@avalonboro.org to sign up); in Stone Harbor, volunteers should meet at Beach Patrol headquarters at 95th Street & the beach. Beach Sweeps are organized by Clean Ocean Action in 60 locations along the New Jersey coast. Volunteers should dress for the weather and bring gloves.
This Weeks News 4/4/2019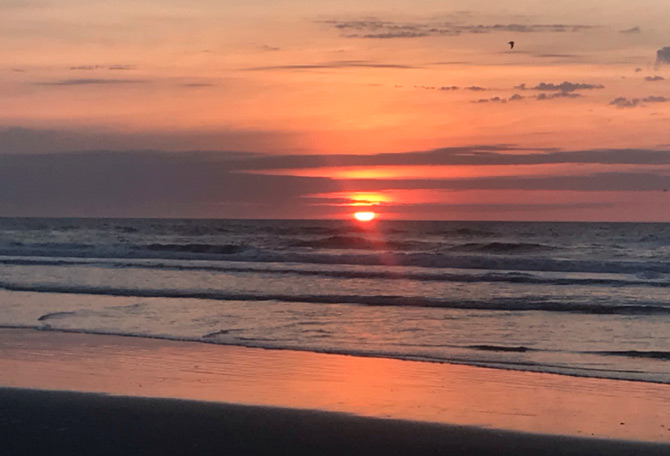 "A pretty way to start the day!" said Mac Groce, who captured this beautiful Avalon sunrise. I couldn't agree more, Mac!

1%=11%...BUYING POWER AND INTEREST RATES: Rising interest rates can diminish buying power for those using a mortgage to finance their purchase. In the two examples below, provided by Mike Mento of Prosperity Home Mortgage, a 1% interest rate increase has a significant impact on the mortgage amount that a given payment will sustain: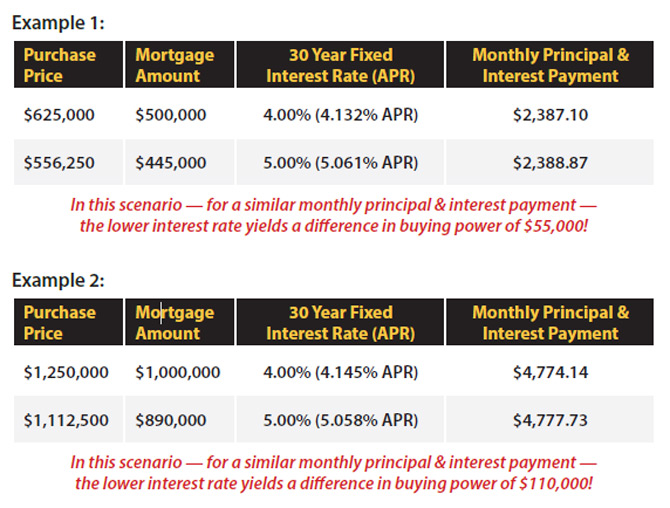 In both scenarios, while keeping the mortgage payment substantially the same, a 1% increase in rates yields a decrease in mortgage financing--and, thus, buying power--of about 11%. Buyers: take advantage of still-reasonable mortgage rates now! Have mortgage questions? Call Mike Mento at 609-839-1203!

THE TOWNSEND'S INLET BRIDGE will not reopen by Memorial Day as originally hoped. Construction crews have encountered a "geotechnical issue" and unforeseen difficulties that will delay the reopening. The bridge closed last September so crews could replace seven of the bridge's twenty-seven spans due to deterioration as part of an $8.6 million project.

BEACH SWEEPS will be held in Avalon and Stone Harbor on Saturday, April 13th, and volunteers are needed. In Avalon, volunteers should meet at 801 Avalon Avenue (please call 609-967-7697 or email scamp@avalonboro.org to sign up); in Stone Harbor, volunteers should meet at Beach Patrol headquarters at 95th Street & the beach. Beach Sweeps are organized by Clean Ocean Action in 60 locations along the New Jersey coast. Volunteers should dress for the weather and bring gloves.

AVALON'S BEACH SAND BACKPASSING PROJECT is set to begin this week, with 50,000 cubic yards of sand to be placed on north-end beaches prior to Memorial Day. Beaches from 9th Street to 15th Street will receive the new sand, which will be borrowed from the 33rd Street to 40th Street beaches. The Borough of Avalon will conduct the project using special equipment rented for the job.

GREEN CUISINE became the first restaurant in Stone Harbor to be certified as Ocean Friendly by the Surfrider Foundation. Congratulations, Green Cuisine!