This Weeks News 7/25/2019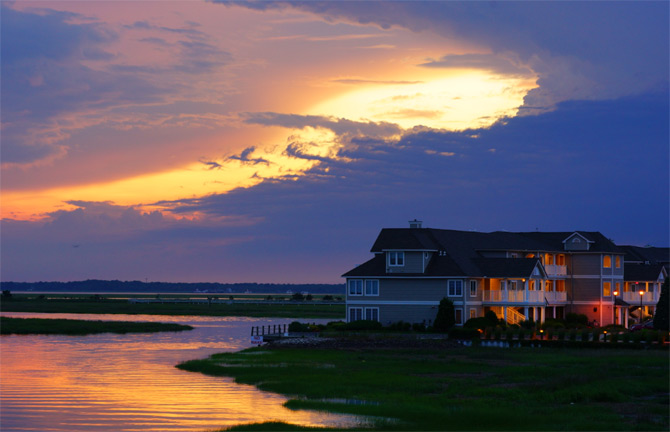 It's a lovely summer evening as the sun goes down over these condominiums on Stone Harbor Boulevard!

THE TOWNSEND'S INLET BRIDGE is expected to reopen Friday, July 26th, according to county officials, after ten months of repair work. The reopening of the bridge is contingent on the completion of last-minute work, such as guide rails, painting, and traffic striping. Straddling Townsend's Inlet and connecting Avalon and Sea Isle City, residents and visitors alike consider the bridge a vital transportation link. County officials will issue a final update at the end of the week to confirm the reopening.

BRIDGE FENDERS REPLACED: Other bridge work has been taking place in the county as the fenders preventing marine traffic from striking bridge supports have been replaced on several area bridges. Deteriorated timber fender systems were removed and replaced with composite structures on the Route 109 Veteran's Memorial Bridge and Route 162 Cape May Canal Bridge into Cape May, as well as the Route 147 Grassy Sound Bridge into North Wildwood. The navigation lights and vertical clearance gauges (showing boats how much height is available beneath the bridge) were replaced as part of the project, too.

WHERE'S OUR BEACH SAND? Avalon Borough Council heard a report from local beach expert Dr. Stewart Farrell of Stockton University regarding the movement of beach sand placed on local beaches during replenishment projects. According to Farrell, about half the sand migrated southward, while half moved slightly offshore. Farrell studied data from 1997 to 2018 and found that 1,000 feet from the 13th & 14th Street beaches the ocean was three feet shallower than it was previously. Despite that, Farrell reported that recent surveys indicated usable beaches in Avalon's north-end. Avalon is anticipating a hydraulic beach fill next winter.

SWIM WITH THE RAYS! Cownose rays have been making appearances along the beach this summer, swimming in the surf to feed. The rays do have barbs on their tails, but are harmless if left alone. KYW Radio in Philadelphia posted a story about the rays:

JERSEY SHORE BEACHGOERS SHARING THE SURF WITH SCHOOLS OF COWNOSE RAYS

"WE NEED A SEA BREEZE!" After several days of extremely hot and humid summer weather, it was not unusual to hear that exclamation on the Island. Often occurring in the afternoon, the sea breeze brings cool breezes on other wise hot days. On a typical sunny day air over the land heats faster than air over the ocean and then rises, as cooler ocean air rushes in to take its place, thus forming a sea breeze. Sometimes broader weather patterns can overpower a sea breeze or prevent its formation, but it occurs on most summer days. It's not unusual for temperatures to be ten or fifteen degrees cooler than surrounding areas due to a sea breeze.

THE OCEAN WATER TEMPERATURE is a lovely 79 degrees! Even if a sea breeze doesn't form, you can cool off with a refreshing dip in the ocean!
This Weeks News 7/18/2019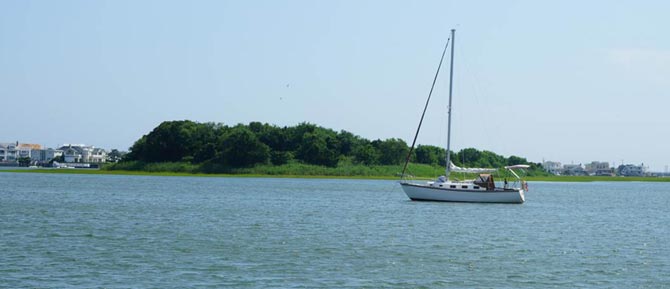 This sailboat was travelling northbound in the IntraCoastal Waterway, but could not pass through the inoperable 96th Street Bridge. The sailors anchored overnight in Pleasure Bay, between Golden Gate Road and Corinthian Drive in Stone Harbor, before retreating to Cape May the next day, where they planned to sail northward via the ocean. See below for more bridge news.

TOWNSEND'S INLET BRIDGE--GOOD NEWS! After being closed for 10 months for repair work, the Townsend's Inlet Bridge is expected to reopen to automobile traffic on July 30th. Crews have been working to complete the bridge, as can be seen in this fascinating aerial video from Remington & Vernick Engineers:

RVE DRONE FLIGHT OVER THE TOWNSEND'S INLET BRIDGE - CONCRETE POUR (YOUTUBE)

96TH STREET BRIDGE--BAD NEWS FOR BOATERS! The 96th Street Bridge has been open to automobile traffic, but has been unable to open for marine traffic for a few weeks, due to issues with its lifting span. Earlier this week officials were reporting that repairs could take another couple of weeks. The bridge's vertical clearance varies with the tides, but medium and large boats that normally require a drawbridge opening are unable to travel beneath the bridge until it is operational.

19-YEAR OLD TURTLE RETURNS TO WETLANDS INSTITUTE! Earlier this week a terrapin found crossing the road was brought to The Wetlands Institute to ensure its well-being. It turned out that the turtle was initially released by the Institute 19 years ago, and not only survived, but doubled in size, despite signs of past injuries, possibly from a boat propeller. 19 years after her original release (almost to the day) the turtle was released into the marsh in good condition.

IT'S FREE! Looking for some free fun while here on vacation? Here are some suggestions!
Avalon Beach Movies: Tuesdays at the 30th Street beach at dusk;


Tuesdays at the Tower: live musical performances 7pm to 8:30pm every Tuesday at the Stone Harbor Water Tower;


Thursdays on Dune: family activities and live music along Dune Drive in Avalon's Business District, 5:30pm to 8:30pm Thursdays;


Cape May County Zoo: free admission every single day!
MARKET STATS: During the month of June the number of new listings decreased along with the number of units sold. Demand has remained strong, but limited inventory has held back sales. For a detailed look at the market, see the latest Long & Foster Market Minute report.

VIEW THE LATEST LONG & FOSTER MARKET MINUTE REPORT | DOWNLOAD/PRINT PDF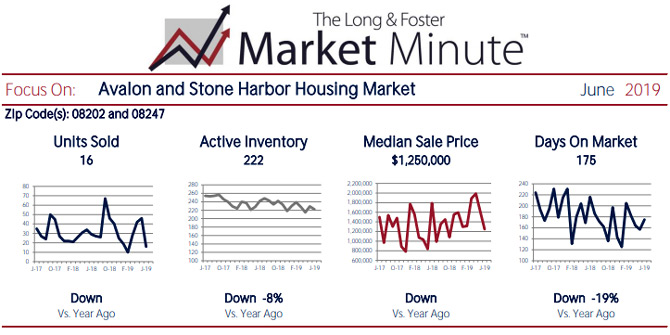 This Weeks News 7/11/2019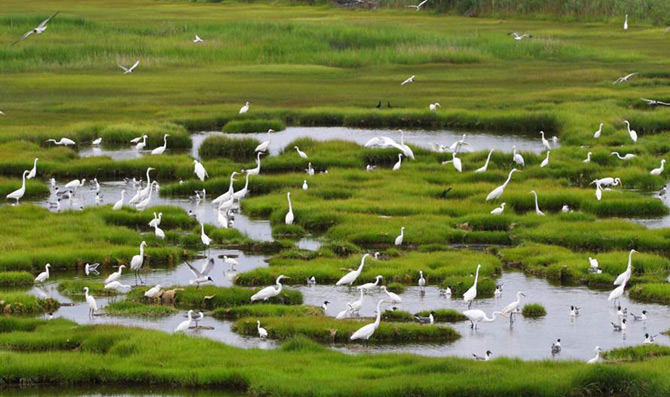 The Wetlands Institute reported that high tide brought lots of fish to the pannes (pools) earlier this week--which then brought wading birds. Thanks to The Wetlands Institute for providing this photo!

A GOOD TIME WAS HAD BY ALL! The four-day 4th of July holiday was a big success, with a large crowd of visitors all weekend long. Shore-bound traffic began streaming onto the barrier islands days before, and by Wednesday evening things were in full swing. The weather cooperated, with solid sunshine until a few thunderstorms moved through beginning Saturday evening. Independence Day festivities in Avalon and Stone Harbor took place without a hitch, with each town putting on an enormous fireworks display on the evening of the 4th!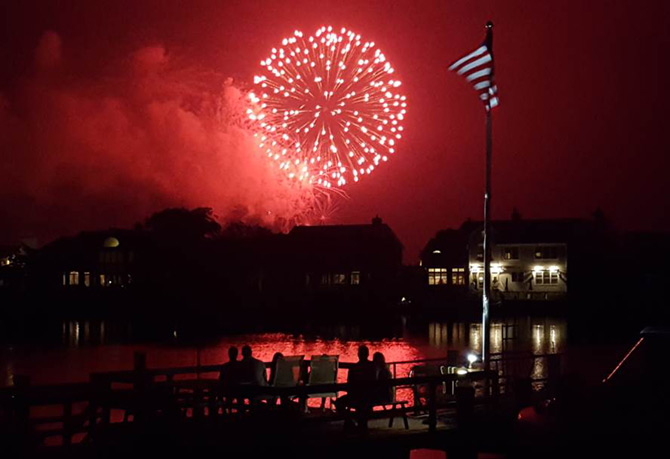 Two huge Independence Day fireworks displays took place the night of the 4th. Like Avalon's show, Stone Harbor's display (above) could be enjoyed on the beach or in many other locations on the Island. Here, fireworks light up the bayfront as Old Glory waves in a gentle evening breeze.

LIFEGUARD COMPETITIONS have begun on local beaches, and our local lifeguards have already made strong showings. Wildwood Crest hosted the Cape May County Lifeguard Championships, where Erich Wolf of Avalon won the singles row and Greg Osborne of Stone Harbor won the men's paddleboard.

TWO FASCINATING LECTURES will highlight local history. "New Jersey Women in World War II" is the first of a free lecture series at the US Naval Air Station Wildwood Museum, and takes place Thursday, July 11th. The doors open at 6:30pm, and the lecture begins at 7pm, with author/lecturer Patricia Chappine signing books afterward. On Tuesday, July 16th, at 7pm, marine archaeologist Steven Nagiewicz will give a talk at the Avalon History Center on the shipwreck unearthed at Stone Harbor point in December of 2018.

BULKHEADS IN STONE HARBOR will rise in the coming years in order to reduce flooding risks associated with older (lower) bulkheads. Those at the lowest heights must be raised within two years, while those that are slightly higher have more time to comply with the requirement. As lower bulkheads are raised to match the height of recently installed bulkheads, the more uniform bulkhead height will help prevent flooding along the bayfront during storms or extreme tides.

TRY SOMETHING A LITTLE DIFFERENT this summer! If you're a beach person, rent a small boat and go for a ride along the bayfront. If you're a late sleeper, get up before the sun comes up and take a walk along the beach. Sign up for golf lessons or try stand-up paddle boarding. It's okay to enjoy your regular routine, but try something new--you might really like it!

DID YOU KNOW interest rates are below 4% again? As of last week thirty-year fixed rates were 3.75% for conforming loans (up to $484,350) and 3.625% for jumbo loans (over $484,350). If you're considering a purchase, let's talk! I'll put you in touch with a reliable lender in order to secure inexpensive financing, and I'll find the perfect place for you and your family! Call me today!
This Weeks News 7/3/2019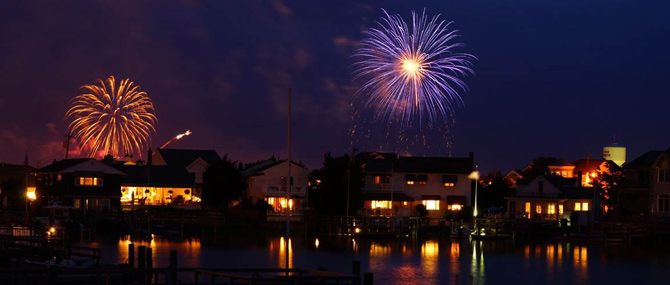 July 4th fireworks displays take place in both Avalon & Stone Harbor, and are visible from the beach and many other locations on the Island!

A FOUR-DAY FOURTH! What could be better than a four-day weekend in Avalon & Stone Harbor, complete with fireworks displays in each town? A multitude of activities take place on the Island this week, offering a chance to relax, have fun, and celebrate our nation's birthday!

DOUBLE-CRESTED CORMORANTS are taking over Gull Island, in the back bay behind Stone Harbor, according to an Atlantic City Press article. Their population has more than tripled, climbing from 30 in 2013 to 111 now. The chief concern of state biologists is that other wading birds are being driven out of the area as the cormorant population increases. Read the article at The Press of Atlantic City:

These Birds Are Taking Over A Stone Harbor Marsh, And NJ Biologists Are Worried

MONARCH BUTTERFLIES are expected to visit Armacost Park in Avalon's south-end, after the establishment of a new pollinator habitat in the park. Formerly a mowed lawn, the new habitat features herbaceous perennials and woody species to attract migratory pollinators and birds. Monarch butterflies, which migrate 2,000 miles to Mexico, often stop in Cape May County before crossing the Delaware Bay, and the new pollinator habitat will provide critical nesting and food resources along the way.

COUNCILMAN CHUCK COVINGTON bid farewell to Avalon's Borough Council after serving as a member for 28 years. Covington served on the Recreation, Insurance, and Technology committees during his time on council, and was the liaison with the Avalon Free Public Library. Mayor Martin Pagliughi read a proclamation acknowledging his service to the borough.

HAPPY INDEPENENCE DAY! See below for a list of events and activities, including fireworks celebrations in Avalon & Stone Harbor!