This Weeks News 3/28/2019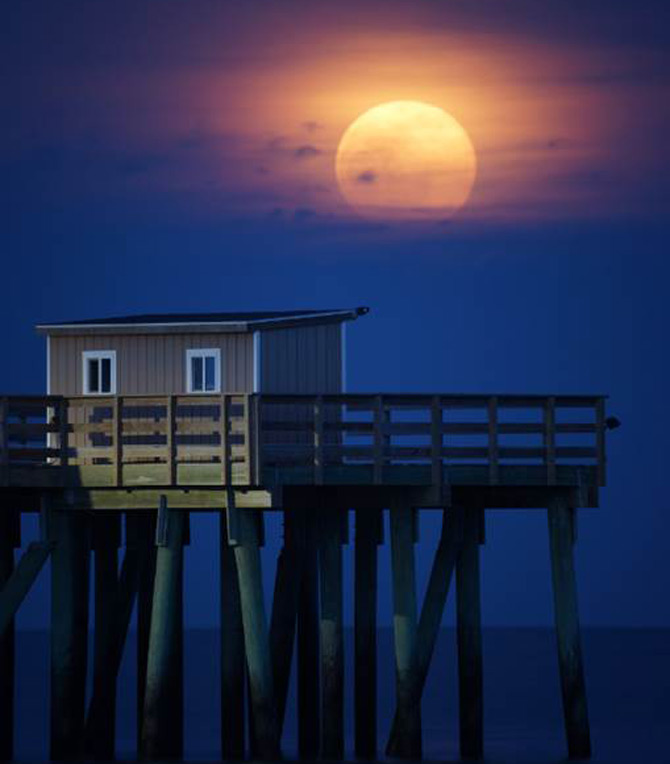 A "Snow Moon" was seen over the Avalon Fishing Pier last month, on a cold but calm night. A "Pink Moon" is expected next month.

A "PINK MOON" will appear in the sky during the overnight hours Thursday, April 18th and Friday, April 19th. The pink moon is named not for its color but for the wild ground phlox flower which appears in the spring. Compared to most metropolitan areas, the beaches in Avalon & Stone Harbor--and other Cape May County shore towns--provide better sky gazing opportunities due to their clear views to the horizon, and less light pollution.

MORTGAGE RATES have dipped again. If you are considering purchasing a shore property, or refinancing your current one, it's an excellent time to lock in a low mortgage rate for the duration of your ownership. Contact me for the names of reliable mortgage lenders!

SLACK TIDE BREWERY WON NJ MONTHLY'S Beer Madness competition, defeating fifteen other New Jersey craft brewers in a bracket-style competition. The four-week competition was run by NJMonthly.com, and featured an online bracket and voting. Slack Tide, based in Clermont, just celebrated its third anniversary. Check out the article and bracket here: Slack Tide Brewing Co. Wins Our 2019 Craft Beer Madness Competition or visit Slack Tide Brewing Company here: www.SlackTideBrewingCo.com.

SEA ISLE CITY'S 1927 HALE FIRE TRUCK was recently brought back to life, after having been stored in the Townsend Inlet fire station for years. The truck needed repairs in order to get it running again; after parts were located in Pennsylvania, the truck came to life, and has even taken a couple of rides around Sea Isle. John Mazurie, Jr., a 30-year Sea Isle firefighter, hopes the truck will make an appearance in Sea Isle's Memorial Day ceremony. Mazurie and his father, John Sr., who was chief of the department for 40 years, want to put the truck on permanent display so residents and visitors can appreciate its history. For more on the truck check out this Sea Isle News article: Vintage Sea Isle Fire Truck Roars Back to Life.

THE ROYAL AIR FORCE RED ARROWS will fly in Atlantic City's annual Thunder Over the Boardwalk air show this summer, visiting for the first time in ten years. Nine British Hawk T1 jets will fly in a 20-minute demonstration during the show, scheduled for August 21st. The US Air Force Thunderbirds will return again this year to anchor the show. The air show is free and can be seen from nearly all beach and boardwalk locations in Atlantic City.

EIGHT WEEKS TO MEMORIAL DAY! Who's ready for summer? Whether you're looking for a vacation rental, or you're ready to purchase, don't wait! Call me today to get started!
This Weeks News 3/21/2019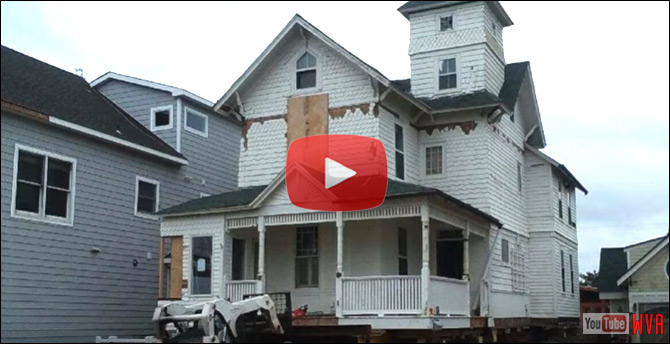 This home was relocated from Avalon to Cape May in order to save it from demolition.

"THE AVALON HOUSE," an 1895 Victorian home that was saved from demolition by one of its former occupants, then moved from Avalon to a storage location offshore, has been moved to its new location in Cape May. Last week the home, which had been disassembled into large sections for its move out of Avalon, was transported to Texas Avenue in Cape May where it will eventually be reassembled. Adrienne Scharnikow, who spent summers in the home as a child, purchased the structure for $1 from a developer who owned the Avalon lot on which it sat, in order to prevent it from being demolished. Moving the house from its temporary storage location in Egg Harbor Township to Cape May took several hours, as the house sections were transported along back roads at low speeds. The Wildwood Video Archive has produced a nice video summary of the move (above). Below, a section of the house is seen on 29th Street as it left Avalon in 2018.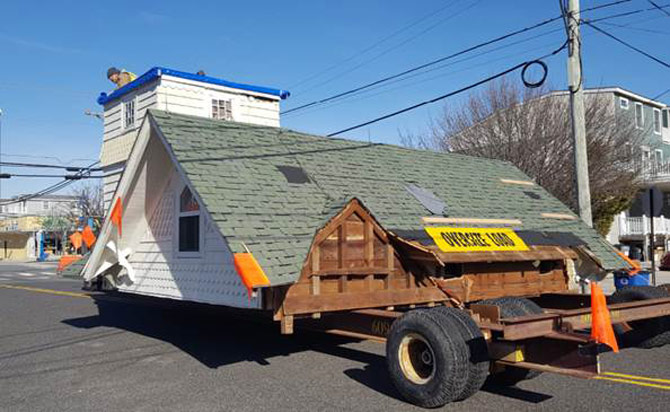 A section of the house is transported down 29th Street as it left Avalon in 2018.

AVALON SAND BACKPASSING: Avalon is planning a sand backpassing project, which would move sand from borrow sites and deposit it on north end beaches impacted by erosion over the winter. About 50,000 cubic yards of sand would be moved by trucks on the beach. The borough is seeking an emergency permit for the project from the NJ DEP and expects to receive it. Heavy equipment used to conduct the project will not be available in May, so the project could start in April--a month earlier than the borough would prefer, due to the risk of damage to newly filled beaches from spring storms. The borough has conducted sand backpassing operations in the past, in between larger hydraulic beach fill projects.

MARKET STATS: The number of active listings fell last month, as tight inventory continues to influence the number of sales in the local market. Interest rates have eased a bit, supporting continued demand for properties. For a detailed look at the market, see the latest Long & Foster Market Minute report:

View The Latest Long & Foster Market Minute Report | Download/Print PDF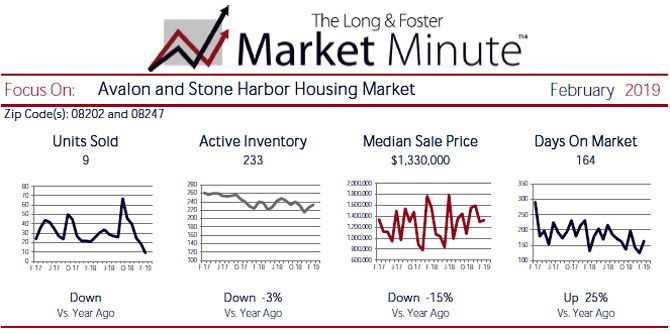 NEW JERSEY BOATERS must carry a valid New Jersey Boating Certificate when operating vessels in New Jersey waters. The US Coast Guard Auxiliary is conducting several boating safety classes in Cape May during the coming months.

Check out the list of classes here: Upcoming NJ Boating Certification Classes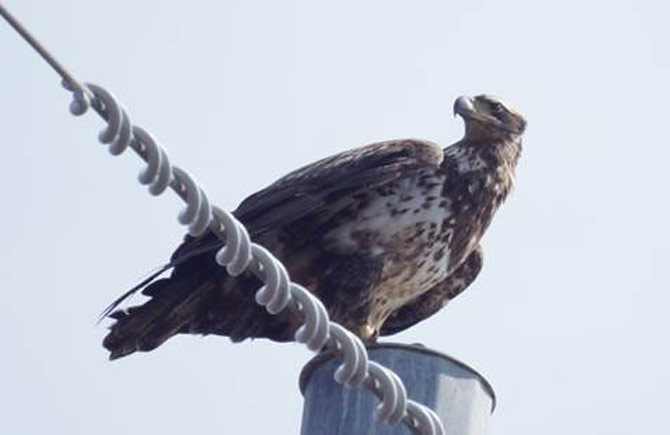 A VIEW FROM ABOVE! This eagle has frequently been seen perched upon the top of a utility pole along Stone Harbor Boulevard. Eagles have made a strong recovery in recent decades, and many of them have been spotted in Cape May County. This one enjoys an unmatched view from his perch way above the rest of us!

9 WEEKS TO MEMORIAL DAY! Want to visit Avalon & Stone Harbor for a week? Want to stay for a lifetime? Either way, call me today!
This Weeks News 3/14/2019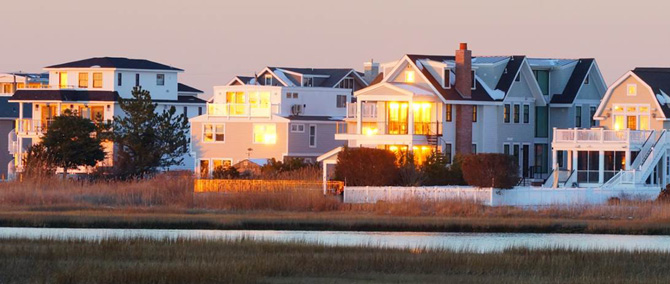 The setting sun lights up the windows of Avalon homes overlooking the bay!

AVALON'S SURFSIDE PARK will open for the summer season, and will feature a lineup of entertainment and activities. "Surfside Live" will take place on Mondays throughout July and August, featuring entertainment for children; "Surfside Jam" will be held on Friday evenings with a live DJ Dance Party for kids and games, and face painting. Surfside Park, located at 30th Street & the beach, has been under construction since October and will include a playground, restroom facilities, a large lawn, and an entertainment area. Surfside Park is expected to be completed and open for Memorial Day Weekend.

SEVEN MILE ISLAND LIVING LABORATORY: The U.S. Army Corps of Engineers has announced a new initiative to improve dredging and marsh restoration techniques, utilizing the 6,000 acres of state-owned marshland behind Avalon and Stone Harbor. In December the Corps completed a dredging project and used the dredge material to create a new nesting habitat in the marsh behind Stone Harbor. A similar habitat created on Ring Island has already been utilized by black skimmers, common and least terns, and American oystercatchers, all of which are state endangered species. In the case of least terns, it's the first successful coastal nesting since the 1980s. The Wetlands Institute, located within the Seven Mile Island Living Laboratory area, will provide dock facilities, research labs, and environmental education to complement the project.

STONE HARBOR SHIVER: The annual cold-weather dip in the ocean takes place in Stone Harbor on Saturday, March 16th. In addition to the swim, a weekend's worth of events are scheduled, making it a great way to kick off the season early!

More Information - Stone Harbor Shiver Weekend Events & Registration

BIG BOATS won't be able to request an opening of the 96th Street Bridge due to repairs in progress. Earlier this week bridge openings were suspended for two weeks until repairs can be completed. The bridge will remain open to automobile traffic. The US Coast Guard has been notified of the restriction, and has informed boaters via its Notice to Mariners report.

SOME CAPE MAY COUNTY TOWNS will lose significant school funding under new state aid funding guidelines, according to The Atlantic City Press. Avalon will lose a modest $3,265 (a state aid decrease of 4.47%), Stone Harbor will lose $1,555 (a decrease of 2.97%), and Sea Isle City will lose $12,050 (4.91%). Other school districts in the county will lose significant amounts of state aid. Lower Township will lose $947,285 (9.57%), Upper Township will lose $602,522 (6.14%), and Wildwood will lose $230,590 (4.62%). Many school districts throughout the county are preparing for difficult budget battles ahead.

KAYAK OWNERS in Stone Harbor may apply for a permit to store two of them at the Municipal Marina. Proof of property ownership is required to enter. A lottery will be held April 11th, and the Borough will notify winners via email.

Apply For A Kayak Permit - StoneHarborNJ.org

MAKE YOUR SUMMER VACATION A PRIORITY! How about a sunrise walk on the beach? Cocktails on the deck with friends? An afternoon of fishing? You can do it all right here in Avalon & Stone Harbor! Call me today and I'll help you find the perfect summer vacation property!
This Weeks News 3/7/2019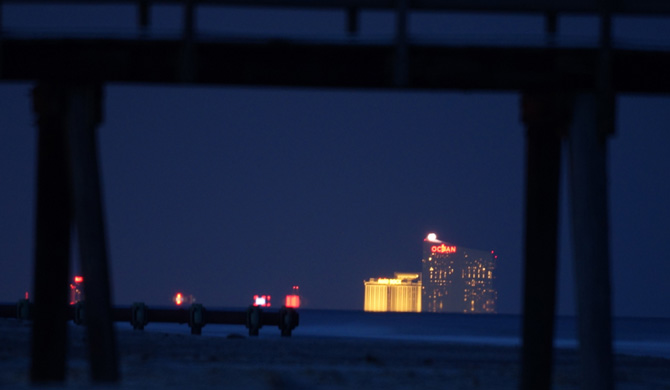 The Avalon Fishing Pier frames the Hard Rock and Ocean Resort Casinos in Atlantic City at dusk. The Casinos are roughly a 35 mile drive from Avalon, and about 25 straight-line miles. The curve of the earth is apparent, as the bottoms of the buildings are not visible.

SHOP-A-HOLIC WEEKEND! Thursday through Saturday is Shop-A-Holic Weekend in Avalon. More than thirty stores will participate, with The Princeton and The Whitebrier offering a combination of shopping, cocktails, and small plates as you shop. Monetary donations will be accepted and will benefit Friend In Need, a local organization dedicated to helping Cape May County residents in need. Shop-A-Holic Weekend takes place Thursday, March 7th, 4pm to 9pm, Friday, March 8th, 4pm to 9pm, and Saturday, March 9th, 10am to 6pm.

STONE HARBOR'S LAGOONS, which were dredged in late 2016 and early 2017, are holding up well according to a survey by Dr. Stewart Farrell of the Stockton University Coastal Research Center. As reported in the Cape May County Herald, Dr. Farrell's December 2018 survey indicates that the lagoons are in "good shape, with minimal material collection at the entrance to some of the lagoons." Furthermore, the borough's beaches, which were replenished in February 2017, were also found to be in good condition, with only minimal loss of sand noted at the time of the survey.

SEA ISLE CITY has installed numerous flood warning signs that flash if roadways fill with water, warning drivers. The signs are activated by sensors that detect accumulating water. Some of the signs contain cameras that send pictures of road conditions to police dispatchers, who can manually control the signs. The technology used is similar to that in red light camera systems.

AMERICAN PICKERS will be in Cape May County! The long-running History Channel Show features friends Mike and Frank, who scour the country looking for antiques to either restore, resell, or add to their collections. Do you have an antique collection you'd like Mike and Frank to check out? Email the show at americanpickers@cineflix.com.

SPRING FORWARD THIS WEEKEND! You'll lose an hour of sleep, but gain an hour of daylight in the evening! Be sure to set your clocks ahead by an hour Saturday night!

12 WEEKS TO MEMORIAL DAY! Want to purchase your own shore property and be in for the summer season? There's time--let's make that happen! Call or email me today to get started!