This Weeks News 1/26/2017

---
BEACH REPLENISHMENT PROJECT UNDERWAY: Mobilization of equipment has begun as Avalon and Stone Harbor anticipate a major beach replenishment project over the next several weeks. Equipment has been staged on Stone Harbor's beaches and the 123rd Street parking lot. Sand pumping could begin at the end of this week as the dredge contractor is waiting for inclement weather to subside. Once Stone Harbor's portion of the project is complete, the dredge and equipment will move to Avalon to begin work there.

SALES UP, INVENTORY DOWN: The latest Long & Foster Market Minute report shows a slight increase in sales during December 2016 compared to a year ago. Solid demand over the past couple of years has reduced the number of active listings to 267, down from more than 300 a year ago, and down from 350 two years ago. View The Full Market Minute Report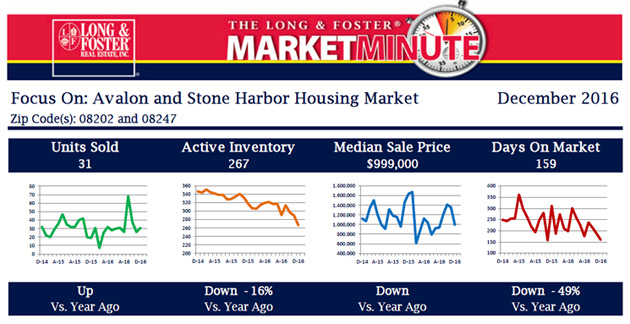 Click above for the latest Long & Foster Market Minute report.

STONE HARBOR BACK BAY DREDGING progress continues. The most recent report on the project shows it to be 43% complete, with over 40,000 cubic yards dredged so far. Five basins are complete, one is underway, and three have not yet been dredged. According to the report, in addition to the basins, Access Channel, Stone Harbor Hole, and a number of private slips remain unfinished. The current phase of the project is expected to conclude in February, with final completion of the project due next year.

IF YOU'D LIKE TO CATCH A GLIMPSE of Monday's nor'easter at Townsend's Inlet, click here to watch this brief video: Avalon Townsend's Inlet in Nor'easter 1/23/2017 (YouTube) In 24 hours the wind turned around, flattening out the waves.

SEA ISLE BOULEVARD is in the midst of an elevation project, designed to raise the roadway by several feet to avoid potential flooding. But NJ Department of Environmental Protection regulations will halt the project from March 15th through August 15th due to the presence of nesting ospreys within 1,000 feet of the roadway. The project initially began in 2014, and final completion is not expected until 2019.

IT'S ALMOST FEBRUARY! Time to "think summer!" Make your plans now--email or call me to get started!
This Weeks News 1/19/2017

---
BEACH REPLENISHMENT WORK will begin soon in Avalon and Stone Harbor, with mobilization of equipment to begin in two weeks, and pumping to follow. Work will begin in Stone Harbor at 123rd Street and is expected to take approximately four weeks to complete as sand pumping progresses northward. After that, work will move to Avalon's 9th Street beach and progress southward for approximately four weeks. The dredge "Texas" can pump about 50,000 cubic yards of sand per day if weather conditions are favorable, and the project is expected to conclude well in advance of the summer season.

THERE'S AN APP FOR THAT? Yes! Avalon will soon launch an app allowing beachgoers to purchase beach tags via their smartphones. Stay tuned for more details!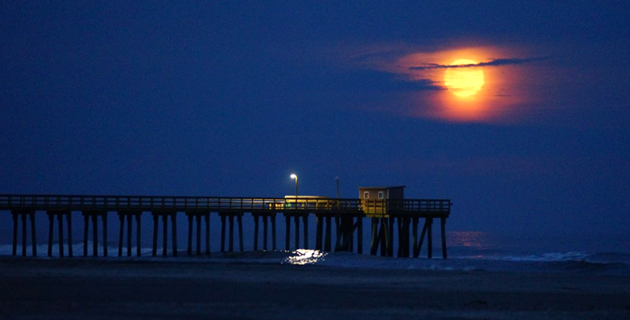 A full moon hovers over Avalon's fishing pier. Winter is just as beautiful as summer here on the Island!

BAYFRONT DREDGING CONTINUES in Stone Harbor. The relative quiet of the bay on winter days is punctuated by the sound of machinery, as silt is dredged from the channels and transported off site. Earlier this week the dredge and barges were stationed off the western side of Golden Gate Drive.

AVALON COMMUNITY HALL reopened Monday after the wood floor was sanded and refinished. A new logo and striping were added to the floor as part of the refinishing.

SLACK TIDE BREWING COMPANY is celebrating its one-year anniversary this month, having produced more than three dozen different beers since opening. Slack Tide favorites include Five Fathom, Bell Buoy, and Angry Osprey, as well as several others. Visit them online at Slack Tide Brewing Company or visit them in person at their Clermont location the next time you're in the area!

57 PROPERTIES ARE UNDER CONTRACT in the local market--meaning 57 families are looking forward to great seashore memories during the 2017 season! Why not become one of them? If you're ready to begin your search for the perfect seashore property, call or email me today to get started!
This Weeks News 1/12/2017

---
SNOW AND COLD TEMPERATURES blanketed the Island this week, after a significant snowfall last weekend. The dry, powdery snow hung around for several days as daytime temperatures only reached the mid-20s. A dramatic but brief warm up is expected--by the end of the week daytime highs are expected to be in the mid-50s before settling back down over the weekend.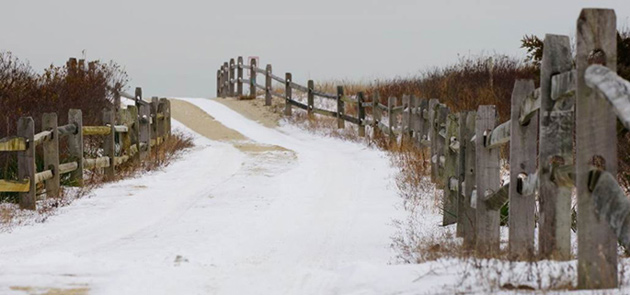 Snow, cold wind, and temperatures in the 20s made for a chilly walk on Avalon's 60th Street beach!

IT'LL BE WARM AGAIN SOON, and that means it's time to plan your 2017 summer vacation! Whether you want to visit for a week, or stay for a lifetime, call me and I'll help you find the perfect place!

AVALON'S COMMUNITY HALL closed on December 27th for refinishing of the floor. After sanding, a new logo and new lines for sporting events will be added. The stage at the front of the building is also due for renovation.

JUDITH DAVIES-DUNHOUR was sworn in as Stone Harbor's new mayor last week, before a crowded reorganization meeting at Borough Hall. Davies-Dunhour worked for the Stone Harbor Police Department for 25 years, and spent seven years serving on borough council before running for mayor.

FISHERMEN ARE QUESTIONING a federal plan to reduce the summer flounder quota this season. The Atlantic States Marine Fisheries Commission says the flounder population has been overfished and that stricter requirements are needed to reduce this year's catch by 40%. Specific regulations have not been proposed but options include a two fish limit at 18 inches each and a three fish limit at 19 inches each, according to the Atlantic City Press.

$400,000 IN REPAIRS may be needed on the 96th Street Bridge, which links Stone Harbor to the mainland. After being closed for a month last fall for repairs after a crack was found in one of the bridge's main girders, the additional work is expected to be performed this spring ahead of the busy summer season. During the repairs, temporary lane closures are expected during the day, with full bridge closures possible during nighttime hours.

THE 2017 OLDE HOUSE TOUR is being planned by the Avalon Historical Society. Do you have a pre-1950s property? Call the Historical Society at 609-967-0090 and help keep this event going!
This Weeks News 1/5/2017

---
HAPPY NEW YEAR! Health, happiness, & prosperity--may all three be yours in 2017! Best wishes for a Happy New Year!

MARKET STATS: The latest Long & Foster Market Minute report shows an increase in sales and a reduction in active listings in November 2016. The number of sales increased 25% over last November, while the number of active listings has declined by 13% to 290. Despite a recent uptick in interest rates, demand has remained steady marketwide. View the Full Long & Foster Market Minute Report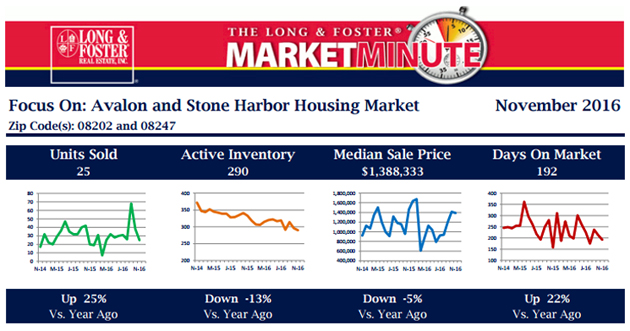 Click above for the latest Long & Foster Market Minute report.

REMEMBER THE SEA TURTLE that was rescued from Avalon's beach this past summer? She was transported to the Karen Beasley Sea Turtle Rescue and Rehabilitation Center in North Carolina some time back. An update was recently posted to the Borough's Facebook page, having been provided by Elizabeth Quinn, whose friend volunteers at the center: "She has had the opportunity to feed and give treatments to the sea turtle that the Avalon folks rescued this summer. She has affectionately been named 'Snookie' and she is doing very well! She is a smart girl and is eating. She is being fed fish stuffed into squid, though my friend says she would prefer just squid! Thank you so much to all those who helped rescue her!"

STONE HARBOR was recently awarded a $2.7 million state grant for the mitigation of flood risks in the borough between 88th and 99th Streets. The project will include the installation of remotely operated tide control valves at existing stormwater discharge pipes, preventing tidewater from pushing into the pipes and flooding streets. Higher street elevations and a bayside pump station to be built at 93rd Street are part of the project, too.

TAKE THE PLUNGE! If you're daring enough to take a mid-winter plunge into the ocean, you've got three chances to do so! Polar bear plunge events are scheduled in Sea Isle City (February 18th), North Wildwood (February 25th), and Stone Harbor (March 11th.) See below for details. The ocean water temperature just off Avalon is 44 degrees--just about average for this time of year. However, ocean water temperatures are typically at their lowest point in February and March, with average temperatures just under 40 degrees.

IS 2017 YOUR YEAR? Whether it's a week's vacation at the shore, or a place to permanently call your own, let's make it happen together! Call or email me to begin your search for the perfect property!