This Weeks News 1/28/2016

---
MOTHER NATURE delivered a wallop to Cape May County Friday evening through Sunday, including significant snowfall and record tidal flooding in some towns. Several inches of snow accumulated before changing to rain mid-storm, then ending again as snow. Stone Harbor and Cape May saw record flood levels in certain areas as the storm surge coincided with high tides and a full moon.

GOOD NEWS AND BAD: In Avalon & Stone Harbor low lying buildings suffered flooding, especially along 96th Street, Ocean Drive, and parts of Dune Drive. Homes built to higher elevations, and those in higher areas of the Island saw no flooding. Along the bay many floating docks were displaced or damaged. Beach erosion has been reported in a variety of areas. Loose items floated into the streets in some locations. However, many areas of the Island appeared completely untouched, aside from a few inches of remaining snow.

KUDOS to police, fire, EMS, public works, utility crews, and emergency management personnel on Seven Mile Beach (and throughout the county) who worked tirelessly to keep residents safe, get streets cleared, and restore electrical power as quickly as possible.

AVALON HAS ANNOUNCED it will pick up all storm related debris this week; place items curbside by Sunday, January 31st.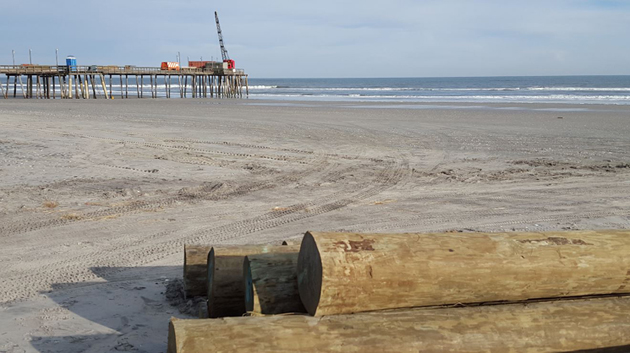 The day after the storm departed Avalon's 32nd Street beach was quite peaceful. Pilings to be used for the extension of the Avalon Fishing Pier are seen resting on the beach.

WORKING & READY FOR YOU: Long & Foster's main office in Avalon had two inches of water inside the building, necessitating the removal of all carpets and baseboard (already done!). While we're moving at full speed to get the office back in shape quickly, we're also working & ready for you! Whether you're interested in seeing some properties, looking for a rental, or wish to discuss selling your home, simply email me, or call me on my cell at (609) 335-1516.

NEED YOUR PROPERTY CHECKED? If you need me to check your property for flooding or other damage, please email or call me at (609) 335-1516. I'll be glad to visit and let you know what I've found!

MORE GOOD NEWS: Just 17 weeks till Memorial Day Weekend!
This Weeks News 1/21/2016

---
MARKET STATS: December saw 16 properties sold in Avalon & Stone Harbor, down from a year ago, but the median price jumped up significantly. For the latest Long & Foster Market Minute report, click here: The Long and Foster Market Minute Report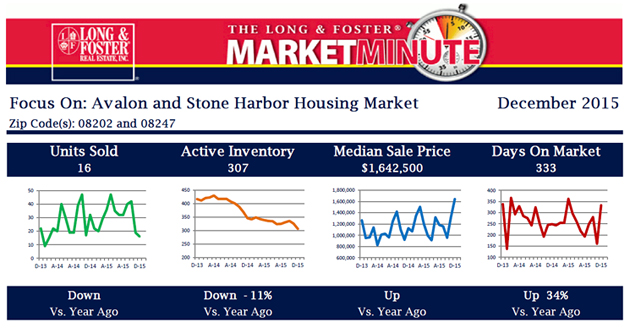 Click above for the latest Long & Foster Market Minute report!

BOARDWALK TRIVIA: According to the Avalon History Center, Avalon's first boardwalk was built in 1893 at a total cost of $454! Stone Harbor once had a boardwalk too; it was damaged by a storm in 1944 and never rebuilt.

A BIT OF SNOW fell across Cape May County on Sunday, leaving the area under a two-inch blanket of the white stuff. Frigid temperatures will remain for a while--overnight lows are expected to be in the 20s through the weekend.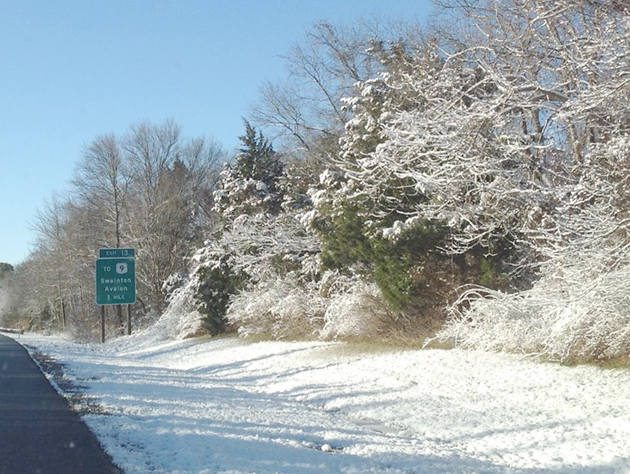 Local roads were not affected by Sunday's snowfall, but it made for some pretty scenes around the county!

KEEP AN EYE on this weekend's weather--a winter storm is expected to reach the area and could bring snow or rain to South Jersey, along with coastal flooding. If you decide to visit the Island this weekend, bring a pair of boots and a snow shovel!

WHAT ARE YOUR PLANS FOR 2016? Is it time to finally buy a shore home? Want to acquire an investment property? Or is it time to sell? Whatever your needs, let's talk and make a plan to achieve your goals! Make 2016 your year--call or email me today!

PASS IT ALONG! Please forward this message to a friend, neighbor, or coworker that loves Avalon & Stone Harbor! To subscribe, send an email to Randy@RandyLeiser.com.
This Weeks News 1/14/2016

---
MARKET STATS: 2015 saw solid increases in the local real estate market over 2014. Here's a look at some numbers:

Number of sales in 2015: 412, up 20.8% over 2014.

Highest sale: $8,000,000, up 14.2%.

Average sale: $1,361,807, up 3.6%

Median sale: $1,125,000, up 6.1%

Early signs indicate that 2016 is off to a good start--58 properties are already under contract for settlement this year, with 337 properties actively listed for sale.

What's driving the market? Buyer demand remains solid, while interest rates remain attractive despite a minor recent increase. Rates are widely expected to increase further over the next 6-12 months, so if you're contemplating buying a shore property, it may be prudent to make your purchase now, locking in a low interest rate for the duration of your ownership! Please call or email me if you'd like to get started!

THE AVALON FISHING PIER will soon extend another 200 feet into the ocean, bringing its total length to 900 feet. The extended length will accommodate more anglers and allow them to fish regardless of the tide height; currently at low tide the end of the pier is over the sand. The Avalon Fishing Club expects the newly extended pier to reopen in March, and is seeking additional members.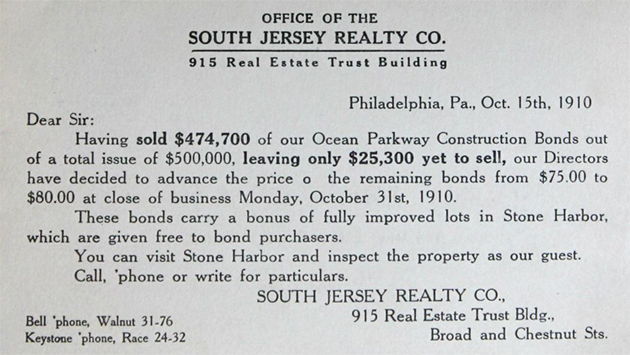 Those who bought an $80 bond to help fund the construction of Stone Harbor's "Ocean Parkway" (now Stone Harbor Boulevard) in 1910 were given "the bonus of fully improved lots in Stone Harbor" for free! The image above is from a post card being auctioned on ebay. Click the image to view the ebay listing. In case you're wondering, the Ocean Parkway officially opened in July, 1911, connecting Stone Harbor with Cape May Court House.

COMCAST'S AVALON OFFICE will close permanently at the end of January, leaving Comcast's Rio Grande office as the retail location closest to the Island.

THE SPOTTED WHALE will soon open in Stone Harbor, in the store formerly occupied by Barrie Shoes along Third Avenue. The Spotted Whale is a specialty/gift shop that currently has locations in Barnegat Light and Ocean City. Watch for their opening in Stone Harbor this spring!
This Weeks News 1/7/2016

---
HAPPY NEW YEAR to you and your family! Best wishes for a healthy, happy, and prosperous 2016!

UP FOR A PLUNGE? Does the blast of cold air that rolled across the Island in recent days put you in the mood to take a dip in the ocean? If so, you'll have a few "plunge" options to choose from, including Wildwood's Polar Bear Plunge on Saturday, January 16th; Sea Isle's Polar Plunge on Saturday, February 13th; and Stone Harbor's Shiver on Saturday, March 12th. In case you're wondering, the ocean water temperature has dropped to a chilly 44 degrees!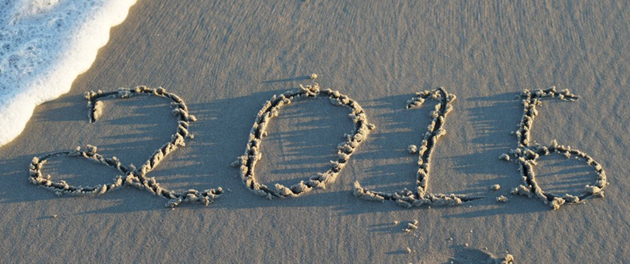 Stake your claim in the sand! Why not make 2016 your year? Let's begin the search for your very own getaway at the shore! Call or email me today to get started!

WORK ON THE TOWNSEND'S INLET BRIDGE continues, as 180 cubic yards of concrete was poured earlier this week. More will be poured later in the week if weather and cold temperatures allow. So far the bridge work is on schedule; if it remains on track at least one lane of traffic should be flowing on the bridge by February 11th or 12th.

MORTGAGE RATES have inched up slightly since the Federal Reserve rate hike. The average 30-year fixed rate is now 4.01%, while the average 15-year fixed rate is 3.24%. Rates are still very low by historical standards, but are widely expected to rise further. Sean Becketti, chief economist for Freddie Mac, expects the 30-year rate to be 4.7% by the fourth quarter of 2016. If you're considering a purchase, completing it now and locking in low financing costs could save you thousands of dollars over the life of your loan! Need a reliable mortgage lender? Call or email me!